Click
on left to choose a ship
Upload Pics Public Site
tab 1
The Norwegian Jewel started sailing in 2005 . Former names: none. The Norwegian Jewel is registered in Nassau, Bahamas. The Norwegian Jewel has 1194 cabins. 45 percent of the staterooms on board have balconies.
You can expect between 2388 to 2866 passengers on a typical sailing. This means that at the higher number (usually peak and holiday sailings) Norwegian Jewel has a space ratio of 32.6 .
(A space ratio less than 33 means that you may find the ship crowded in areas. A space ratio greater than 39 means that there should be plenty of space for each passenger.)
When this ship isn't sailing at capacity the space ratio can be as good as 39.2.
The Norwegian Jewel has 1100 crew members on board. There are 3 passengers for every crew member on board. There are no self serve laundromats on this cruise ship.
The ship last major refurbishment was in 2014 .
There are 15 decks on this ship. The highest deck number is 15. The number of decks with passenger cabins is 7.
The following ships share the same class as this ship. This means the basic design and layout of the ship is the same. For the most part the cabins will be identical among these ships, but may be decorated differently.
2005 - Norwegian Jewel
2006 - Norwegian Jade
2006 - Norwegian Pearl
2007 - Norwegian Gem
There are 27 special needs cabins on this ship. These cabins have been modified for accessibility purposes.
Smoking Policy
Smoking cigarettes, electronic cigarettes, cigars, and pipes is strictly prohibited in all staterooms and on balconies, in or near venues serving food, the jogging track, outdoor sporting venues, The Haven outdoor areas, and children's pool areas
Smoking cigarettes, electronic cigarettes, cigars, and pipes is permitted only in designated indoor and outdoor public spaces to include designated smoking lounges and cigar bars, and in the casino for players only.
On ships with "The Waterfront", smoking is permitted on the starboard side excluding any food service areas.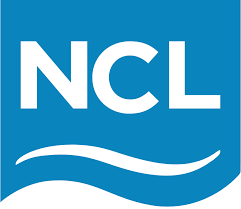 Activities
1 Indoor Pools
2 Outdoor Pools
6 Whirlpools (hot tubs)
No Rock Climbing Wall
No Flow Rider
No Ice Rink
No Bowling
No Zipline
Waterslide
No Water Park
No Ropes Course
No Mini Golf
No Golf Simulator
Sports Court
No Boxing Ring
Jogging Track
Features
WIFI Ship Wide
Casino
Cigar Lounge
Chapel
Video Arcade
Cinema
Show Lounge
Hair Salon
Spa
Fitness Center
Library
Bridge Viewing Area
No Outdoor Movie Screen
Teen Lounge
Passenger Promenade Deck
Sea Viewing Lounge on upper deck
No Adult Only Outside Lounge Area
Private pool for suite guests.
Deck 7
There are no staterooms on this deck
You can click on any image for larger size.

Stardust Theater
The ship's three tier main entertainment venue playing host to the ship's production shows. Seating 964 guests, performances are held at 7.00pm and 9.00pm and shows range from "Duo Elegia" (a circus style act featuring acrobatics, gymnastics, dancing and singing) and "Band On The Run" 70's musical extravaganza to Variety and Comedy/Magic shows.
Fyzz Lounge & Bar
Accommodates 135 guests, and is open from 4pm until close. Featuring bubble lighting, fun colours and ultraviolet art work the lounge is also home to three private Karaoke Rooms (open from 6pm until close).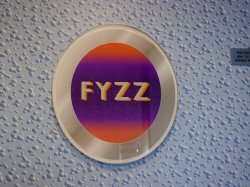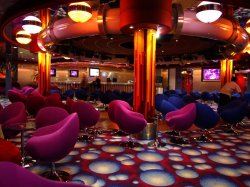 Sushi Bar
Open from 5.30pm to close, and serves Japanese sushi and sashimi expertly prepared as you watch.
Chin Chin
Chin Chin is Norwegian Jewel's Pan Asian restaurant serving Japanese, Thai and Chinese cuisine. Chin Chin can accommodate 78 guests and with a cover charge of $15 per person.
Teppanyaki
Opens from 5.30pm to 10.00pm and invites guests to sit around the central cooking area for an Asian dining experience where they watch the chefs show off their skills slicing and dicing whilst preparing meat, poultry, fish and vegetables on an iron "Teppan" griddle.
Port O Call
The ship's gift shop selling items including souvenirs, jewelery, watches, brand name cosmetics and perfumes including Lancôme and Chanel.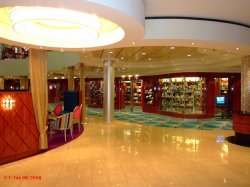 Crystal Atrium
Plays host to musical performances from piano melodies to jazz and demonstrations such as Pastry and Marzipan craft and Circus Workshops with Cirque du Jour. Guests can grab a coffee from the nearby Java Cafe during the day or cocktail from the same place at night to relax with whilst enjoying the entertainment on offer.
Photo Gallery
Displays all of the portraits taken by the ship's official photographers which guests can view and purchase along with digital cameras, accessories, media cards and batteries.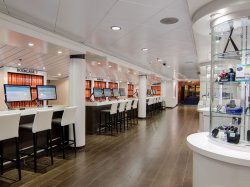 Art Gallery
Features a selection of artwork by a wide range of well known artists for guests to view with a complimentary Champagne art auction being held during the cruise providing them with the opportunity to purchase some examples.
Galleria Shops
Sells a range of products from brand name watches (including Gucci and Wenger) jewellery, clothes, souvenirs, toys, snacks and accessories to tobacco and liquors.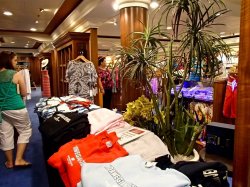 Internet Cafe
Internet cafe open 24 hours.
Java Cafe
Located in Crystal Atrium. Specialty coffees and pastries.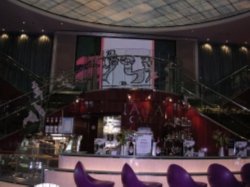 Promenade
Outside promenade deck that wraps around the ship.
Sake Bar
Serving drinks for the Asian themed dining area.
Click the Cabin Check Tool to check what is on the deck above or below your stateroom:
Here are some tips that you should keep in mind when looking for cabins on this deck. There may be other issues that we haven't noted, and if you are aware of any issues we have not listed, please contact us and let us know so that we can add it to the list.
Jump to Norwegian Jewel Deck 4
Jump to Norwegian Jewel Deck 5
Jump to Norwegian Jewel Deck 6
Jump to Norwegian Jewel Deck 7
Jump to Norwegian Jewel Deck 8
Jump to Norwegian Jewel Deck 9
Jump to Norwegian Jewel Deck 10
Jump to Norwegian Jewel Deck 11
Jump to Norwegian Jewel Deck 12
Jump to Norwegian Jewel Deck 13
Jump to Norwegian Jewel Deck 14
Jump to Norwegian Jewel Deck 15
| | | |
| --- | --- | --- |
| | | = Connecting staterooms |
| | | = Double Bed |
| | | = Elevator |
| | | = Handicapped facilities |
| | | = Hearing Impaired |
| | | = Hull Balcony (Privasea) |
| | | = Inside Corridors |
| | | = King Bed |
| | | = Queen Bed |
| | | = Restrooms |
| | | = Third and/or fourth person |
| | | = Third person occupancy |
| | | = Up to 5 person occupancy |
| | | = Up to 6 person occupancy |
| | | = Up to 8 person occupancy |