Click
on left to choose a ship
Upload Pics Public Site
tab 1
The Liberty of the Seas started sailing in 2007 . Former names: none. The Liberty of the Seas is registered in Nassau, Bahamas. The Liberty of the Seas has 1839 cabins. 46 percent of the staterooms on board have balconies.
You can expect between 3678 to 4414 passengers on a typical sailing. This means that at the higher number (usually peak and holiday sailings) Liberty of the Seas has a space ratio of 35 .
(A space ratio less than 33 means that you may find the ship crowded in areas. A space ratio greater than 39 means that there should be plenty of space for each passenger.)
When this ship isn't sailing at capacity the space ratio can be as good as 42.
The Liberty of the Seas has 1360 crew members on board. There are 3 passengers for every crew member on board. There are no self serve laundromats on this cruise ship.
The ship last major refurbishment was in Jan 2016 .
There are 15 decks on this ship. The highest deck number is 15. The number of decks with passenger cabins is 8.
The following ships share the same class as this ship. This means the basic design and layout of the ship is the same. For the most part the cabins will be identical among these ships, but may be decorated differently.
2006 - Freedom of the Seas
2007 - Liberty of the Seas
2008 - Independence of the Seas
There are 32 special needs cabins on this ship. These cabins have been modified for accessibility purposes.
In 2016 the Liberty of the Seas made the following changes:
Deck 3: Catacombs Disco removed for 19 new inside cabins, Art Gallery reduced for 4 new inside cabins.
Deck 4: Catacombs upper level removed for Sabor specialty dining.
Deck 5: The Sphinx Lounge renamed the Star Lounge. Champagne bar renamed to R bar.
Deck 6: Business service removed for 4 new inside cabins. New forward inside cabin.
Deck 7: The Library removed for 4 new inside caibns. New forward inside cabin.
Deck 8: Forward inside cabin added.
Deck 9: Forward inside cabin added.
Deck 10: Concierge club removed for combined Library and Card room.
Deck 11: Giovannis Table in place of Portofino.
Deck 12: 26 Panoramic cabins, 4 inside, 14 balcony cabins added to forward deck. Jogging track redirected.
Deck 13: New deck forward above the cabins being installed on Deck 12. Water slides added.
Deck 14: Suite lounge replacing Seven Hearts card room and Cloud Nine function room.
Smoking Policy
Smoking cigarettes, cigars, electronic cigarettes, and pipes is permitted only in designated outdoor areas that have signage (mainly on the starboard side)
Smoking is not permitted inside staterooms or balconies, Central Park or Boardwalk neighborhoods, dining venues, theaters, bars, lounges, hallways, pools, elevators, or jogging tracks
The casino allows smoking and has a designated area for non-smoking on most cruises.

Activities
3 Outdoor Pools
7 Whirlpools (hot tubs)
Rock Climbing Wall
Flowrider
Ice Rink
No Bowling
No Zipline
Waterslide
Water Park
No Ropes Course
Mini Golf
Golf Simulator
Sports Court
Boxing Ring
Jogging Track
Features
WIFI Ship Wide
Casino
Cigar Lounge
Chapel
Video Arcade
Cinema
Show Lounge
Hair Salon
Spa
Fitness Center
Library
No Bridge Viewing Area
Outdoor Movie Screen
Teen Lounge
Passenger Promenade Deck
Sea Viewing Lounge on upper deck
Adult Only Outside Lounge Area
Use drop down menu on bar above to choose another deck
Deck 13

There are no staterooms on this deck
You can click on any image for larger size.

Liberty Dunes
The ship's 24 hour outdoor 9-hole miniature golf course, has putters, golf balls, score cards and pencils provided at the course.
FlowRider
The ships surf simulator where guests can try out boogie boarding or surfing.
Rock Climbing Wall
43 feet tall by 44 feet wide Rock Climbing Wall featuring eleven routes up and a central spire to swing around with challenges for all levels of experience. All of the equipment, including shoes, helmets and harnesses are provided with guests just needing to ensure they have a pair of socks with them.
Sports Court
Large sports and basket ball court surrounded by netting.
Water Slides
New in 2016 a collection of waterslides called the Perfect Storm including the first ever boomerang style slide at sea, Tidal Wave. The new hair-raising slide features a steep drop that propels riders up a near vertical wall for a moment of weightlessn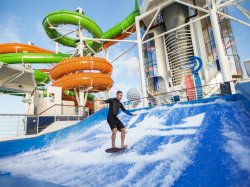 Jump to Liberty of the Seas Deck 2
Jump to Liberty of the Seas Deck 3
Jump to Liberty of the Seas Deck 4
Jump to Liberty of the Seas Deck 5
Jump to Liberty of the Seas Deck 6
Jump to Liberty of the Seas Deck 7
Jump to Liberty of the Seas Deck 8
Jump to Liberty of the Seas Deck 9
Jump to Liberty of the Seas Deck 10
Jump to Liberty of the Seas Deck 11
Jump to Liberty of the Seas Deck 12
Jump to Liberty of the Seas Deck 13
Jump to Liberty of the Seas Deck 14
Jump to Liberty of the Seas Deck 15
| | | |
| --- | --- | --- |
| | | = Connecting staterooms |
| | | = Four pullman beds |
| | | = Handicapped facilities |
| | | = One pullman bed |
| | | = Sofa and pullman bed |
| | | = Sofa bed |
| | | = Two pullman beds |