Click
on left to choose a ship
Use drop down menu on bar above to choose another deck
You are viewing deck 10 Hortensia

Balcony BP

Oceanview EC

Interior IP

The cruise line seperates the different categories (Inside, Oceanview, Balcony) into subcategories. The only difference in the subcategories is usually location on the ship. The detail above shows subcategory color, category name, and subcategory name. For detailed information, mouse over a cabin on the deck plans and a pop up window will appear. You will find diagrams, pictures and information about that cabin category including square footage and features.

Costa has a simplified way of category codes. Most categories are a letter followed by a C for classic level or P for premium level. Premium is obviously preferred over classic. Inside cabins begin with the letter I. Oceanview cabins begin with the letter E. Balcony cabins begin with the letter B. The Suite categories have a letter defining them. MS is a mini-suite. S are suites. PS is a panorama suite and GS is a grand suite.
You can click on any image for larger size.

Stella Del Sud
There's everything you could need to enjoy the sunshine and the sea view, including a bar and outdoor tables.
Diana Lido
The main pool has lots of things to offer to make your stay on board special. By day you can relax with a swim, even in Winter thanks to the retractable roof. In the evening the main pool is the perfect setting for fun parties with music and dancing.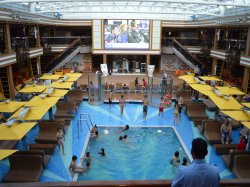 Corona Blu Restaurant
This new buffet is designed to be even more comfortable and practical because can have breakfast, meals and snacks here at any time of the day.
Click the Cabin Check Tool to check what is on the deck above or below your stateroom:
Handicap Cabins on this deck
Category
Cabin 10001 Oceanview
Category
Cabin 10002 Oceanview
Category
Cabin 10003 Interior
Category
Cabin 10004 Interior
Category
Cabin 10005 Oceanview
Category
Cabin 10006 Oceanview
Category
Cabin 10080 Interior
Category
Cabin 10081 Interior
The entry doors are 30 inch wide and the bathroom doors are 33 inch wide with no sill. There is a roll in shower with fold down seat (10x13x18 inch h), grab bars (32 inch h) and hand held shower had. The toilet is 18 inch with grab bars (32 inch h) and the sink (31 inch) has knee clearance underneath.
Ship Compass
Jump to Costa Diadema 1 Excelsior
Jump to Costa Diadema 2 Sara
Jump to Costa Diadema 3 Centenary
Jump to Costa Diadema 4 Perla Di Venere
Jump to Costa Diadema 5 Eldorado
Jump to Costa Diadema 6 Braganza
Jump to Costa Diadema 7 Conde
Jump to Costa Diadema 8 Star of India
Jump to Costa Diadema 9 Bizantino
Jump to Costa Diadema 10 Hortensia
Jump to Costa Diadema 11 Timur
Jump to Costa Diadema 12 Stella D'Africa
Jump to Costa Diadema 14 Millennium Star
Jump to Costa Diadema 15 La Fenice
| | | |
| --- | --- | --- |
| | | = Connecting staterooms |
| | | = Elevator |
| | | = Handicap accessible |
| | | = One lower |
| | | = One upper & lower |
| | | = One upper bed |
| | | = Partly obstructed view |
| | | = Queen bed |
| | | = Single murphy bed |
| | | = Single sofa bed |
| | | = Two upper beds |