Vision of the Seas Deck 4 deck plan
Click
on top left to choose a different ship. The menu above is specific to the Vision of the Seas ship and provides a quick way to go to the different pages.
Cruisedeckplans provides full interactive deck plans for the Vision of the Seas Deck 4 deck. Just move your mouse over any cabin and a pop up will appear with detail information, including a full description and floor layout, and a link to pictures and/or videos. These are the newest deck plans for Vision of the Seas Deck 4 deck plan showing public venues and cabin numbers and locations.
| # | Deck Plan Symbols |
| --- | --- |
| | Connecting staterooms |
| | Four pullman beds |
| | Handicapped facilities |
| | Sleeps up to 3 |
| | Sleeps up to 4 |
| | Sofa and pullman bed |
| | Two pullman beds |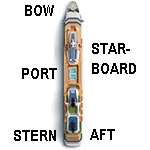 Looking for Deck 4 (deck) actual cabin pics and videos?
Click Here
Sub Categories on Deck 4
Click links below to view category info
including cabin pics and videos for that category on the Vision of the Seas.

1K Ultra Spacious Oceanview

3N-4N Oceanview (3N Quad - 4N Double)


1N-2N Oceanview (1N Quad - 2N Double0

CO Oceanview Connecting


3V-4V Interior (3V Quad - 4V Double)

1V-2V Interior (1V Quad - 2V Double)

Public Spaces on Deck 4
You can click on any image for larger size of the space on Vision of the Seas.

Centrum
The ships' central seven-story atrium surrounded by bars, lounges and shops which acts as an entertainment venue with activities, parties and other events including classic strings music, dance music, ballroom dance classes, line dancing classes and a Rock Britannia dance party, live horse racing events, sushi demonstrations and golf putting competitions. The Centrum also plays host to the new aerial shows where the ships dancers perform on wires from the top to the bottom of the Centrum with dramatic lighting effects and visuals even incorporating the glass elevators which feature LED panels down the entire length providing a backdrop of moving images for shows such as "Seasons of Centrum".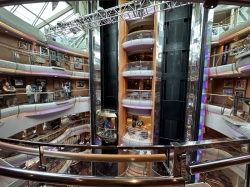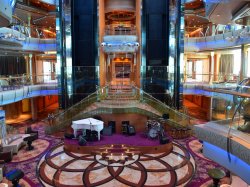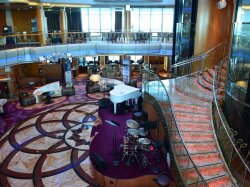 Aquarius Dining Room
Rhapsody of the Sea\'s main dining room spanning two decks with an elegant red carpeted staircase sweeping up to the upper level and decorated in warm creams, browns and reds with statement palm trees adding a touch of greenery to the room. Offering a wide variety of menu items and seating 1090 guests.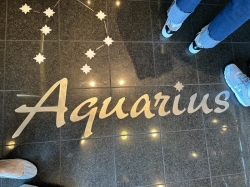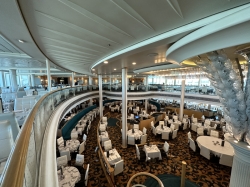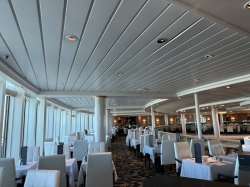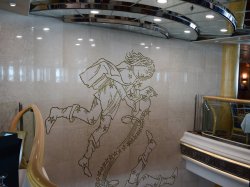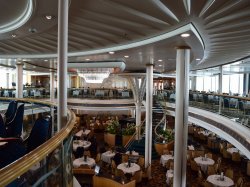 Chefs Table
Guests take part in a unique culinary experience offering a five-course set menu of gourmet dishes specially prepared and personally presented by the Chef de Cuisine. Every course is accompanied by wine pairings chosen to enhance their enjoyment of each dish.
R Bar
With its iconic furnishings, guests can experience a 1960s vibe at the cocktail bar, seating 66 guests. Decorated in purples and golds, the bar is focused around the elegant Centrum which features regular spectacular high flying acts and shows to entertain guests whilst they sip on classic cocktails such as Gimlets, Old Fashions and Martinis served by the ships resident mixologist.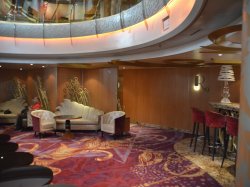 Conference Center
Several meeting rooms for conferences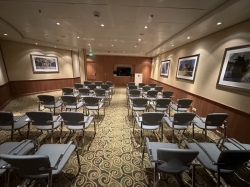 Next Cruise
Desk for planning your next cruise on Royal Caribbean. They usually offer a special promotion for booking onboard.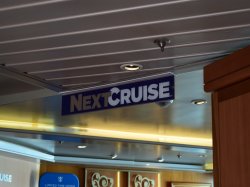 Cabin Check Tool
This tool will help you see what is on the deck above and the deck below your stateroom. Don't be surprised by loud chair scraping noise above you.
Vision of the Seas Deck 4 (deck) Cabin Guru
Here are some tips that you should keep in mind when looking for cabins on this deck. There may be other issues that we haven't noted, and if you are aware of any issues we have not listed, please contact us and let us know so that we can add it to the list.
* Cabins 4022 and 4522 and forward are below the main show lounge and may have noise issues during rehersals and shows.
* Forward cabins on this deck are above or below the main theater and may have noise from stage production shows or practice shows.


Click for more information

The cruise line separates the different categories (Inside, Oceanview, Balcony) into subcategories. The only difference in the subcategories is usually location on the ship. The detail above shows subcategory color, category name, and subcategory name. For detailed information, mouse over a cabin on the deck plans and a pop up window will appear. You will find diagrams, pictures and information about that cabin category including square footage and features.

Royal Caribbean has the most complicted and most difficult to understand category coding of all the major cruise lines. Its complicated because some cabins can be classified many different ways, sometimes without rhymn or reason. In some cases they also use the same color to denote two different categories.

They use a number followed by letter to denote the type of cabin. Cabins are ranked from the lowest number first to the highest number and also from the lowest letter first to the highest letter. Therefore a category that begins with 1 is consider a better cabin choice than one that begins with 3. The type of cabin is defined by the letter that appears after the number.

Letter V defines a inside cabin. Letter T defines a promenade view stateroom. A Boardwalk view balcony uses the letters I,J.

Oceanview cabins are defined by letter N. Spacious oceanview cabins by the letter M. Panoramic oceanview cabins are defined with the letters P and L. Letter S defines a boardwalk view cabin.

Spacious balconies are defined by the letter B. Regular balcony cabins use the letter D.