Norwegian Getaway Deck 10 deck plan
Click
on top left to choose a different ship. The menu above is specific to the Norwegian Getaway ship and provides a quick way to go to the different pages.
Cruisedeckplans provides full interactive deck plans for the Norwegian Getaway Deck 10 deck. Just move your mouse over any cabin and a pop up will appear with detail information, including a full description and floor layout, and a link to pictures and/or videos. These are the newest deck plans for Norwegian Getaway Deck 10 deck plan showing public venues and cabin numbers and locations.
| # | Deck Plan Symbols |
| --- | --- |
| | Connecting staterooms |
| | Double Bed |
| | Elevator |
| | Handicapped facilities |
| | Hearing Impaired |
| | Inside Corridors |
| | King Bed |
| | Queen Bed |
| | Restrooms |
| | Third and/or fourth person |
| | Third person occupancy |
| | Up to 5 person occupancy |
| | Up to 6 person occupancy |
| | Up to 8 person occupancy |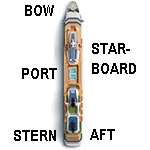 Info:
Cabin codes B9, M9 and H9 no longer come with thermal spa access. Pre-existing reservations are not affected.
Looking for Deck 10 (deck) actual cabin pics and videos?
Click Here
Sub Categories on Deck 10
Click links below to view category info
including cabin pics and videos for that category on the Norwegian Getaway.
Public Spaces on Deck 10
You can click on any image for larger size of the space on Norwegian Getaway.

Studio Lounge
Exclusively for guests staying in the Studios and has its own vending machine, bar, coffee machine serving complimentary cappuccinos and espressos as well as regular coffee and snacks such as sandwiches along with a selection of magazines, games, cards and TV screen for guests entertainment. The lounge has seating for 73 guests.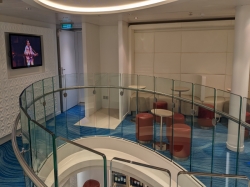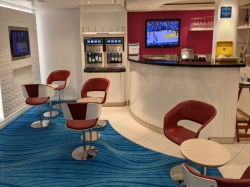 Cabin Check Tool
This tool will help you see what is on the deck above and the deck below your stateroom. Don't be surprised by loud chair scraping noise above you.
Accessible cabins on Deck 10
These cabins are on the Norwegian Getaway
Cabin 10290 Category Balcony
Cabin 10316 Category Mini-Suite
Cabin 10437 Category Interior
Cabin 10700 Category Oceanview
Cabin 10890 Category Balcony
Cabin 10916 Category Mini-Suite
Click to see more details
Norwegian Getaway Deck 10 (deck) Cabin Guru
Here are some tips that you should keep in mind when looking for cabins on this deck. There may be other issues that we haven't noted, and if you are aware of any issues we have not listed, please contact us and let us know so that we can add it to the list.
* Forward Penthouse cabins 10106 and 10706 have only a small side balcony
* All balconies of cabins from 10134 forward and 10734 forward will view down on balconies of cabins on deck below.
* All port side and starboard side balconies will view part of the ship (deck, roof, lifeboat, balcony) when looking straight down from the balcony. This view down will appear less obstructed the higher up on the ship you are
* All balconies facing the aft of the ship are at 50 to 100 square feet (Larger for corner suites). Aft facing balconies on deck 13 and14 are the smallest of all the aft cabins. Aft facing balconies on decks 9, 10 and 12 are the largest
* Balconies with ends that angle (shape of triangle) offer more space but as a result part of the balcony is not private. Part of the balcony of the cabin nearby can also be viewed by person standing on angled part of the balcony
* Forward facing oceanview cabins have large round window that looks over bow of ship.
* Save money and book a forward or aft cabin in the same category you are looking for. They are the same size and offer the same features as more expensive midship cabins.
* The cabins on this deck are above and below decks with only cabins on them. This means that they tend to have less noise issues from public areas on the ship.


Click for more information

The cruise line separates the different categories (Inside, Oceanview, Balcony) into subcategories. The only difference in the subcategories is usually location on the ship. The detail above shows subcategory color, category name, and subcategory name. For detailed information, mouse over a cabin on the deck plans and a pop up window will appear. You will find diagrams, pictures and information about that cabin category including square footage and features.

Norwegian uses a two digit code for its categories. The primary categories are S=Suite, M=Mini Suites, B=Balconies, O=Oceanview, I=Inside, and T=Studio. If the letter is followed by a number it is a specialty cabin. With 1 being the most desired location. For example B1 is a aft-facing balcony. If it is followed by a letter it is a standard cabin with A being the most desired location.

As example a Mini Suite MA is in a more desired location than a Mini Suite MB.