Majestic Princess Dolphin deck plan
Click
on top left to choose a different ship. The menu above is specific to the Majestic Princess ship and provides a quick way to go to the different pages.
Cruisedeckplans provides full interactive deck plans for the Majestic Princess Dolphin deck. Just move your mouse over any cabin and a pop up will appear with detail information, including a full description and floor layout, and a link to pictures and/or videos. These are the newest deck plans for Majestic Princess Dolphin deck plan showing public venues and cabin numbers and locations.
| # | Deck Plan Symbols |
| --- | --- |
| | Balcony door blocked by upper |
| | Balcony door blocked w upper |
| | Connecting staterooms |
| | Interconnecting staterooms |
| | Third and fourth Pullman beds |
| | Third Pullman bed available |
| | Two lower beds not convertible |
| | Wheelchair accessible |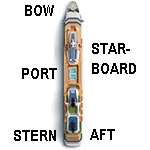 Looking for Dolphin (deck) actual cabin pics and videos?
Click Here
Sub Categories on Dolphin
Click links below to view category info
including cabin pics and videos for that category on the Majestic Princess.

S3 Penthouse Suite

S5 Premium Suite

D4 Premium Deluxe Balcony


DA Deluxe Balcony

DB Deluxe Balcony


DE Deluxe Balcony

BA Balcony

BB Balcony

BD Balcony


BE Balcony


IA Interior


IB Interior

IE Interior

Public Spaces on Dolphin
You can click on any image for larger size of the space on Majestic Princess.

Laundromat
One of several self service laundry room
Cabin Check Tool
This tool will help you see what is on the deck above and the deck below your stateroom. Don't be surprised by loud chair scraping noise above you.
Accessible cabins on Dolphin
These cabins are on the Majestic Princess
Cabin D301 Category Balcony
Cabin D302 Category Balcony
Cabin D303 Category Balcony
Cabin D304 Category Balcony
Cabin D318 Category Interior
Cabin D319 Category Interior
Cabin D418 Category Interior
Cabin D419 Category Interior
Cabin D422 Category Interior
Cabin D423 Category Interior
Click to see more details
Majestic Princess 9 - Dolphin (deck) Cabin Guru
Here are some tips that you should keep in mind when looking for cabins on this deck. There may be other issues that we haven't noted, and if you are aware of any issues we have not listed, please contact us and let us know so that we can add it to the list.
* Balconies on this ship tend to be narrow. If you are interested in larger balconies consider those located midship where the shape of the balcony varies.
* The balconies of cabins D121 to D135 on the starboard side and D122 to D136 on the port side look down on the balconies of the cabins on the deck below.
* All cabins on the port side and starboard side of the ship will have their view obstructed (by deck, lifeboat, ship structures) when looking straight down from the balcony.
* Due to fail in design of the ship, there are no central staircases for passengers. Cabins located around the midship elevators may find those elevators busy and therefore difficult to get to other floors.
* Aft facing balconies are open to view from deck above and vary in size. The largest aft facing balconies are on Marina, Riviera,and Dolphin decks. The smallest aft facing balconies are on Aloha and Caribe decks. Baja and Dolphin aft balconies are partially covered.
* Save money and book a forward or aft cabin in the same category you are looking for. They are the same size and offer the same features as more expensive midship cabins.
* The cabins on this deck are above and below decks with only cabins on them. This means that they tend to have less noise issues from public areas on the ship.
* There is a self service laundry room on this deck. It is best to avoid the cabins directly near this room as there tends to be traffic and noise related to the use of the laundry room.
* Cabins that face the aft of the ship have had reports of soot issues. Soot can be a issue depending on wind and weather.


Click for more information

The cruise line separates the different categories (Inside, Oceanview, Balcony) into subcategories. The only difference in the subcategories is usually location on the ship. The detail above shows subcategory color, category name, and subcategory name. For detailed information, mouse over a cabin on the deck plans and a pop up window will appear. You will find diagrams, pictures and information about that cabin category including square footage and features.

Princess uses the stateroom type and location for its category codes. The following letters are used for stateroom type: M=Mini Suite, D=Deluxe Balcony, B=Balcony, O=Oceanview, I=Interior. The location code is A to F for standard cabins with A being the most desirable location. 1 to 6 for premium cabins with 1 being the more desirable location. U to Z for obstructed staterooms with U being the more desirable location.

As an example MA stands for a Mini Suite (M=Mini Suite) in a prime location (A=Most desired location - midship, quiet location).