MSC Poesia Carducci deck plan
Click
on top left to choose a different ship. The menu above is specific to the MSC Poesia ship and provides a quick way to go to the different pages.
Cruisedeckplans provides full interactive deck plans for the MSC Poesia Carducci deck. Just move your mouse over any cabin and a pop up will appear with detail information, including a full description and floor layout, and a link to pictures and/or videos. These are the newest deck plans for MSC Poesia Carducci deck plan showing public venues and cabin numbers and locations.
| # | Deck Plan Symbols |
| --- | --- |
| | Connecting staterooms |
| | Double sofa bed |
| | Handicap accessible |
| | One upper bed |
| | Single sofa bed |
| | Two upper beds |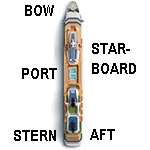 Info:
Next drydock planned for Nov 2023.
Cabin Check Tool
This tool will help you see what is on the deck above and the deck below your stateroom. Don't be surprised by loud chair scraping noise above you.
Accessible cabins on Carducci
These cabins are on the MSC Poesia
Cabin 10050 Category Interior
Cabin 10055 Category Interior
Click to see more details
Stateroom doors are 34.5" and bathroom doors are 35.5". Cabins have a fold down shower bench and shower stool is available upon request. There are additonal grab bars in the bath. The toilet seats are raised and have a grab bar. The shower height is adjustable. Power scooters can be recharged in cabin. There are accessible public restrooms on every deck. The spa is wheelchair accessible.

Hearing impairment kits are available on demand, each kit is actually a suitcase filled with devices aimed to help out guests with hearing disability. Through lights and vibrations, they are notified when the alarm clock goes off, when the door bells, when the phone rings and even when the fire and the evacuate the boat alarms go off. Moreover, personal wireless amplifiers to be used in the theaters and the lounges are also available. Light indicators are available in elevators.

We advise guests using a wheelchair to travel with someone who is able to assist them both aboard and ashore. Some ports-of-call require tenders to go ashore and may preclude guests using wheelchairs from leaving the vessel; this decision must be made by the ships Master and is binding. Guests must bring wheelchairs for their own use. Only a limited amount of wheelchairs are available on board.
MSC Poesia 10 Carducci (deck) Cabin Guru
Here are some tips that you should keep in mind when looking for cabins on this deck. There may be other issues that we haven't noted, and if you are aware of any issues we have not listed, please contact us and let us know so that we can add it to the list.
* Indented balcony cabins (where the deck is more narrow) will look down on the top of lifeboats two decks below. However the view looking forward is good.
* Indented balcony cabins will have obstruction when looking straight forward or aft from the balcony. The closer you are to where the deck first indents the more obvious this obstruction will be. As a result of this obstruction, cabins 10073 and 10074 (and nearby cabins) will have some wind protection on the balcony.
* Balconies that face aft of ship tend to be warmer than other balconies during cold weather crusing.
* The cabins on this deck are above and below decks with only cabins on them. This means that they tend to have less noise issues from public areas on the ship.


Click for more information

The cruise line separates the different categories (Inside, Oceanview, Balcony) into subcategories. The only difference in the subcategories is usually location on the ship. The detail above shows subcategory color, category name, and subcategory name. For detailed information, mouse over a cabin on the deck plans and a pop up window will appear. You will find diagrams, pictures and information about that cabin category including square footage and features.

In November 2021 MSC changed it cabin codification as follows:

The first character defines the cabin type. (I = inside, O = oceanview, V = Infinite Oceanview, B = Balcony, P = Promenade View Balcony, S = Suite, Y = Yacht Club)

The second character defines the Module size. (O = Obstructed, P = Parital View, V = Promenade View, S = Single, M = Junior size, R = Regular size, L = Premium size, X = Grand size, D = Double bedrooms)

The third character defines the Range or additional features (1 = Low Deck, 2 = Medium Deck, 3 = High Deck, 4 = Top Deck)

Features codes may include T = Terrace, J = Terrace with whirlpool, S = Sealed window, P = Promenade view.