Click
on top left for ship menu.
These are the newest deck plans for Eurodam Main deck plan. Cruisedeckplans provides full interactive deck plans for the Eurodam Main deck. Just move your mouse over any stateroom and a pop up will appear with detail information, including a full description and floor layout, and a link to pictures and/or videos. LIVE SHIP TRACKING The menu above is specific to the Eurodam ship and provides a quick way to go to the different pages.
You are viewing deck: 1 Main plan
Click on another deck below to view more deck plans.
| # | Deck Plan Symbols |
| --- | --- |
| | 2 lower beds, 1 sofa |
| | 2 lower beds, 1 sofa, 1 upper |
| | 2 lower beds, convert to queen |
| | Connecting staterooms |
| | Fully obstructed view |
| | Partial sea view |
| | Shower only |
| | Single sink only |
| | Solid steel verandah rails |
| | Tub and shower |
| | Wheelchair accessible with sho |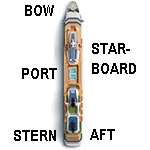 Looking for Main (deck) actual cabin pics and videos?
Click Here
Sub Categories on Main
Click links below to view category info
including cabin pics and videos for that category on the Eurodam.
C Oceanview


D Oceanview

DD Oceanview

E Oceanview


F Oceanview

J Interior


K Interior

Cabin Check Tool
This tool will help you see what is on the deck above and the deck below your stateroom. Don't be surprised by loud chair scraping noise above you.
Accessible cabins on Main
These cabins are on the Eurodam
Cabin 1011 Category Interior
Cabin 1012 Category Interior
Cabin 1074 Category Interior
Cabin 1081 Category Oceanview
Cabin 1082 Category Oceanview
Click to see more details
The Handicap stateroom door has a 32.5" clearance with no sill and the bathroom door is 32.5" with no sill. There is a roll in shower (30x52) with hand held shower head, bench and grab bars. The sink is 36" high with knee clearance underneath. The toilet is 18" high (riser available upon request) and has grab bars. The mirror in the bathroom is 47" high and the mirror in the stateroom is 34" high. The light switch is 39" high and the bed from top of mattress to floor is 20".

Portable assist kits for people with visual and hearing disabilities; options include visual doorknockers and vibrating bed alerts, as well as pamphlets and menus available in braille. In addition, ships utilize FM transmission and infrared systems to aid passengers on galley tours and in the show lounges; guests are also free to use the aids on shore excursions.

Holland America Line strongly recommend that all personal electric mobility equipment meets the following criteria: Width: 23" maximum in order to be accommodated in a standard stateroom, unless collapsible to a width of 23" or less Weight: 100 lbs. maximum without battery Batteries: Must be Gel or Dry Cell or AGM (Absorbed Glass Mat) only

We recognize that for some people, a larger scooter may be essential. If you believe you need a larger scooter, please contact us so that we can discuss your requirements.

Please be aware Scooters and other mobility equipment need to be securely stored and charged in the guest's stateroom; not in hallways or elevator lobbies.
Eurodam 1 Main (deck) Cabin Guru
Here are some tips that you should keep in mind when looking for cabins on this deck. There may be other issues that we haven't noted, and if you are aware of any issues we have not listed, please contact us and let us know so that we can add it to the list.
* Cabins on this deck are below public deck above
* There are more potential public noise issues on the port side. Aft port side cabins are below kitchen areas and some of the forward portside cabins are below night club.
* Save money and book a forward or aft cabin in the same category you are looking for. They are the same size and offer the same features as more expensive midship cabins.


Click for more information

The cruise line separates the different categories (Inside, Oceanview, Balcony) into subcategories. The only difference in the subcategories is usually location on the ship. The detail above shows subcategory color, category name, and subcategory name. For detailed information, mouse over a cabin on the deck plans and a pop up window will appear. You will find diagrams, pictures and information about that cabin category including square footage and features.

Holland America uses letters to denote the type of cabins. Interior cabins start with the letter I to N with I being the more desired location. Oceanview cabins start with the letter C to H with C being the more desired location. Verandah cabins start with the letter V followed by the letter A to H with A being the more desired location. Vista cabins start with the letter A or B with A being the more desired type of Verandah caibn. This may be followed by another letter A to P with A being the more desired location. Suites start with the letter S followed by the letter A to Z with A being the more desired location and/or suite type.

The only exception to the above is if the second letter is Q. That stands for spa and a more desired cabin because of its perks. There are also a couple unique codes. OO stands for a single oceanview cabin (sleeps one). FA or FB are family oceanview cabins with FA being more desired.