Enchantment of the Seas Deck 8 deck plan
Click
on top left to choose a different ship. The menu above is specific to the Enchantment of the Seas ship and provides a quick way to go to the different pages.
Cruisedeckplans provides full interactive deck plans for the Enchantment of the Seas Deck 8 deck. Just move your mouse over any cabin and a pop up will appear with detail information, including a full description and floor layout, and a link to pictures and/or videos. These are the newest deck plans for Enchantment of the Seas Deck 8 deck plan showing public venues and cabin numbers and locations.
| # | Deck Plan Symbols |
| --- | --- |
| | Connecting staterooms |
| | Four pullman beds |
| | Handicapped facilities |
| | Sleeps up to 3 |
| | Sleeps up to 4 |
| | Sofa and pullman bed |
| | Two pullman beds |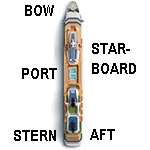 Info:
Next drydock planned for Quarter 4, 2023.
Looking for Deck 8 (deck) actual cabin pics and videos?
Click Here
Sub Categories on Deck 8
Click links below to view category info
including cabin pics and videos for that category on the Enchantment of the Seas.
Cabin Check Tool
This tool will help you see what is on the deck above and the deck below your stateroom. Don't be surprised by loud chair scraping noise above you.
Accessible cabins on Deck 8
These cabins are on the Enchantment of the Seas
Cabin 8108 Category Junior Suite
Cabin 8608 Category Junior Suite
Click to see more details
Stateroom door width: 32 to 34 inches, Bathroom door width: 32 to 34 inches, no door sill to get into the stateroom, ramped bathroom thresholds, bathroom grab bars, lowered sink and vanity, roll-in showers, fold-down shower stool, hand-held shower heads, lowered closet bars, refrigerator in stateroom (some upon request), raised toilet seats (standard, 17.5 inches; taller raisers available).
Enchantment of the Seas Deck 8 (deck) Cabin Guru
Here are some tips that you should keep in mind when looking for cabins on this deck. There may be other issues that we haven't noted, and if you are aware of any issues we have not listed, please contact us and let us know so that we can add it to the list.
* All the cabins on this deck are below a deck of public spaces above. The most complaints of noise from that area will come from aft cabins on each side underneath the fitness center, and the cabins around the forward elevator and then forward underneath the Windjammer Cafe
* Cabins 8098 to 8104 and 8598 to 8604 were added to this ship and have a floor to ceiling glass windows
* Some cabins have a pole in them that helps support the deck above. Other than being a slight nuisance it is good for jokes. Cabins affected appear to be 8056, 8062, 8068, 8076, 8114, 8124, 8132, 8138, 8146, 8156 on the port side and 8556, 8562, 8568, 8576, 8614, 8624, 8632, 8638, 8646, 8656 on the starboard side
* Aft facing cabins look down on balcony of cabins below them and then down upon the ship structure and crew area. Balconies on each side slightly wrap to the side of the cabin and offer the best views
* There is a overhang from the deck above that will bring more shade on balconies 8522, 8528, 8022, and 8028. Another overhang will bring shad on balconies 8540 to 8614 on the starboard side and 8040 to 8114 on the port side. A third overhang will bring shade to cabins 8626 to 8636 on the starboard side and 8126 to 8136 on the port side.
* Balconies that face aft of ship tend to be warmer than other balconies during cold weather crusing.


Click for more information

The cruise line separates the different categories (Inside, Oceanview, Balcony) into subcategories. The only difference in the subcategories is usually location on the ship. The detail above shows subcategory color, category name, and subcategory name. For detailed information, mouse over a cabin on the deck plans and a pop up window will appear. You will find diagrams, pictures and information about that cabin category including square footage and features.

Royal Caribbean has the most complicted and most difficult to understand category coding of all the major cruise lines. Its complicated because some cabins can be classified many different ways, sometimes without rhymn or reason. In some cases they also use the same color to denote two different categories.

They use a number followed by letter to denote the type of cabin. Cabins are ranked from the lowest number first to the highest number and also from the lowest letter first to the highest letter. Therefore a category that begins with 1 is consider a better cabin choice than one that begins with 3. The type of cabin is defined by the letter that appears after the number.

Letter V defines a inside cabin. Letter T defines a promenade view stateroom. A Boardwalk view balcony uses the letters I,J.

Oceanview cabins are defined by letter N. Spacious oceanview cabins by the letter M. Panoramic oceanview cabins are defined with the letters P and L. Letter S defines a boardwalk view cabin.

Spacious balconies are defined by the letter B. Regular balcony cabins use the letter D.