Disney Magic Deck Eight deck plan
Click
on top left to choose a different ship. The menu above is specific to the Disney Magic ship and provides a quick way to go to the different pages.
Cruisedeckplans provides full interactive deck plans for the Disney Magic Deck Eight deck. Just move your mouse over any cabin and a pop up will appear with detail information, including a full description and floor layout, and a link to pictures and/or videos. These are the newest deck plans for Disney Magic Deck Eight deck plan showing public venues and cabin numbers and locations.
| # | Deck Plan Symbols |
| --- | --- |
| | Connecting Staterooms |
| | Elevators |
| | Points to connecting cabin |
| | Proposed connecting |
| | Solid wall verandah |
| | Wheelchair accessibility |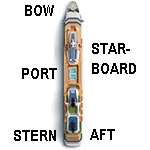 Info:
Next drydock planned for Quarter 3, 2023
Looking for Deck Eight (deck) actual cabin pics and videos?
Click Here
Sub Categories on Deck Eight
Click links below to view category info
including cabin pics and videos for that category on the Disney Magic.

1A Concierge Royal Suite with Verandah

1B Concierge 2-Bedroom Suite with Verandah

2A Concierge 1-Bedroom Suite with Verandah


2B Concierge 1-Bedroom Suite with Verandah


3A Concierge Family Stateroom with Verandah

4A Deluxe Family Oceanview Stateroom with Verandah

4B Deluxe Family Oceanview Stateroom with Verandah

4E Family Verandah Stateroom

Cabin Check Tool
This tool will help you see what is on the deck above and the deck below your stateroom. Don't be surprised by loud chair scraping noise above you.
Accessible cabins on Deck Eight
These cabins are on the Disney Magic
Cabin 8094 Category Deluxe Verandah
Click to see more details
Features include ramped bathroom thresholds, open bed frames, added phones in the bathroom/nightstand, bathroom and shower handrails, fold-down shower seats, hand-held shower heads, lowered towel and closet bars, and Emergency Call Buttons. All staterooms are non-smoking.
Disney Magic Deck Eight (deck) Cabin Guru
Here are some tips that you should keep in mind when looking for cabins on this deck. There may be other issues that we haven't noted, and if you are aware of any issues we have not listed, please contact us and let us know so that we can add it to the list.
* Cabins 8006 to 8012 and 8100 on the port side and 8506 to 8512 and 8600 on the starboard side are shaded by a large overhang on the deck above. This overhang provide more shade to these balconies.
* There is also a smaller overhang (bump out) from the deck above that will affect cabins 8016 and aft on the port side and 8516 and aft on the starboard side. This overhang will provide shade to these balconies when the sun is high in the sky.
* The cabins on this deck are below public areas on the deck above. This means that there is a greater potential for noise issues from those areas. The area that tends to generate the most noise concerns are the aft cabins which are below the buffet.
* The cabins facing aft on this deck are open air. This mean that they do not have a roof covering and can be viewed by the deck above.
* Balconies that face aft of ship tend to be warmer than other balconies during cold weather crusing.


Click for more information

The cruise line separates the different categories (Inside, Oceanview, Balcony) into subcategories. The only difference in the subcategories is usually location on the ship. The detail above shows subcategory color, category name, and subcategory name. For detailed information, mouse over a cabin on the deck plans and a pop up window will appear. You will find diagrams, pictures and information about that cabin category including square footage and features.