Carnival Sunshine Deck 5 deck plan
Click
on top left for ship menu.
These are the newest deck plans for Carnival Sunshine Deck 5 deck plan. Cruisedeckplans provides full interactive deck plans for the Carnival Sunshine Deck 5 deck. Just move your mouse over any stateroom and a pop up will appear with detail information, including a full description and floor layout, and a link to pictures and/or videos. LIVE SHIP TRACKING The menu above is specific to the Carnival Sunshine ship and provides a quick way to go to the different pages.
You are viewing deck: Deck 5 plan
Click on another deck below to view more deck plans.
| # | Deck Plan Symbols |
| --- | --- |
| | 1 Upper Bed |
| | 2 upper beds |
| | Balcony with obstructed views |
| | Connecting Staterooms |
| | Extended balcony (50% larger) |
| | Stateroom with 2 portholes |
| | Twin beds do not convert |
| | Twin/king w double sofa |
| | Twin/King w single sofa |
| | Twin/king, single sofa & upper |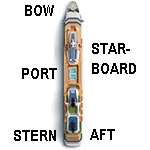 Info:
Planned Dry Dock: 1/04/25-2/15/25
Public Spaces on Deck 5
You can click on any image for larger size of the space on Carnival Sunshine.

Alchemy Bar
Serves a range of cocktails served at the unique vintage-themed cocktail pharmacy. Seats 30 guests.
Taste Bar
Pick up a complimentary appetizer before dinner for a taste of something different.
Shake Spot
With a variety of tempting, handcrafted shakes and indulgent floats, Shake Spot is your cool spot for something sweet.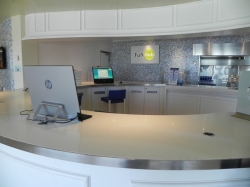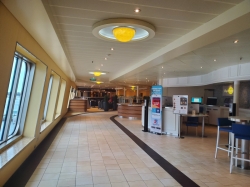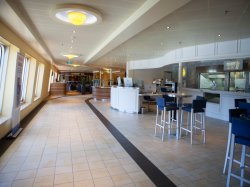 RedFrog Pub
Sample Caribbean fare, dominate at the foosball table, enjoy some sweet tunes from live musicians and sip our tasty signature private-label brew, ThirstyFrog Red.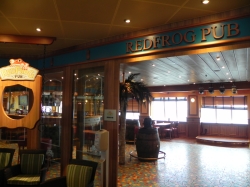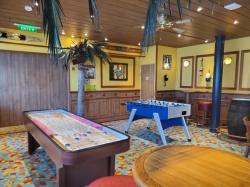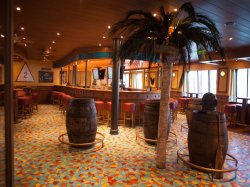 JavaBlue Cafe
Featuring fun twists on the hot and cold drinks you enjoy.
Ocean Plaza
Enjoy live music, coffee and snacks, and dancing.
Cherry on Top
Well stocked candy and more store with confectionary favourites, cupcakes, chocolate bars, branded Cherry On Top gear, tuxedo rentals, and gifts for special occasions such as flowers and wine. Includes a premium ice cream counter with goodies for mixing and topping.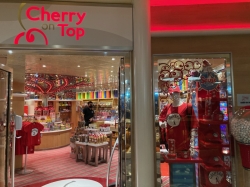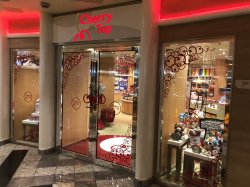 Skybox Sports Bar
Replaced EA Sports Bar in May 2016. Sports bar that offers beverage service and snacks. Has big screen TV's showing live sports events and real-time scores from across the sports world.
The Fun Shops
A selection of boutiques and duty free shops with items ranging from clothes, jewelry and spa products to souvenirs and duty free alcohol.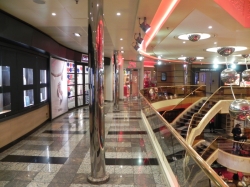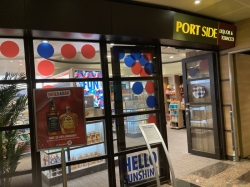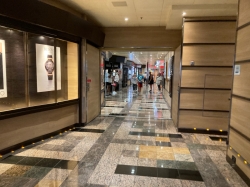 Liquid Lounge
Stages the ship's main productions featuring dancers, musicians and performers as well as audience participation game shows and bingo amongst other entertainment.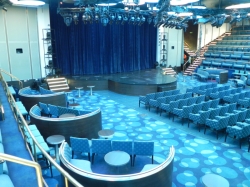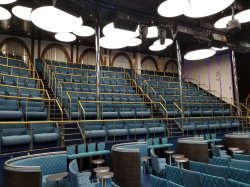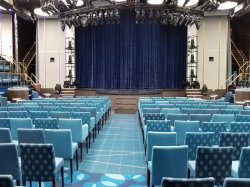 Sunshine Casino
Casino with bar, slot machines and gaming tables.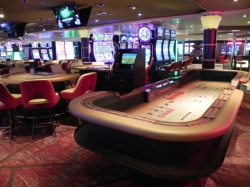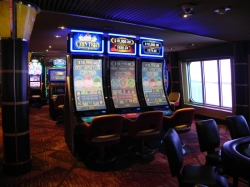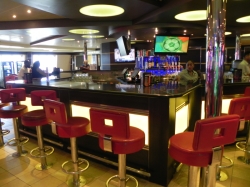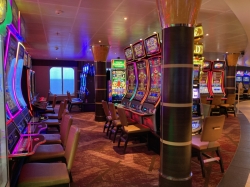 Warehouse Video Arcade
Video Arcade open 24 hours.
Sunshine Atrium
Main ship atrium. On first level is guest services and shore excursion desk.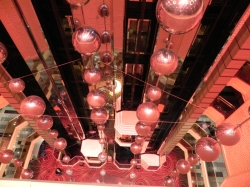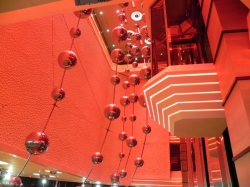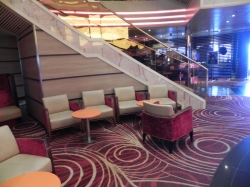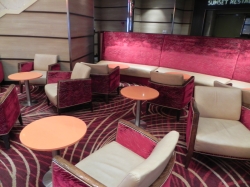 Cabin Check Tool
This tool will help you see what is on the deck above and the deck below your stateroom. Don't be surprised by loud chair scraping noise above you.
Accessible cabins on Deck 5
These cabins are on the Carnival Sunshine
Cabin 5310 Category Interior
Cabin 5311 Category Interior
Cabin 5344 Category Balcony
Cabin 5345 Category Balcony
Click to see more details
Have a 35" entry door and a 32" bathroom door, both doorways have no threshold. The bathrooms have roll-in showers with hand held shower head, grab bars and fold down seat. The toilets are 18" high and have grab bars and the sink is 26.5" high with knee clearance underneath.
Carnival has alert kits for guests with hearing impairments which can be fitted to any cabin. These kits include visual notification of the door knocker and smoke alarm and there is a vibrating alarm and phone amplifier. Please notify in advance if this equipment is needed. Service dogs are permitted with the required documentation but may not be allowed to disembark at all ports.
See category list for special needs cabin numbers.
There are two types of special needs cabins on this ship:
Modified Cabins: these cabins are designed for guests who may utilize a wheelchair or similar assistance device (e.g. for distance) (and include features such as grab bars and shower seats in the bathrooms).
Fully Accessible Cabins: these cabins are designed for guest with highly limited or no mobility who utilize wheelchairs or other similar assistive devices (and include features such as turning space; accessible routes throughout the cabin; and accessible bathrooms).
Inside Cabins

---

Category
Cabin
-- Door Width --
Notes
Number
Stateroom
Bathroom
4A
1609
22"
22"
AAC
4C
3101
22"
22"
AAC
4C
3102
22"
22"
AAC
4C
3103
22"
22"
AAC
4D
5310
22"
22"
AAC
4D
5311
22"
22"
AAC
4D
6314
22"
22"
AAC
4D
6341
22"
22"
AAC
4E
7118
22"
22"
AAC
4E
7119
22"
22"
AAC
4E
7294
22"
22"
AAC
4F
8304
22"
22"
AAC
4F
8305
22"
22"
AAC
4G
9117
22"
22"
AAC
4G
9119
22"
22"
AAC
4G
9130
22"
22"
AAC
4G
9132
22"
22"
AAC
4G
9136
22"
22"
AAC
4G
9137
22"
22"
AAC


Oceanview Cabins

---

Category
Cabin
-- Door Width --
Notes
Number
Stateroom
Bathroom
6B
2340
22"
22"
AAC
6B
2341
22"
22"
AAC
4J
6105
22"
22"
AAC, Obstructed
4J
6106
22"
22"
AAC, Obstructed
4J
7103
22"
22"
AAC, Obstructed
4J
7104
22"
22"
AAC, Obstructed
4J
7105
22"
22"
AAC, Obstructed
4J
7106
22"
22"
AAC, Obstructed


Balcony Cabins

---

Category
Cabin
-- Door Width --
Notes
Number
Stateroom
Bathroom
8T
11032
22"
22"
AAC
8M
5344
22"
22"
AAC
8M
5345
22"
22"
AAC
8A
6107
22"
22"
AAC
8A
6108
22"
22"
AAC


Carnival Sunshine Deck 5 (deck) Cabin Guru
Here are some tips that you should keep in mind when looking for cabins on this deck. There may be other issues that we haven't noted, and if you are aware of any issues we have not listed, please contact us and let us know so that we can add it to the list.
* Aft facing cabin balconies are semi-private. The divider between the balconies comes down at a slant which allows people on the balcony next to yours to view your balcony when standing at the railing.
* Balconies that face aft of ship tend to be warmer than other balconies during cold weather crusing.


Click for more information

The cruise line separates the different categories (Inside, Oceanview, Balcony) into subcategories. The only difference in the subcategories is usually location on the ship. The detail above shows subcategory color, category name, and subcategory name. For detailed information, mouse over a cabin on the deck plans and a pop up window will appear. You will find diagrams, pictures and information about that cabin category including square footage and features.

Carnival uses a two digit code for its stateroom categories. The first letter represents the type of cabin. 1=Small Interior, 4=Interior, 6=Oceanview, 7=Cove Balcony, 8=Balcony, 9=Premium Balcony. The second letter represents the desired location with A being the least desirable.

As an example a 4J (Interior cabin) is in a more desirable location than a 4A (Interior cabin).