Carnival Paradise Grand deck plan
Click
on top left for ship menu.
These are the newest deck plans for Carnival Paradise Grand deck plan. Cruisedeckplans provides full interactive deck plans for the Carnival Paradise Grand deck. Just move your mouse over any stateroom and a pop up will appear with detail information, including a full description and floor layout, and a link to pictures and/or videos. LIVE SHIP TRACKING The menu above is specific to the Carnival Paradise ship and provides a quick way to go to the different pages.
You are viewing deck: 14 Grand plan
Click on another deck below to view more deck plans.
| # | Deck Plan Symbols |
| --- | --- |
| | 1 Upper Bed |
| | 2 upper beds |
| | Balcony with obstructed views |
| | Connecting Staterooms |
| | Extended balcony (50% larger) |
| | Stateroom with 2 portholes |
| | Twin beds do not convert |
| | Twin/king w double sofa |
| | Twin/King w single sofa |
| | Twin/king, single sofa & upper |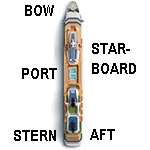 Info:
Planned Dry Dock: 10/08/23-10/29/23
Cabin Check Tool
This tool will help you see what is on the deck above and the deck below your stateroom. Don't be surprised by loud chair scraping noise above you.
Accessible cabins on Grand
These cabins are on the Carnival Paradise
Cabin G25 Category Suite
Click to see more details
The cabin door width is 30" with no sill which will give you 27" of hallway clearance. The bathroom door width is 31", also with no sill. There is a roll-in shower with grab bars and hand held shower head. The toilet is 17.5" high with grab bars. The sink is 35" high. Shower stool is available from steward.
Special needs cabins:
Inside Cabins

---

Category
Cabin
-- Door Width --
Notes
Number
Stateroom
Bathroom
4E
E116
22"
22"
AAC, Interior hall clearance 26"
4E
E119
22"
22"
AAC, Interior hall clearance 26"
4E
E120
22"
22"
AAC, Interior hall clearance 26"
4E
E123
22"
22"
AAC, Interior hall clearance 26"
4D
E52
22"
22"
AAC, Interior hall clearance 26"
4D
E53
22"
22"
AAC, Interior hall clearance 26"
4D
E56
22"
22"
AAC, Interior hall clearance 26"
4D
E57
22"
22"
AAC, Interior hall clearance 26"
4E
E80
22"
22"
AAC, Interior hall clearance 26"
4E
E81
22"
22"
AAC, Interior hall clearance 26"
4C
M298
32"
32"
FAC (Single Side-Both)
4B
R298
32"
32"
FAC (Single Side-Both)


Oceanview Cabins

---

Category
Cabin
-- Door Width --
Notes
Number
Stateroom
Bathroom
6D
E259
32"
32"
FAC (Single Side-Both)
6E
E64
22"
22"
AAC, Interior hall clearance 26"
6E
E65
22"
22"
AAC, Interior hall clearance 26"
6E
E66
22"
22"
AAC, Interior hall clearance 26"
6E
E67
22"
22"
AAC, Interior hall clearance 26"
6E
E68
22"
22"
AAC, Interior hall clearance 26"
6E
E69
22"
22"
AAC, Interior hall clearance 26"
6E
E70
22"
22"
AAC, Interior hall clearance 26"
6E
E71
22"
22"
AAC, Interior hall clearance 26"
6E
E72
22"
22"
AAC, Interior hall clearance 26"
6E
E73
22"
22"
AAC, Interior hall clearance 26"
6C
U243
32"
32"
FAC (Single Side-Both)


Suites

---

Category
Cabin
-- Door Width --
Notes
Number
Stateroom
Bathroom
GS
U69
32"
32"
FAC