Click
on top left for ship menu. Blog Titled Oceania Insignia Review
Oceania Insignia Review
In this age of Mega Cruise Ships it's nice to have some Cruise Lines out there that get back to the basics of what cruising is all about. Don't get me wrong, Mega Cruise Ships are very popular and have their place. But sometimes you don't want the water slides, race cars, crowded pools, go carts, and all the noise that go with that.

We recently sailed the Insignia and it was perhaps the best cruise experience I had in years. The Insignia is only 30,000 tons but with only 700 passengers the space ratio is up around 38. This ship never felt crowded.

The Insignia offers a large viewing lounge on the top forward part of the ship, a large pool and two hot tubs. There is an additional hot tub for certain guests forward of the fitness center. The spa and fitness area is a good size for a small ship. There is a large library, two specialty restaurants, and a buffet with outdoor seating.

Lacking on this ship is a wraparound promenade deck. There is an outside promenade on both sides of the ship that is nice and wide but for the most part is not used. Instead, above the pool area, there is a walking/jogging track.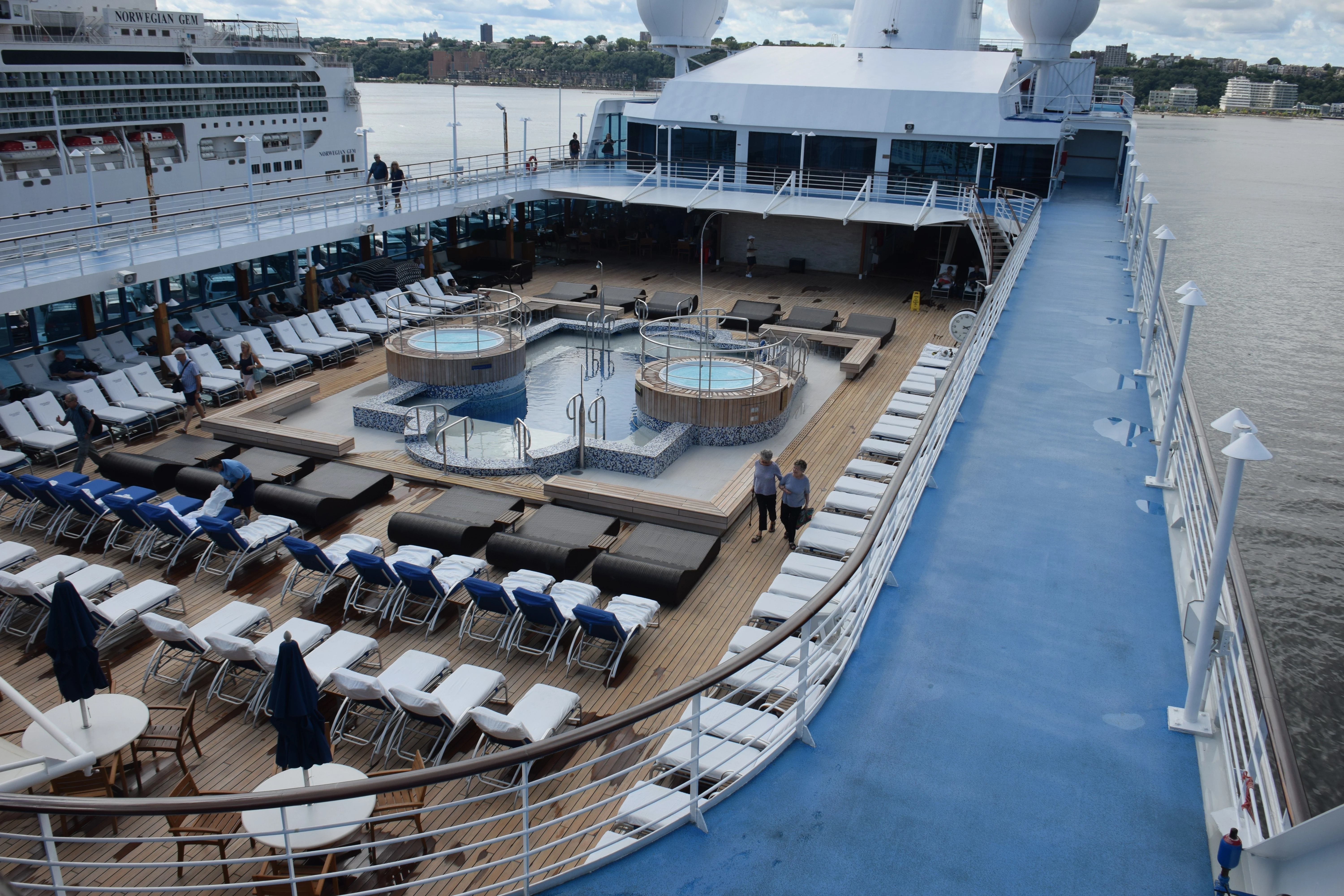 Above: Walking Track on Oceania Insignia

Because Insignia is a smaller ship it is able to go places that Mega Cruise Ships cannot. For example, on our way to Boston we sailed up the Cape Cod Canal. Having grown up in New England this experience was amazing. We had been over those bridges hundreds of time, but sailing under the same bridges was breath taking.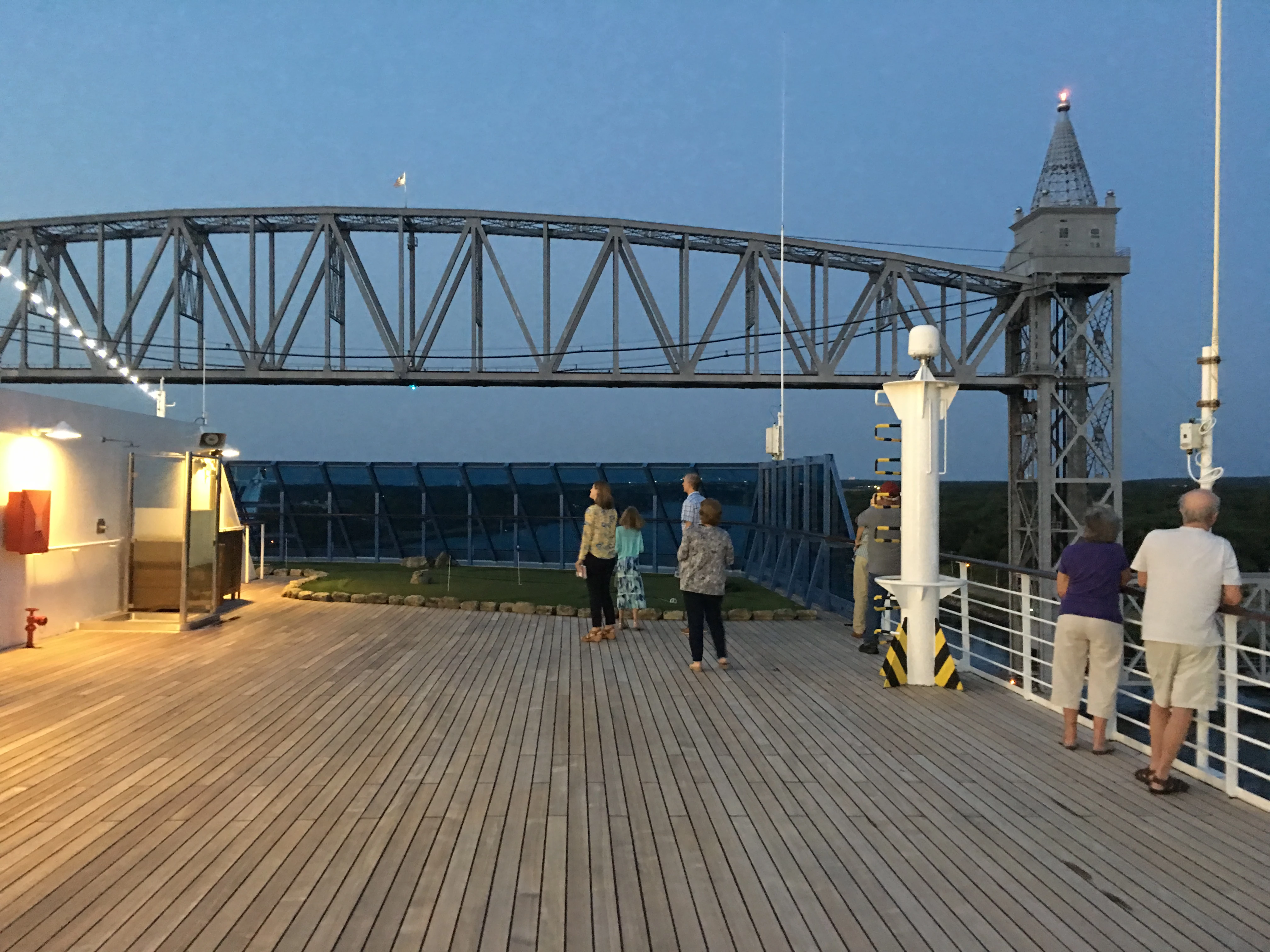 Passing under the Cape Cod Canal Railroad Bridge

We also sailed into the port of St. Georges in Bermuda. We had sailed into this port on our very first cruise (Norwegian Majesty) and it was nice to finally be back on a ship that could go into this port. St. Georges showed it's appreciation by firing a cannon and having the town crier welcome us with a clanging bell.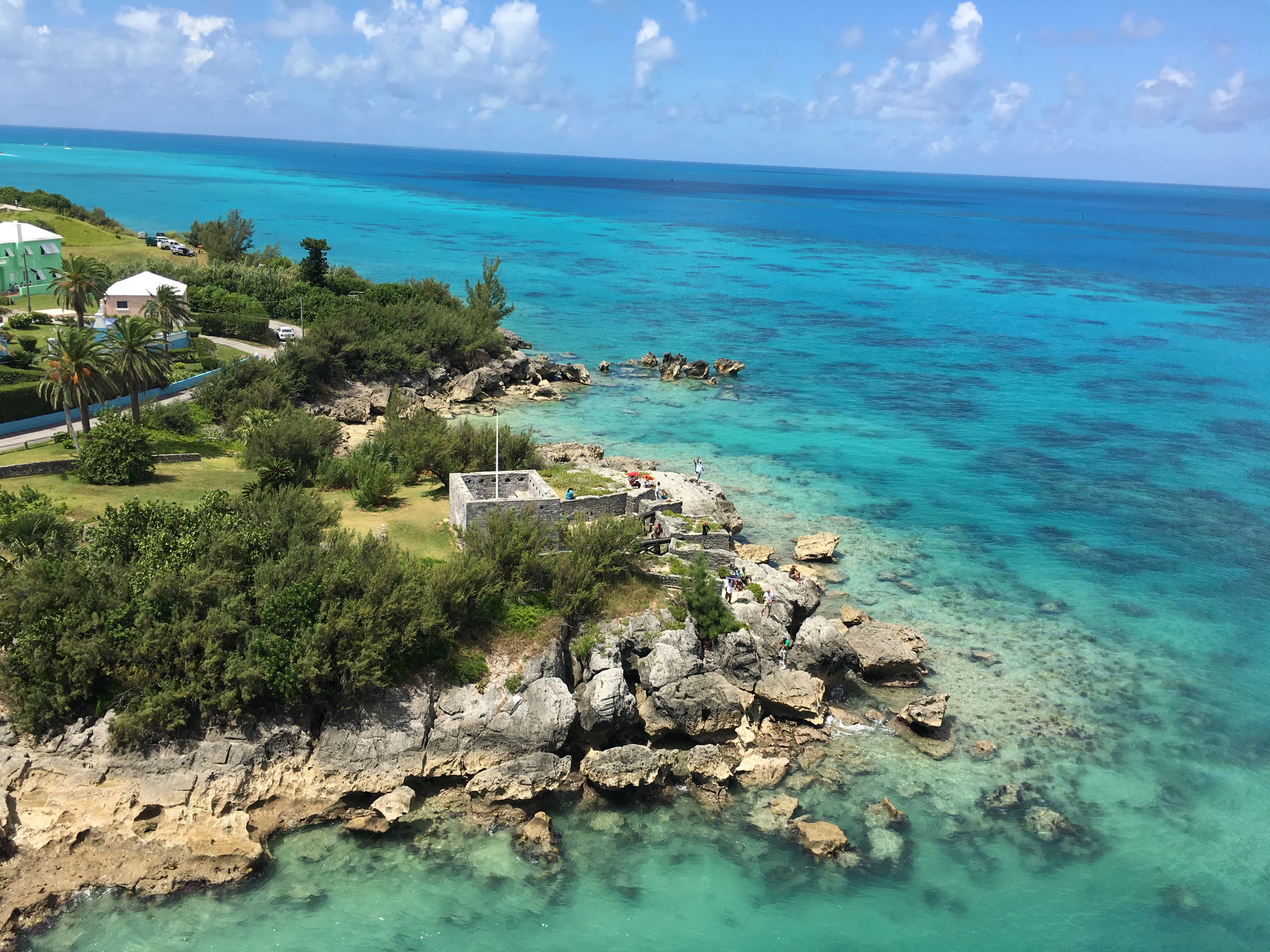 Sailing home from St. Georges Bermuda

Dining on this ship is open seating. This allowed our party to go to the dining room at any time. We never had to wait for a table and the service was always outstanding. The food on this ship was very good. It was always served warmed. The fresh bread and soups were great. The menu could be improved with more selections, but we were always able to find something that appealed to us.

Dinner drinks were served by wine sommeliers. In the dining room there were 4 or 5 of them on duty and they did a really good job keeping the wine poured and our table happy.

I always like the Broadway style shows on the Mega Cruise Ships and was worried that Oceania would not provide something similar. However on our cruise there was a new production cast of 6 singers and dancers. They did 3 shows during the cruise and the shows were high in energy and talent.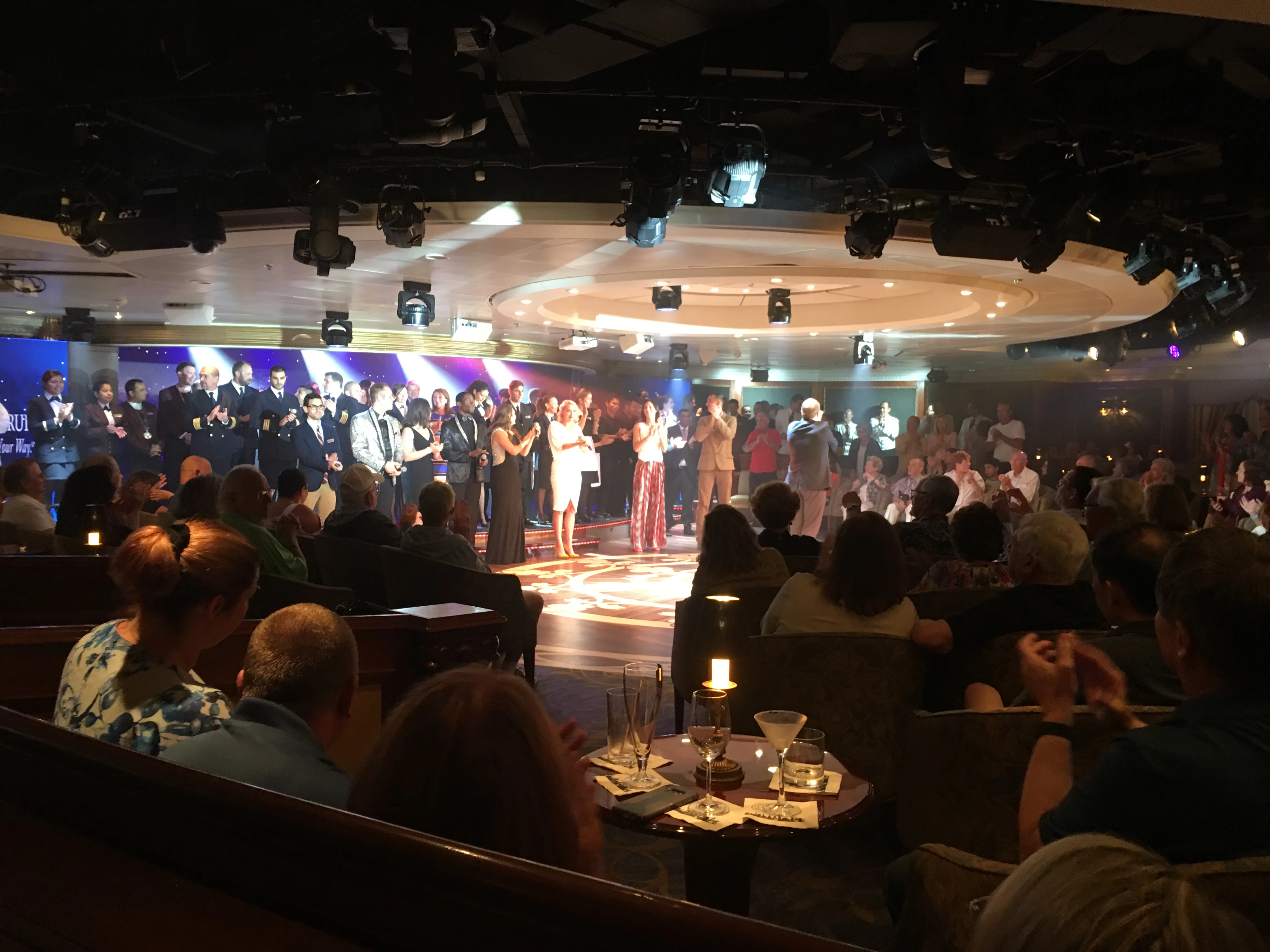 Production cast and ships crew in show lounge

We love to be around the pool and were concerned about the typical chair hogs that you find on the larger ships. But there were zero chair hogs on this ship with seating always available. The pool is well attended and chairs always had fresh towels on them. Shaded chairs were sometimes hard to find though and this is one area that Oceania should look at improving.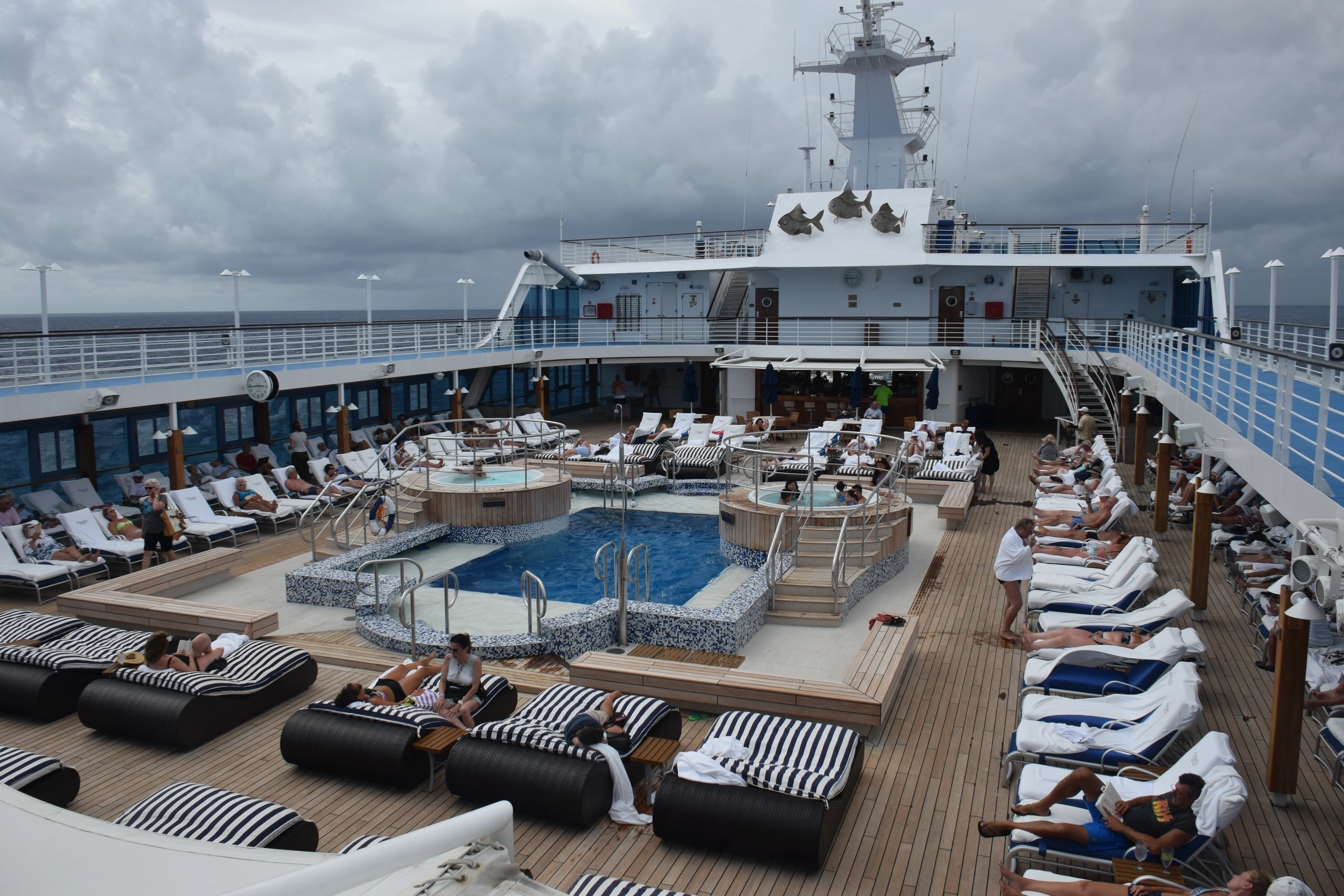 Oceania Insignia pool on sea day

The other area that is lacking on Oceania is the quality of the mixed drinks. Although the bar service was amazing and there was hardly ever a line, the drinks were sometimes not good. This was especially true of frozen drinks like the Mud Slide and Miami Vice and other mixed drinks like the Bloody Mary. The drinks of the day were usually uninspiring. I missed the Martini Bar that we enjoyed on the Celebrity Silhouette and the talented bartenders.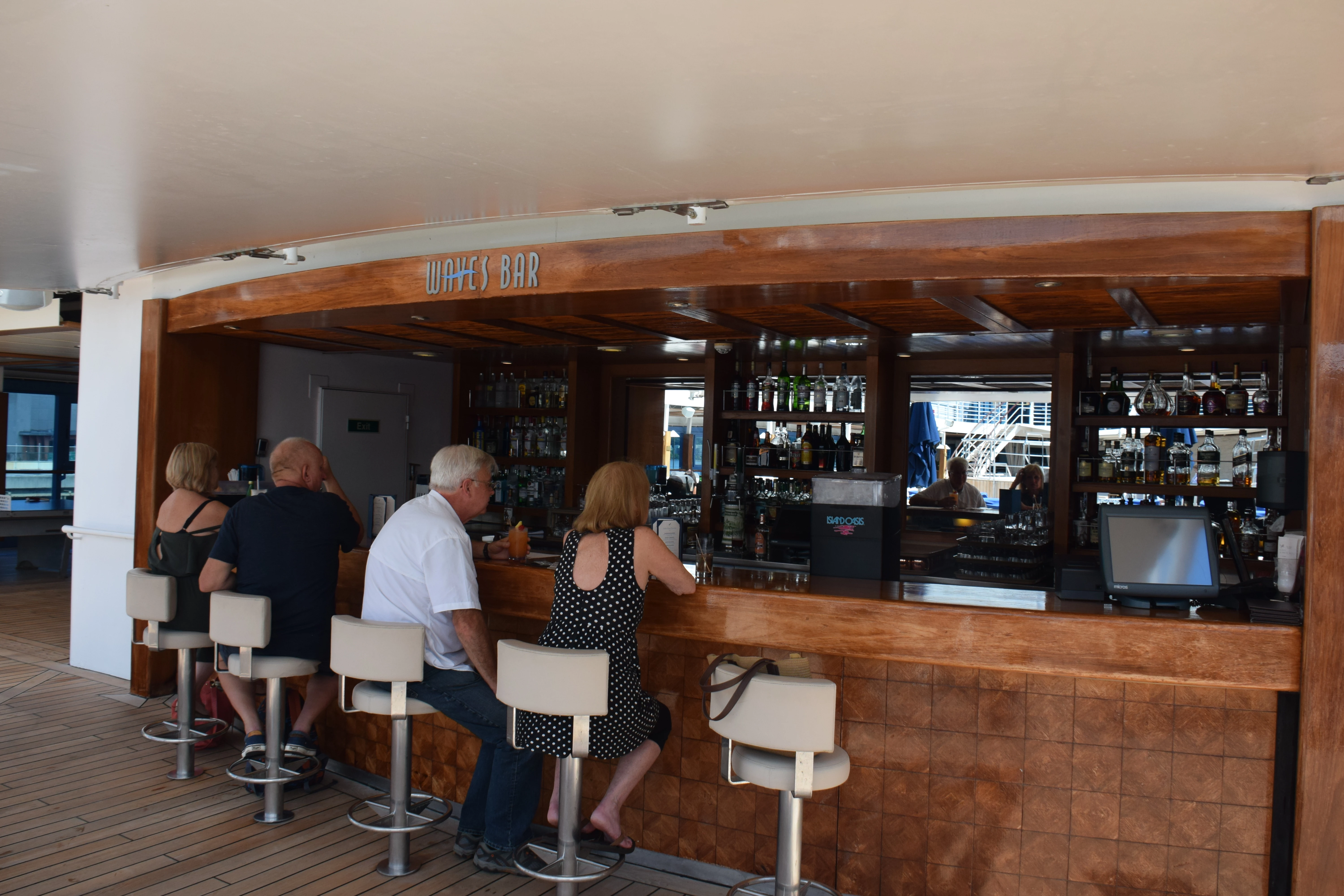 Quiet Pool Side Bar

A great feature is the pool side Waves Grill. There is plenty of seating and all food is cooked to order. One person in our party is on a gluten free diet, but was able to order a Rueben and the Waves Grill prepared one that met her diet needs. She also was able to order just about anything on the menu in the dining room ahead of time and it was prepared special just for her.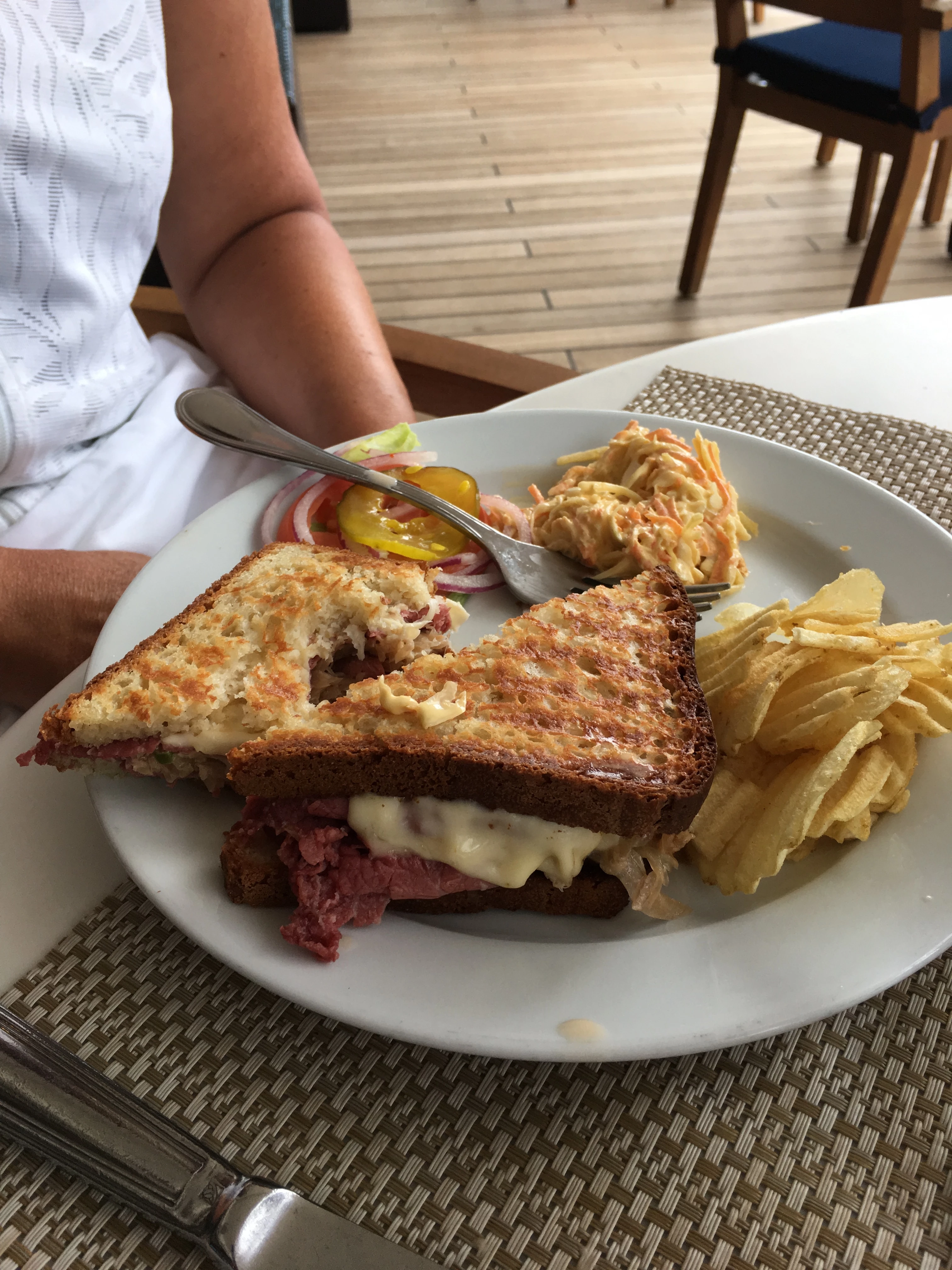 Prepared lunch at Waves Grill, Pool Side Oceania Insignia

The bottom line is that this is the experience I think about when I think about cruising. First, a small ship that I can feel the ocean move. Second, being able to walk from one end of the ship to the other without getting tired. Thirds, soft comfortable lounge chairs to enjoy the sun, shade or watch the passing ocean from.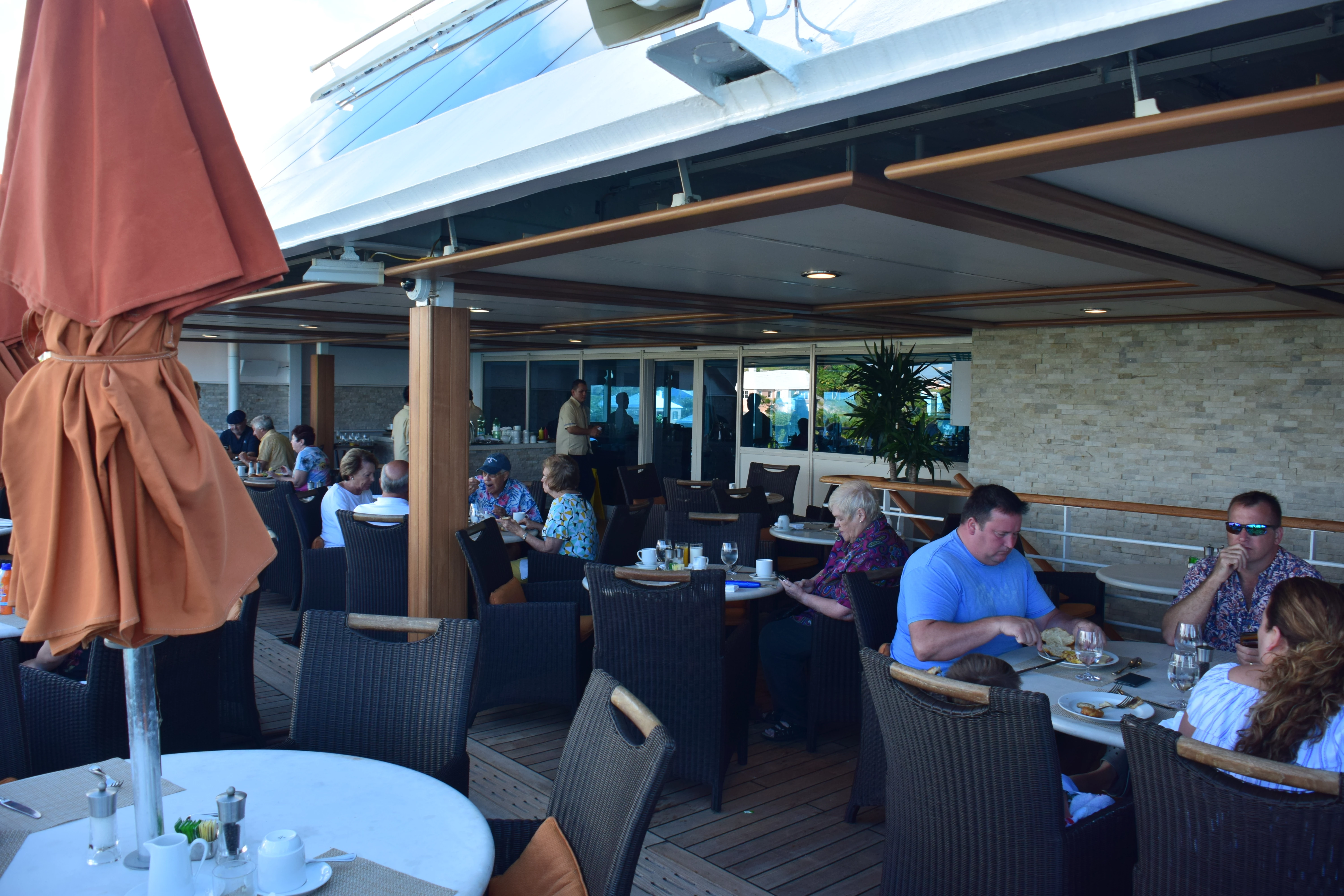 Outdoor buffet seating during peak time.

If you want to get back to the basics of cruising give Oceania a try.

Steve Millay, ACC