Common Mistakes made by Cruisers.
Click
on top left for ship menu. Blog Titled Common Mistakes made by Cruisers.
Common Mistakes made by Cruisers.
The following are some of the most common mistakes made by cruisers.

Mistake 1: Flying the same day as the cruise.
If everything worked according to plan in life then we would all be happier people. But more often than we would like, we run into road blocks. In a world where only about 85% of flights are on time, cruisers can sometimes be over trusting in planning their flights to the port. When you arrive late for land vacations there are minimal ramifications. The hotel does not move. But with a cruise vacation, if you do not arrive at the port in time, the ship will sail without you. Not only that, but the cruise line will not issue any refund to you for missing the ship.
It doesn't matter if it is an unexpected major snow storm that closed the airport; it doesn't matter if the plane had mechanical problems and they ended up canceling the flight; it doesn't matter if your car broke down on the way to airport; it doesn't matter if your flight was delayed and you missed a connection; it doesn't matter what the reason is -- if you do not arrive to the ship in time you will lose any money you spent on the cruise.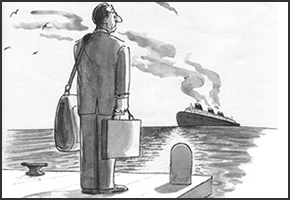 With so many things that could go wrong in the process of flying on the day of the cruise, it is really risky to fly the same day as your cruise ship departs. We have found that it is well worth the little additional cost to fly in the day before, stay overnight at a nearby hotel, get plenty of sleep and start the cruise off right.
Mistake 2: Don't buy insurance.
Cruisers sometimes forget that the ship travels over a deep ocean and often is many hours (if not days) from the nearest land. There is just as much of a chance that a medical emergency will happen on the sea as on the land. It could be a heart attack or a stroke. We could fall down the stairs or we could have an accident on a shore excursion. These terrible things do happen to cruisers and if the ship is in the middle of the ocean and you need to be evacuated to a land hospital that is hundreds of miles away, just the cost to transport you from the ship to land will cost a fortune. Most people think of cruise insurance as just covering lost bags, or the cost of the cruise if you get ill. But the real value of cruise insurance is the medical and emergency medical evacuation coverage. These are the costs that can wipe out your savings and put you in bankruptcy.

The chances you will need insurance is low, but the risk is very high. Look for a policy with emergency medical evacuation insurance of at least $250,000.

Mistake 3: Anticipate a free cabin upgrade
There was a time when getting cabin upgrades was very common in the cruise world. Therefore, people would book a basic inside cabin and hope that the cruise line would upgrade them to an ocean view cabin or a balcony cabin. Times have changed and even though upgrades are still possible, it is no longer as likely that it will happen. You should always book the cabin that you will be happy with. The same is true when booking guaranteed categories. (By booking a guaranteed cabin on a cruise, the cruise line is guaranteeing that you will be assigned a cabin in that same category or better.) You can usually save several hundred dollars by booking a guaranteed cabin as opposed to booking a specific cabin. However, you are giving up control over where that cabin is located. If you decide to book a guarantee make sure that you would be happy in any location that the cruise line will assign to you. If that is not the case, you may be better off paying a little more for a specific cabin.

Mistake 4: Letting your guard down.
Cruise vacations are a place where it is normal to let loose and relax. But traveling on a ship with thousands of fellow passengers and hundreds of crew members is like visiting a small city. And whereever there are people, there is always the potential for danger. Every now and then we hear stories of cruisers who became victims of predators onboard. It could be a fellow passenger, it could be a member of the crew. These predators take advantage of cruisers who let their guard down. Letting your guard down could be letting your children run freely throughout the ship, it could be leading a fellow passenger or crew member back to your cabin, it could be drinking way beyond your limit.

There are some smart things you can do to be safe on cruise ships. First, remember you are on a ship in the middle of the ocean. It is never a good idea to climb on or sit on the railings. Second, always travel in herds. If you have friends or family close by at all times then they will be there to look out for you. This is true especially at night. Don't let your guard down around strangers that you just met. Make sure someone you trust is nearby and knows where you are. Don't follow a crew member into the crew only areas. And eventhough you don't have to drive, never drink so much that you lose complete control over yourself.

These are some of the common mistakes that cruisers will make. Hopefully in all the excitement of booking your cruise you will keep these things in mind and have a safe and happy cruise experience.

Steve Millay, ACC