Click
on left for ship menu
Regal Princess Cabin D206 Info with Pictures
Regal Princess Deluxe Balcony Stateroom Statistics
Cabin Square Footage
185 sqft
(17 m2)
Size Balcony
36 sqft
(3 m2)
More stateroom size info: IMPORTANT NOTE: Category DV, DW, DZ have obstructed views due to solid steel railings or tops of lifeboats. Category DZ upper deck balconies can only be used while in port. When upper berth or sofa bed is used it will block balcony. Cabin sizes with balcony ranges from 233 to 291 square feet. Category DV is 253 square feet. Category DZ is 263 to 291 square feet including balcony. Category DB, DC, DD, DE, DF, DW are 233 square feet. Category DA is 249 square feet.
These are features found in the Deluxe Balcony category on the Regal Princess
Virtual Tour
Double click on image for full screen. Use mouse to zoom in and out.
Regal Princess Stateroom Cabin D206 Pictures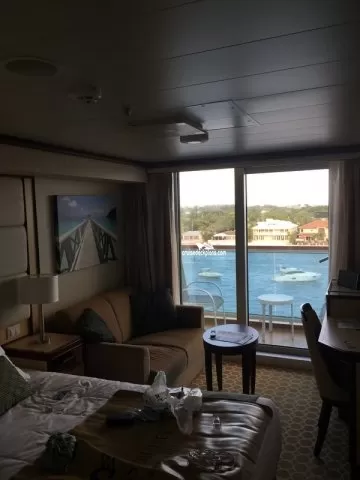 Regal Princess Cabin D206 Location
Location of cabin D206 is found on
Dolphin
deck.