Click
on left to choose a ship
Upload Pics Public Site
tab 1
The Westerdam started sailing in 2004 . Former names: none. The Westerdam is registered in Netherlands. The Westerdam has 984 cabins. 67 percent of the staterooms on board have balconies.
You can expect between 1968 to 2362 passengers on a typical sailing. This means that at the higher number (usually peak and holiday sailings) Westerdam has a space ratio of 34.9 .
(A space ratio less than 33 means that you may find the ship crowded in areas. A space ratio greater than 39 means that there should be plenty of space for each passenger.)
When this ship isn't sailing at capacity the space ratio can be as good as 41.8.
The Westerdam has 817 crew members on board. There are 3 passengers for every crew member on board. There are no self serve laundromats on this cruise ship.
The ship last major refurbishment was in Apr 2017 .
There are 11 decks on this ship. The highest deck number is 11. The number of decks with passenger cabins is 7.
The following ships share the same class as this ship. This means the basic design and layout of the ship is the same. For the most part the cabins will be identical among these ships, but may be decorated differently.
2002 - Zuiderdam
2003 - Oosterdam
2004 - Westerdam
2006 - Noordam
There are 28 special needs cabins on this ship. These cabins have been modified for accessibility purposes.
This ship underwent a major upgrade in 2007. Some of the decks were extended length wise by 130 feet. 34 new passenger cabins were added to decks 6, 7 and 8. As a result some aft balconies were made narrower. Some other changes included expanding the Sea View Pool area on deck 9, Explorations Cafe replaced the Oak Room, Windstar Cafe was removed and new shops were added.
During drydock Apr 14 to 26, 2017 added Casino Bar and Billboard Onboard in place of Piano Bar and Sports Bar. Replaced Northern Lights Disco with Gallery Bar. Transformied Explorers Lounge into Lincoln Center Stage. Added 18 balcony staterooms and 7 inside staterooms to deck 10 forward. Added Retreat with Cabannas to Deck 11.
Smoking Policy
All staterooms, showrooms, and most indoor areas are designated non-smoking. Guests are allowed to smoke on stateroom verandahs (Effective in January 2017 smoking will not be allowed on verandahs)
Electronic cigarette smoking is permitted inside staterooms
Smoking is permitted in designated smoking areas that MAY include: casino (active slots only - Oosterdam and Eurodam casinos are non-smoking)
Smoking allowed outside at Sea View (Retreat) Bar/Pool on starboard side.
On ms Prinsendam, ms Koningsdam and ms Nieuw Statendam, smoking allowed on the port side. Smoking is never on both sides.
Smoking allowed in the Sun Bar on ms Koningsdam and ms Nieuw Statendam.
Allowed on Sports Deck forward and aft of Crow's Nest on starboard side on ms Maasdam, ms Veendam, ms Volendam, ms Zaandam, ms Rotterdam and ms Amsterdam, aft of Crow's Nest starboard side.
Cigar and pipe smoking is not allowed anywhere inside the ship
Only allowed in designated outdoor smoking areas.
Activities
1 Indoor Pools
1 Retractable Roof Pools
1 Outdoor Pools
5 Whirlpools (hot tubs)
No Rock Climbing Wall
No Flow Rider
No Ice Rink
No Bowling
No Zipline
No Waterslide
No Water Park
No Ropes Course
No Mini Golf
No Golf Simulator
Sports Court
No Boxing Ring
No Jogging Track
Features
WIFI Hot Spots Only
Casino
No Cigar Lounge
No Chapel
Video Arcade
Cinema
Show Lounge
Hair Salon
Spa
Fitness Center
Library
No Bridge Viewing Area
No Outdoor Movie Screen
Teen Lounge
Passenger Promenade Deck
Sea Viewing Lounge on upper deck
No Adult Only Outside Lounge Area
Lido

There are no staterooms on this deck
You can click on any image for larger size.

Fitness Center
Gym with exercise equipment and aerobics room for 16 years and older.
Greenhouse Spa
Spa and Salon that has therapy rooms, treatment rooms, hydro pool (with heated seawater), thermal suites with heated ceramic loungers, sauna, steam room and beauty salon.
Lido Pool
Pool covered by retractable roof. Also has 3 hot tubs and bandstand for live music.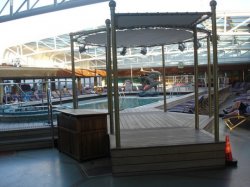 Terrace Grill
Grill for complimentary burgers, fries, pizzas, and more.
Lido Restaurant
Buffet that seats 420 people with both indoor and outdoor seating.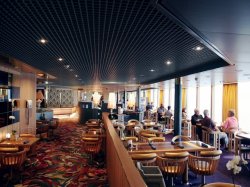 Canaletto Restaurant
Italian restaurant for dinner (surcharge) that seats 78 people.
Sea View Pool
Aft pool area with 2 hot tubs.
Click the Cabin Check Tool to check what is on the deck above or below your stateroom:
Here are some tips that you should keep in mind when looking for cabins on this deck. There may be other issues that we haven't noted, and if you are aware of any issues we have not listed, please contact us and let us know so that we can add it to the list.
Jump to Westerdam 1 Main
Jump to Westerdam 2 Lower Prom.
Jump to Westerdam 3 Promenade
Jump to Westerdam 4 Upper Prom.
Jump to Westerdam 5 Verandah
Jump to Westerdam 6 Upper Ver.
Jump to Westerdam 7 Rotterdam
Jump to Westerdam 8 Navigation
Jump to Westerdam 9 Lido
Jump to Westerdam 10 Observation
Jump to Westerdam 11 Sports
| | | |
| --- | --- | --- |
| | | = 2 lower beds, 1 sofa |
| | | = 2 lower beds, 1 sofa, 1 upper |
| | | = 2 lower beds, convert to queen |
| | | = Connecting staterooms |
| | | = Double (no sofa bed) |
| | | = Fully obstructed view |
| | | = Partial sea view |
| | | = Shower only |
| | | = Solid steel verandah rails |
| | | = Tub and shower |
| | | = Wheelchair accessible with sho |