Click
on left to choose a ship
Upload Pics Public Site
tab 1
The Sapphire Princess started sailing in 2004 . Former names: none. The Sapphire Princess is registered in Hamilton, Bermuda. The Sapphire Princess has 1339 cabins. 55 percent of the staterooms on board have balconies.
You can expect between 2678 to 3214 passengers on a typical sailing. This means that at the higher number (usually peak and holiday sailings) Sapphire Princess has a space ratio of 36.1 .
(A space ratio less than 33 means that you may find the ship crowded in areas. A space ratio greater than 39 means that there should be plenty of space for each passenger.)
When this ship isn't sailing at capacity the space ratio can be as good as 43.3.
The Sapphire Princess has 1100 crew members on board. There are 3 passengers for every crew member on board. There are self serve laudromats on this ship.
The ship last major refurbishment was in Mar 2018 .
There are 16 decks on this ship. The highest deck number is 17. The number of decks with passenger cabins is 7.
The following ships share the same class as this ship. This means the basic design and layout of the ship is the same. For the most part the cabins will be identical among these ships, but may be decorated differently.
1998 - Grand Princess
2001 - Golden Princess
2002 - Star Princess
2004 - Caribbean Princess
2004 - Diamond Princess
2004 - Sapphire Princess
There are 27 special needs cabins on this ship. These cabins have been modified for accessibility purposes.
Sapphire Princess was built in Japan and completed in 2004.
Smoking Policy
Smoking is prohibited in all staterooms and balconies with the exception of electronic cigarettes which may be smoked inside the stateroom
All smoking is permitted only in designated smoking areas. These areas include cigar lounges, a section of the nightclub and casino, and a portion of the open decks.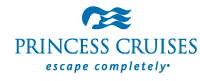 Activities
1 Indoor Pools
4 Outdoor Pools
8 Whirlpools (hot tubs)
No Rock Climbing Wall
No Flow Rider
No Ice Rink
No Bowling
No Zipline
No Waterslide
No Water Park
No Ropes Course
Mini Golf
Golf Simulator
Sports Court
No Boxing Ring
No Jogging Track
Features
WIFI Ship Wide
Casino
No Cigar Lounge
Chapel
No Arcade
No Cinema
Show Lounge
Hair Salon
Spa
Fitness Center
Library
No Bridge Viewing Area
Outdoor Movie Screen
Teen Lounge
Passenger Promenade Deck
Sea Viewing Lounge on upper deck
Adult Only Outside Lounge Area
Use drop down menu on bar above to choose another deck
Promenade
There are no staterooms on this deck
You can click on any image for larger size.

Princess Theater
Large scale musical and show productions. Also has gameshows, workshops and seminars. Two levels.
Wheelhouse Bar
English pub bar with stage for live entertainment.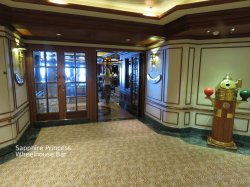 Hearts & Minds
Wedding Chapel for religious services and weddings.
Essence Shop
Sells cosmetics and perfumes.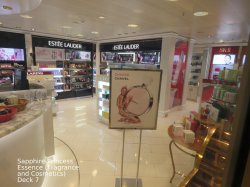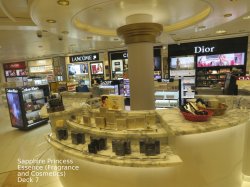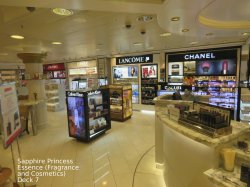 Crooners Lounge & Bar
Live piano music and cocktails. Also martini bar.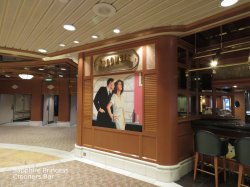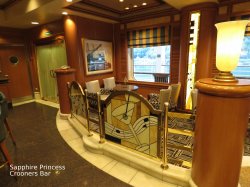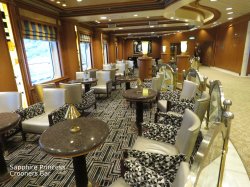 Facets
Sells jewlery and gifts.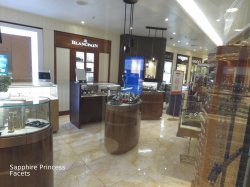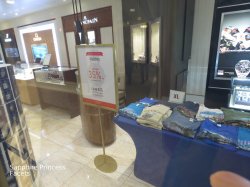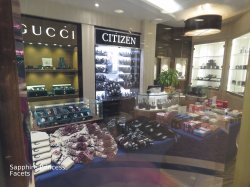 Explorers Lounge
Small show lounge with stage and dance floor. Usually has comedy and game shows as well as art auctions.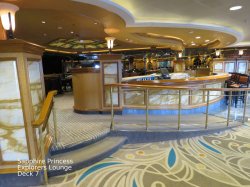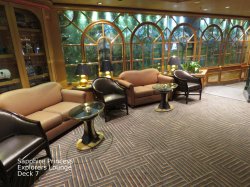 Internet Cafe
Computer stations open 24 hours.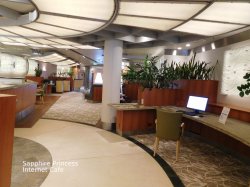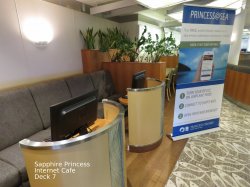 Photo Gallery & Shop
Displays pictures taken by ships photographers. Sells photo equipment and accessories.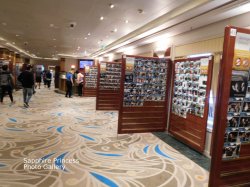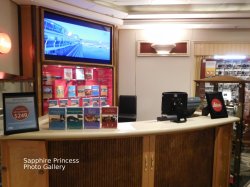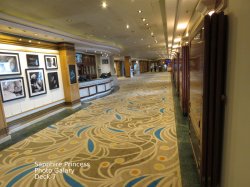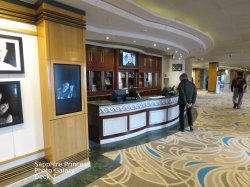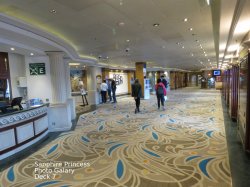 Club Fusion
Lounge that has dance classes and quiz shows during the day and at night opens for disco and DJ music.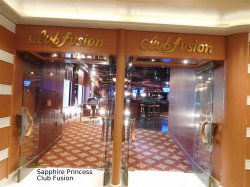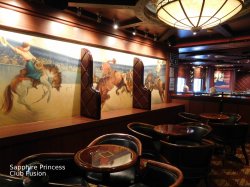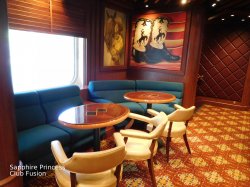 Exterior Promenade
Outside promenade deck the circles the ship. It is narrow in places and the front part of the promenade goes up steep stairs to Emerald deck where you go out to the bow of the ship.
Sabatinis
Specialty Italian themed restaurant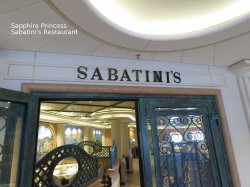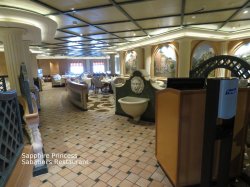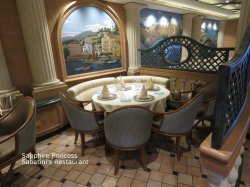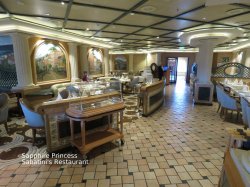 Click the Cabin Check Tool to check what is on the deck above or below your stateroom:
Here are some tips that you should keep in mind when looking for cabins on this deck. There may be other issues that we haven't noted, and if you are aware of any issues we have not listed, please contact us and let us know so that we can add it to the list.
Jump to Sapphire Princess 4 Gala
Jump to Sapphire Princess 5 Plaza
Jump to Sapphire Princess 6 Fiesta
Jump to Sapphire Princess 7 Promenade
Jump to Sapphire Princess 8 Emerald
Jump to Sapphire Princess 9 Dolphin
Jump to Sapphire Princess 10 Caribe
Jump to Sapphire Princess 11 Baja
Jump to Sapphire Princess 12 Aloha
Jump to Sapphire Princess 14 Lido
Jump to Sapphire Princess 15 Sun
Jump to Sapphire Princess 16 Sports
Jump to Sapphire Princess 17 Sky
| | | |
| --- | --- | --- |
| | | = Interconnecting staterooms |
| | | = Rollaway available |
| | | = Third and fourth Pullman beds |
| | | = Third Pullman bed available |
| | | = Two lower beds not convertible |
| | | = Wheelchair accessible |