Click
on left for ship menu
Use drop down menu on bar above to choose another deck
You are viewing deck Deck 6
There are no staterooms on this deck
You can click on any image for larger size.

Aurora Theater
Home to the ship's production cast, the Royal Caribbean Singers and Dancers, who perform Broadway-style production shows as well as cabaret features from guest comedy magicians and hypnotists to singers and dancers. The venue is catered for by its own bar with waiter service provided prior to the show.
Cinema
An intimate traditional style viewing room where recent movies are shown on a large screen several times a day.
Casino Royale
Equipped with gaming tables, around 200 slot machines from penny slots to $25 slots and electronic gaming, it is served by its own bar.
Schooner Bar
Can accommodate up to 144 guests and is the ships nautically themed piano bar.
Champagne Bar
Seating 52 guests the room enjoys the natural light that it receives from the glass wall which extends up the side of the ship.
Giovannis Table
A traditional casual Italian Trattoria, opens for lunch from noon until 2.00pm on select days only (with a cover charge of $15.00 per head) and dinner from 6.00pm to 9.30pm (at $20.00 per head) and offers everything from braised meat dishes and stews to Focaccia, salads and pastas.
Chops Grille
Seating for 90 guests and open from 6.00pm to 9.30pm each evening, with a cover charge of $30.00 per person.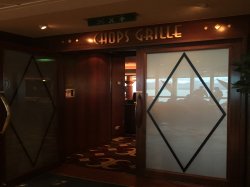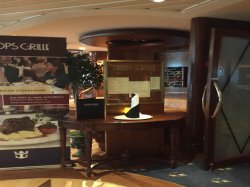 Bombay Billiard Club
Has a small seating area with wall mounted large TV screen where Nintendo Wii competitions often take place. It is also home to the ships two Gyro pool tables that adjust at the speed of light to offset any ship motion and maintain a stable playing surface.
The Colony Club
Features dark polished wood panels and floors, a large central inlaid wooden dance floor and two bars. It is used for a wide variety of activities ranging from the Captain's Champagne Welcome Reception and Salsa dance classes to bingo, Royal Caribbean signature game shows such as "Quest" and "Majority Rules", live music and Karaoke.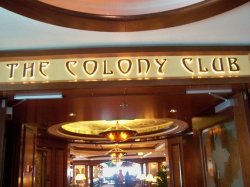 Singapore Slings
Seating 90, guests can sit at the square-shaped bar serving cocktails such as Mojitos or at a table near the windows and enjoy the great views.
Jakarta Lounge
Has polished wood furniture, brass work and tables inlaid with chess boards for guests to enjoy. The lounge is served by its own bar and seats 45 guests.
English Pub
Quill and Compass English Pub
Click the Cabin Check Tool to check what is on the deck above or below your stateroom:
Jump to Radiance of the Seas Deck 2
Jump to Radiance of the Seas Deck 3
Jump to Radiance of the Seas Deck 4
Jump to Radiance of the Seas Deck 5
Jump to Radiance of the Seas Deck 6
Jump to Radiance of the Seas Deck 7
Jump to Radiance of the Seas Deck 8
Jump to Radiance of the Seas Deck 9
Jump to Radiance of the Seas Deck 10
Jump to Radiance of the Seas Deck 11
Jump to Radiance of the Seas Deck 12
Jump to Radiance of the Seas Deck 13
| | | |
| --- | --- | --- |
| | | = Connecting staterooms |
| | | = Four pullman beds |
| | | = Handicapped facilities |
| | | = Obstructed View |
| | | = One pullman bed |
| | | = Sofa and pullman bed |
| | | = Sofa bed |
| | | = Two pullman beds |