Click
on left to choose a ship
Upload Pics Public Site
tab 1
The Quantum of the Seas started sailing in 2014 . Former names: none. The Quantum of the Seas is registered in Nassau, Bahamas. The Quantum of the Seas has 2095 cabins. 75 percent of the staterooms on board have balconies.
You can expect between 4190 to 4819 passengers on a typical sailing. This means that at the higher number (usually peak and holiday sailings) Quantum of the Seas has a space ratio of 35 .
(A space ratio less than 33 means that you may find the ship crowded in areas. A space ratio greater than 39 means that there should be plenty of space for each passenger.)
When this ship isn't sailing at capacity the space ratio can be as good as 40.3.
The Quantum of the Seas has 1300 crew members on board. There are 4 passengers for every crew member on board. There are no self serve laundromats on this cruise ship.
There are 16 decks on this ship. The highest deck number is 16. The number of decks with passenger cabins is 9.
The following ships share the same class as this ship. This means the basic design and layout of the ship is the same. For the most part the cabins will be identical among these ships, but may be decorated differently.
2014 - Quantum of the Seas
2015 - Anthem of the Seas
2016 - Ovation of the Seas
2019 - Spectrum of the Seas
There are 34 special needs cabins on this ship. These cabins have been modified for accessibility purposes.
The Quantum class of ships is a new leap forward in vessel design with groundbreaking innovations like RipCord by iFly, the first skydiving experience at sea. And the North Star, a jewel-shaped, glass capsule with a spectacular ocean view. Plus, we're introducing transformational venues like the Seaplex and Two70 that morph from day to night. All these new onboard features are designed to elicit just one reaction from you: WOW.
Smoking Policy
Smoking cigarettes, cigars, electronic cigarettes, and pipes is permitted only in designated outdoor areas that have signage (mainly on the starboard side)
Smoking is not permitted inside staterooms or balconies, Central Park or Boardwalk neighborhoods, dining venues, theaters, bars, lounges, hallways, pools, elevators, or jogging tracks
The casino allows smoking and has a designated area for non-smoking on most cruises.

Activities
2 Indoor Pools
1 Outdoor Pools
10 Whirlpools (hot tubs)
Rock Climbing Wall
Flowrider
No Ice Rink
No Bowling
No Zipline
No Waterslide
Water Park
No Ropes Course
Mini Golf
No Golf Simulator
Sports Court
No Boxing Ring
Jogging Track
Features
WIFI Ship Wide
Casino
No Cigar Lounge
Chapel
Video Arcade
Cinema
Show Lounge
Hair Salon
Spa
Fitness Center
Library
No Bridge Viewing Area
Outdoor Movie Screen
Teen Lounge
Passenger Promenade Deck
No Upper Deck Sea Viewing Lounge
Adult Only Outside Lounge Area
Sky diving experience
bumper cars
roller skating
robot bartenders
high speed internet
Use drop down menu on bar above to choose another deck
Deck 5
There are no staterooms on this deck
You can click on any image for larger size.

The Royal Theater
Home to the ship's award winning shows.
Photo Gallery
Where guests can view photographs taken by the ship's onboard photographers and purchase a variety of camera equipment.
Chops Grille
Royal Caribbean's popular signature steakhouse, featuring grade-A premium cuts of steak cooked to your specifications, plus fresh seafood, hearty side dishes and signature desserts in an upscale, contemporary setting. Fee applies.
Schooner Bar
A nautical haven inspired by the sea – a guest-favorite bar, thanks to nightly piano entertainers that will have you joining a chorus of classics.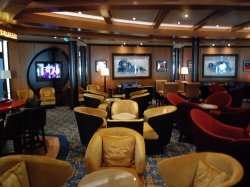 Chef\'s Table
A once-in-a-lifetime culinary experience – join up to 14 guests in an exclusive enclave to savour a five-course, gourmet menu. Every course pairs with a wine chosen to enhance your enjoyment of the dish. The menu, wine selections and price vary from ship to ship and itinerary. Fee applies.
Izumi
Serving traditional Asian dishes with pure, delicate flavours, fresh ingredients and flawless presentation. Diners will be able to choose from popular sushi rolls, sashimi, Hot Rock (Ishiyaki) Plates, sukiyaki and more.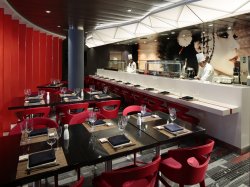 Wonderland
Chefs twist their culinary kaleidoscopes to invent an elaborate dreamscape of never-before-seen fare. The story begins as you open the menu and find your element - Sun, Ice, Fire, Water, Earth and Dreams.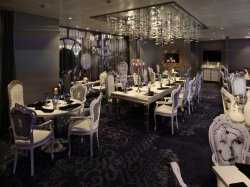 Jamies Italian
Chef Jamie Oliver may be one of Britain's most famous food exports, but it's his love of Italian cooking and the Italian way of life that drives the menu at Jamie's Italian.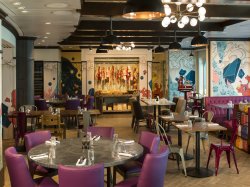 Vintages
Reds, whites, ports and more await at Vintages, a first-rate wine bar offering an extensive selection of popular sips from regions worldwide. Enjoy a favorite bottle or find a new one from the sampling menu.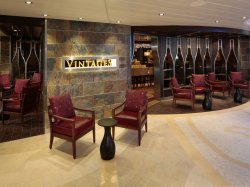 The Cafe Two70
Featuring made-to-order fare, such as savoury pressed sandwiches, custom-made salads, soups and desserts and served picnic-style.
Bionic Bar
Bar and lounge. Bar features a robotic bar tender.
Library
Library with books, DVD's, audio books and board games.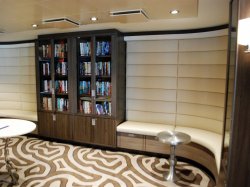 Next Cruise
Desk for planning and booking your next cruise on Royal Caribbean.
Art Gallery
Gallery of art pieces along walkway between The Via and Two70
Two70
The ship's new Day to Night venue creating a fully immersive experience for guests to enjoy. Located at the stern of the ship on decks 5 and 6 with vast floor-to-ceiling glass walls spanning almost three decks high, the venue offers magnificent 270-degree panoramic sea views with technology and entertainment seamlessly transforming the room from a daytime to night time venue. With seating at various levels along terraces and a spacious lounge seating area, during the day guests can relax and take in the views or enjoy a casual meal at The Cafe @ Two70°, a gourmet marketplace. Those seeking enrichment activities can visit the second level of the venue, home to the ships library and activity workshop offering guests lectures,
Shore Excursions
For planning and booking shore excursions
The Via
Atrium area outside of Jamies Italian and Vintages
Click the Cabin Check Tool to check what is on the deck above or below your stateroom:
Here are some tips that you should keep in mind when looking for cabins on this deck. There may be other issues that we haven't noted, and if you are aware of any issues we have not listed, please contact us and let us know so that we can add it to the list.
Jump to Quantum of the Seas Deck 2
Jump to Quantum of the Seas Deck 3
Jump to Quantum of the Seas Deck 4
Jump to Quantum of the Seas Deck 5
Jump to Quantum of the Seas Deck 6
Jump to Quantum of the Seas Deck 7
Jump to Quantum of the Seas Deck 8
Jump to Quantum of the Seas Deck 9
Jump to Quantum of the Seas Deck 10
Jump to Quantum of the Seas Deck 11
Jump to Quantum of the Seas Deck 12
Jump to Quantum of the Seas Deck 13
Jump to Quantum of the Seas Deck 14
Jump to Quantum of the Seas Deck 15
Jump to Quantum of the Seas Deck 16
| | | |
| --- | --- | --- |
| | | = Connecting staterooms |
| | | = Four pullman beds |
| | | = Handicapped facilities |
| | | = One pullman bed |
| | | = Sofa and pullman bed |
| | | = Sofa bed |
| | | = Two pullman beds |