Click
on left to choose a ship
Upload Pics Public Site
tab 1
The Oosterdam started sailing in 2003 . Former names: none. The Oosterdam is registered in Rotterdam, Netherlands. The Oosterdam has 1012 cabins. 67 percent of the staterooms on board have balconies.
You can expect between 2024 to 2429 passengers on a typical sailing. This means that at the higher number (usually peak and holiday sailings) Oosterdam has a space ratio of 33.9 .
(A space ratio less than 33 means that you may find the ship crowded in areas. A space ratio greater than 39 means that there should be plenty of space for each passenger.)
When this ship isn't sailing at capacity the space ratio can be as good as 40.7.
The Oosterdam has 817 crew members on board. There are 3 passengers for every crew member on board. There are no self serve laundromats on this cruise ship.
The ship last major refurbishment was in Mar 2018 .
There are 11 decks on this ship. The highest deck number is 11. The number of decks with passenger cabins is 7.
The following ships share the same class as this ship. This means the basic design and layout of the ship is the same. For the most part the cabins will be identical among these ships, but may be decorated differently.
2002 - Zuiderdam
2003 - Oosterdam
2004 - Westerdam
2006 - Noordam
There are 28 special needs cabins on this ship. These cabins have been modified for accessibility purposes.
OOSTERDAM is the second ship in the Vista Class of 5 ships. Officially christened in 2003 by Her Dutch Royal Highness, Princess Margriet of the Netherlands, the ms Oosterdam is the second in our series of Vista-class ships. As such she embraces the latest industry and environmental technologies such as her use of a diesel-electric power plant for optimal energy efficiency and an Azipod propulsion system that maximizes maneuverability.
During April 2016 drydock 18 balcony cabins and 9 inside cabins were added to the Observation Deck.
Smoking Policy
All staterooms, showrooms, and most indoor areas are designated non-smoking. Guests are allowed to smoke on stateroom verandahs (Effective in January 2017 smoking will not be allowed on verandahs)
Electronic cigarette smoking is permitted inside staterooms
Smoking is permitted in designated smoking areas that MAY include: casino (active slots only - Oosterdam and Eurodam casinos are non-smoking)
Smoking allowed outside at Sea View (Retreat) Bar/Pool on starboard side.
On ms Prinsendam, ms Koningsdam and ms Nieuw Statendam, smoking allowed on the port side. Smoking is never on both sides.
Smoking allowed in the Sun Bar on ms Koningsdam and ms Nieuw Statendam.
Allowed on Sports Deck forward and aft of Crow's Nest on starboard side on ms Maasdam, ms Veendam, ms Volendam, ms Zaandam, ms Rotterdam and ms Amsterdam, aft of Crow's Nest starboard side.
Cigar and pipe smoking is not allowed anywhere inside the ship
Only allowed in designated outdoor smoking areas.
Activities
1 Indoor Pools
1 Retractable Roof Pools
1 Outdoor Pools
5 Whirlpools (hot tubs)
No Rock Climbing Wall
No Flow Rider
No Ice Rink
No Bowling
No Zipline
No Waterslide
No Water Park
No Ropes Course
No Mini Golf
No Golf Simulator
Sports Court
No Boxing Ring
No Jogging Track
Features
WIFI Hot Spots Only
Casino
No Cigar Lounge
No Chapel
Video Arcade
Cinema
Show Lounge
Hair Salon
Spa
Fitness Center
Library
No Bridge Viewing Area
No Outdoor Movie Screen
Teen Lounge
Passenger Promenade Deck
Sea Viewing Lounge on upper deck
No Adult Only Outside Lounge Area
Lido

There are no staterooms on this deck
You can click on any image for larger size.

Fitness Center
Provides an extensive range of exercise machines, free weights, treadmills and bikes along with a room for fitness classes. Some fitness classes are free whilst others such as pilates, yoga and tai-chi cost $12 per session. Some classes are held outside the fitness centre such as tai-chi sessions which are held by the Sea View Pool. The fitness centre is open from 6am to 9pm.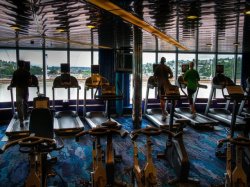 The Greenhouse Spa & Salon
Home to the ship's wellness programmes accessible by over 18's only unless they are part of the kids and teens programmes (the salon is open to all ages). The spa offers a rage of different chambers releasing a variety of dry heat, aromatherapy mists and steam as well as heated ceramic lounges to relax on. The spa also houses a hydrotherapy pool filled with mineral rich sea water heated to body temperature to ease away aches and pains and a sauna. Treatments on offer range from massages, facials and body wraps to acupuncture and male services. The beauty salon offers cuts and colours to styling and barber services.
Terrace Grill
Offering light bites throughout the day, the terrace grill serves pizza, nachos, grilled hamburgers, lamb burgers and salmon burgers as well as sandwiches, wraps, panini, smoothies and juices.
Canaletto
The ship's reservations only complimentary Italian restaurant, serving dinner. Food on offer includes a selection of antipasti, soups and salads (ranging from minestrone soup to tomato, cucumber and olive salad), pasta (such as seafood linguini and spaghetti and meatballs) and desserts (including tiramisu, ice cream and chocolate mille-feuille).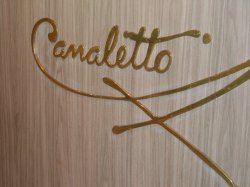 Lido Market
It provides a relaxed dining area with fresh cooked to order selections and a choice of seating either indoors or al fresco. Serving breakfast, lunch, and dinner.
Sea View Pool
Pool located on aft of Lido deck. Has hot tub, showers, and bar.
Lido Pool
Main pool with glass retractable roof, 3 hot tubs, bar and grill
Click the Cabin Check Tool to check what is on the deck above or below your stateroom:
Here are some tips that you should keep in mind when looking for cabins on this deck. There may be other issues that we haven't noted, and if you are aware of any issues we have not listed, please contact us and let us know so that we can add it to the list.
Jump to Oosterdam 1 Main
Jump to Oosterdam 2 Lower Prom.
Jump to Oosterdam 3 Promenade
Jump to Oosterdam 4 Upper Prom.
Jump to Oosterdam 5 Verandah
Jump to Oosterdam 6 Upper Ver.
Jump to Oosterdam 7 Rotterdam
Jump to Oosterdam 8 Navigation
Jump to Oosterdam 9 Lido
Jump to Oosterdam 10 Observation
Jump to Oosterdam 11 Sports
| | | |
| --- | --- | --- |
| | | = 2 lower beds, 1 sofa |
| | | = 2 lower beds, 1 sofa, 1 upper |
| | | = 2 lower beds, convert to queen |
| | | = Connecting staterooms |
| | | = Double (no sofa bed) |
| | | = Fully obstructed view |
| | | = Partial sea view |
| | | = Shower only |
| | | = Solid steel verandah rails |
| | | = Tub and shower |
| | | = Wheelchair accessible with sho |