Click
on left for ship menu
Deck Layouts, Public Venues, Stateroom Information
You are viewing deck: Deck 5
These are the newest deck plans for Oasis of the Seas Deck 5 deck. Cruisedeckplans provides full interactive deck plans for the Oasis of the Seas Deck 5 deck. Just move your mouse over any stateroom and a pop up will appear with detail information, including a full description and floor layout, and a link to pictures and/or videos.
There are no staterooms on this deck
You can click on any image for larger size.

Aquatheater
It's centrepiece is a pool that incorporates risers that can change the pools depth from 18 feet to the level of the surrounding deck via three advanced stage machinery devices enabling performers to do shows that include high diving (from 3m and 10m high platforms), synchronized swimming, water ballet, dramatic acrobatics and trampoline performances. The Oasis of Dreams Aqua Show features a cast of professional divers, synchronized swimmers and gymnasts. It is set to an original soundtrack and synchronized with fountain shows and lighting & special effects where the cast perform a heart pounding routine, showing off the incredible sound system.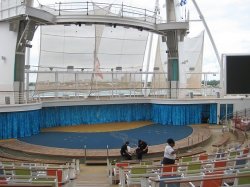 Main Dining Room
Three level main dining room.
Bionic Bar
Mixology meets technology with robot bartenders serving cocktails engineered to perfection.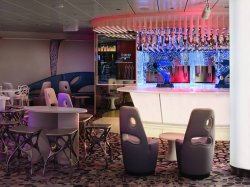 Rising Tide Bar
Allowing passengers to enjoy a cocktail whilst they move slowly between the Royal Promenade on deck 5 to Central Park on deck 8. The oval-shaped, glass-enclosed bar seats 32 passengers and travels up the three decks to Central Park every half hour. It is also used to host single and solo travellers get-togethers throughout the cruise.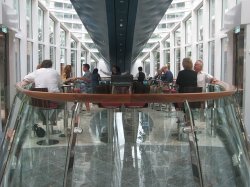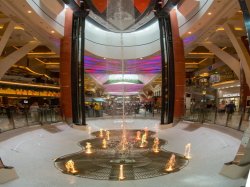 Sorrentos
Offers New York style pizza slices, or do-it-yourself pizza for lunch, dinner and late night snacks. With seating for 66 guests, the complimentary eatery also serves daily specials such as Panini of the day, antipasto including roasted peppers, olives and pancetta, salad, breads and desserts from ameretti biscotti to pana cotta and tiramisu.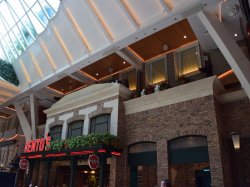 Cafe Promenade
Open 24 hours a day and serves casual snacks, a selection of freshly brewed roasted coffee and pastries. Sandwiches can also be ordered at lunchtime.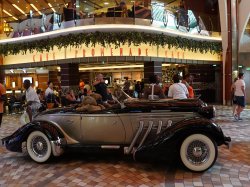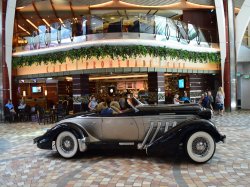 Prince & Greene
A shop retailing stylish trends with brands like D&G, Ed Hardy and Michael Kors.
Regalia
Oasis's jewelery store selling yellow rubies and watches from the likes of Tag, Movado, and Citizen.
The Shop
Sells duty free alcohol, cigarettes, cigars, snacks and Logo items from models of the ships to drinking vessels.
Solera
The ship's beauty shop which sells designer perfumes and make up as well as creams and lotions from Lancôme, La Prairie and Dior to Chanel, Clinique and more.
Spotlight Karoke
Karoke venue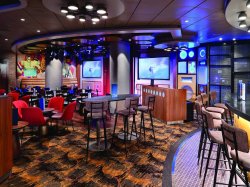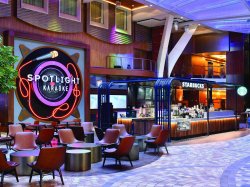 Royal Promenade
Located at the heart of Oasis and features a mezzanine level and two giant arched skylights, the Crystal Canopies, that allow natural light to flood down from Central Park. Parked in the middle of the Royal Promenade is a 1935 Auburn Boattail Speedster replica car. Visitors can enjoy a coffee while people-watching in the morning, some shopping and lunch in the afternoon, and endless nightlife and entertainment in the evenings. Events here include the street parades performed by the ship's singers and Cruise Director's staff with the giant globe above the English style pub opening out into a cantilevered bridge stretching out across the promenade for performers to appear on during such events.
Globe & Atlas Pub
Centrally located along the Royal Promenade and is an ideal meeting place for drinks, people, performances and more with pub entertainment and sing-a-longs. The interior is decorated in the style of an old fashioned English pub with wooden chairs and tables whilst outside the giant copper globe incorporated into the pub's facade above the entrance "cracks open" to reveal the Atlas Bridge which unfurls on hinged hydraulics and extends out over the Promenade as a bridge platform, 10 feet above the ground. Entertainment acts then perform on the platform during Royal Promenade parades.
Opal Theater
The 1,380 seat 3 deck high Opal Theatre is located on Entertainment Place completely forward. It includes a spiral staircase at each side of the stage and a moveable bridge across the top. Incorporated into the stage are aerial wires that are integrated into some of the "Come Fly With Me" show. The state of the art theatre features the ships Broadway-style theatre productions and aerial acts with two performances per night.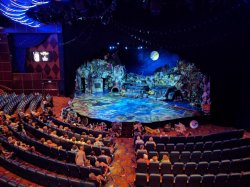 Starbucks
Starbucks coffee bar serving a selection of Starbuck favourites (from Cinnamon Dolce Latte to Caramel Frappuccino) at à la carte prices along with a selection of pastries and other treats. Open from 7 am to 11 pm and accommodating 56 guests at a time.
Boleros
Oasis's Latin themed 90 seat lounge decorated in rich red and orange tones with comfortable leather armchairs, and served by its own bar with stools around it to sit on. With its own dance floor, guests can enjoy the Latin dance music played here each night, late into the night with a mojito or caipirinha. Guests can also take part in Salsa dance classes and champagne art auctions in Boleros during the day.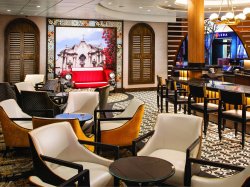 Vitality at Sea Spa & Fitness Center
Features an extensive range of exercise equipment, saunas, steam rooms, whirlpool baths and fitness classes including yoga and pilates. The full-service spa offers a beauty salon and spa treatments including massage, manicures and seaweed body wraps.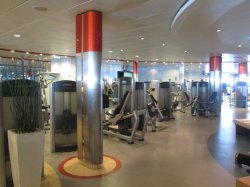 Jogging Track
Jogging track that wraps around deck 5 and is mostly covered.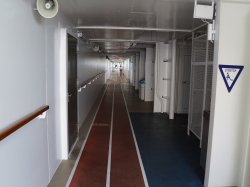 Click the Cabin Check Tool to check what is on the deck above or below your stateroom:

The cruise line seperates the different categories (Inside, Oceanview, Balcony) into subcategories. The only difference in the subcategories is usually location on the ship. The detail above shows subcategory color, category name, and subcategory name. For detailed information, mouse over a cabin on the deck plans and a pop up window will appear. You will find diagrams, pictures and information about that cabin category including square footage and features.

Royal Caribbean uses a number followed by letter to denote the type of cabin. Cabins are ranked from the lowest number first to the highest number and also from the lowest letter first to the highest letter. Therefore a category that begins with 1 is consider a better cabin choice than one that begins with 3. The type of cabin is defined by the letter that appears after the number.

Letter V defines a inside cabin. Letter T defines a promenade view stateroom. A Boardwalk view balcony uses the letters I,J.

Oceanview cabins are defined by letter N. Spacious oceanview cabins by the letter M. Panoramic oceanview cabins are defined with the letters P and L. Letter S defines a boardwalk view cabin.

Spacious balconies are defined by the letter B. Regular balcony cabins use the letter D.
Mini-Decks
(Click image to go to deck page)
Deck 3


Deck 4


Deck 5


Deck 6


Deck 7


Deck 8



Deck 9


Deck 10


Deck 11



Deck 12


Deck 14



Deck 15



Deck 16



Deck 17


Deck 18

| # | Deck Symbols |
| --- | --- |
| | Connecting staterooms |
| | Door locations |
| | Four pullman beds |
| | Handicapped facilities |
| | Obstructed View |
| | Sleeps up to 3 |
| | Sleeps up to 4 |
| | Sofa and pullman bed |
| | Two pullman beds |