Click
on left for ship menu
Use drop down menu on bar above to choose another deck
You are viewing deck Deck 4
There are no staterooms on this deck
You can click on any image for larger size.

Opal Theater
The 1,380 seat 3 deck high Opal Theatre is located on Entertainment Place completely forward. It includes a spiral staircase at each side of the stage and a moveable bridge across the top. Incorporated into the stage are aerial wires that are integrated into some of the "Come Fly With Me" show. The state of the art theatre features the ships Broadway-style theatre productions and aerial acts with two performances per night.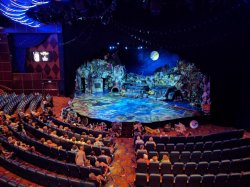 Blaze
Oasis of Seas' nightclub with its dungeon theme and VIP area separated from the main area of the club by floor to ceiling spiral iron railings. Headlining DJ Fingersmith from the Scratch DJ Academy, the hottest music on the charts is played late into the night. The ships lively nightclub is aimed at the younger cliental on board and also hosts, at the beginning of the night, a family fun experience hour with activities including music games and dancing.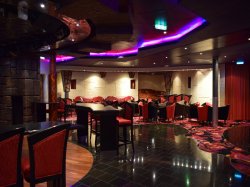 Jazz on 4
A relatively small (92 seat) Jazz Bar and club. The bar features rich, warm tones of walnut panelling, plush red and chocolate sofas and chairs and velvety curtains decorated with hand-stitched Swarovski crystals that sparkle as they catch light.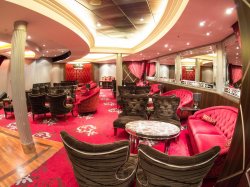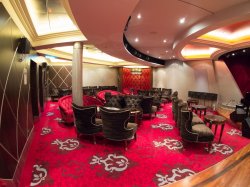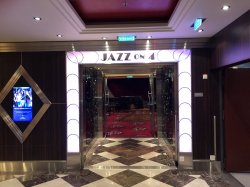 Studio B
Seats 775 guests and is a versatile area transforming from an ice palace to a game show theatre. The multipurpose studio complex is filled with activity all day long, from ice-skating to cooking demonstrations. In the evenings the ships ice show takes place featuring professional ice skaters from around the world. Entitled "Frozen in Time", the ice Show centres around the classic story's of Hans Christian Anderson, featuring the Emperor's New Clothes, The Snow Queen, The Little Mermaid, The Red shoes and the Ugly Duckling all brought together in an ice dance spectacular.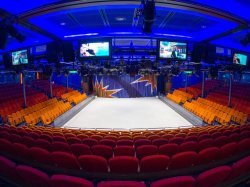 Casino
Inspired by the casinos of the French Riviera where guests can choose from over 400 slot machines, around 100 penny machines, and 27 gaming tables including Blackjack, roulette, craps and Caribbean Stud Poker to play on.
Main Dining Room
Three level main dining room.
Click the Cabin Check Tool to check what is on the deck above or below your stateroom:
Jump to Oasis of the Seas Deck 3
Jump to Oasis of the Seas Deck 4
Jump to Oasis of the Seas Deck 5
Jump to Oasis of the Seas Deck 6
Jump to Oasis of the Seas Deck 7
Jump to Oasis of the Seas Deck 8
Jump to Oasis of the Seas Deck 9
Jump to Oasis of the Seas Deck 10
Jump to Oasis of the Seas Deck 11
Jump to Oasis of the Seas Deck 12
Jump to Oasis of the Seas Deck 14
Jump to Oasis of the Seas Deck 15
Jump to Oasis of the Seas Deck 16
Jump to Oasis of the Seas Deck 17
Jump to Oasis of the Seas Deck 18
| | | |
| --- | --- | --- |
| | | = Connecting staterooms |
| | | = Four pullman beds |
| | | = Handicapped facilities |
| | | = Obstructed View |
| | | = One pullman bed |
| | | = Sofa and pullman bed |
| | | = Sofa bed |
| | | = Two pullman beds |