Click
on left for ship menu
Deck Layouts, Public Venues, Stateroom Information
You are viewing deck: Deck 15
These are the newest deck plans for Oasis of the Seas Deck 15 deck. Cruisedeckplans provides full interactive deck plans for the Oasis of the Seas Deck 15 deck. Just move your mouse over any stateroom and a pop up will appear with detail information, including a full description and floor layout, and a link to pictures and/or videos.
There are no staterooms on this deck
You can click on any image for larger size.

Sports Court
Where guests can take part in games of basketball, volleyball and soccer either with friends and family or in organised sports tournaments held onboard the ship.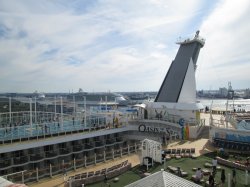 Oasis Dunes
A nine hole golf course with a small four hole children's course adjacent to it.
Wipe Out Cafe
The perfect place to grab a bite to eat while watching people ride, and fall from, the FlowRider®. Keeping in the theme of sports, the Wipe Out Café serves casual foods such as pizza, burgers, French fries, sandwiches, salads, fresh fruit and ice cream.
Port Side BBQ
Restaurant serving BBQ favorites.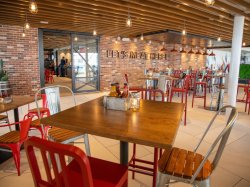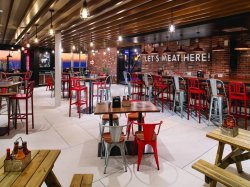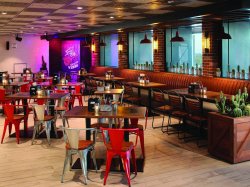 Video Arcade
Has numerous video arcade games along with the likes of Air Hockey tables. Kids need to insert their Seapass card into one of the recharge stations in the arcade to buy arcade credits to play games.
Fuel Teen Disco
Teens can dance, listen to music, or just hang out in the Fuel Teen Disco, open until 2am. Featuring its own non alcoholic bar, dance floor and chill out area, events such as Scratch DJ classes where teens can learn how to spin beats take place here.
The Back Deck
Part of the teenager's area and is an outdoor area with overhead cover with bean bags and chairs for the teens to relax in.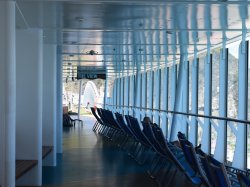 Sports Pool
Has a maximum depth of 4 ft 9 in (1.45m) and is flanked by one whirlpool. With drinks available from the adjacent Pool Bar, the pool is used for water team sports including basketball, badminton and water polo in the afternoon whilst the morning hours are dedicated to lap swimming.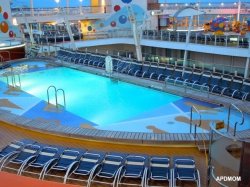 Splash Away Bay
Childrens out door water splash area.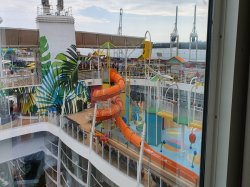 Main Pool
With a maximum depth of 1.45m (4'9"), the pool is surrounded by a selection of loungers and chairs and features two shaded side-by-side whirlpools ideal for relaxing in.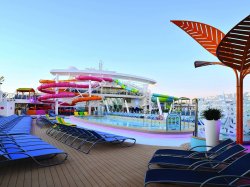 Beach Pool
Designed to look like a beach, with a sloped entry where guests are able to wade into the water or relax in colourful deck chairs under parasols as water rolls gently beneath them. Two shaded whirlpools flank either side of the beach for guests who prefer warmer waters.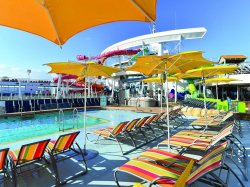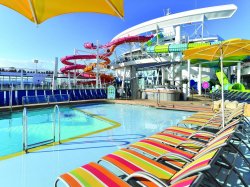 Solarium Cafe
128 seat bistro providing guests with a health conscious dining option for breakfast and lunch.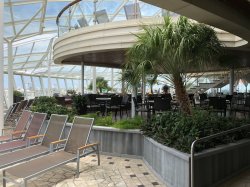 Solarium
With views over the front of the ship and the sea beyond, the open-air Solarium offers a tranquil circular swimming pool, 1.2m (3'11") deep with a central fountain spraying gentle mists of water. Two whirlpools by the pool and four cantilevered whirlpools suspended 136 feet (41.5 metres) above the ocean with large glass windows to enjoy the views from and televisions showing sporting events, offer the perfect place to relax.
Cantilever Hot Tub
Two large hot tubs that extend out over the sides of the ship.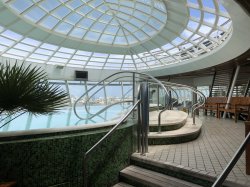 Lime and Coconut
Pool area bar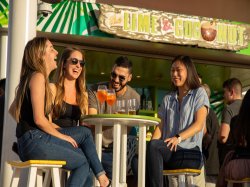 Click the Cabin Check Tool to check what is on the deck above or below your stateroom:

The cruise line seperates the different categories (Inside, Oceanview, Balcony) into subcategories. The only difference in the subcategories is usually location on the ship. The detail above shows subcategory color, category name, and subcategory name. For detailed information, mouse over a cabin on the deck plans and a pop up window will appear. You will find diagrams, pictures and information about that cabin category including square footage and features.

Royal Caribbean uses a number followed by letter to denote the type of cabin. Cabins are ranked from the lowest number first to the highest number and also from the lowest letter first to the highest letter. Therefore a category that begins with 1 is consider a better cabin choice than one that begins with 3. The type of cabin is defined by the letter that appears after the number.

Letter V defines a inside cabin. Letter T defines a promenade view stateroom. A Boardwalk view balcony uses the letters I,J.

Oceanview cabins are defined by letter N. Spacious oceanview cabins by the letter M. Panoramic oceanview cabins are defined with the letters P and L. Letter S defines a boardwalk view cabin.

Spacious balconies are defined by the letter B. Regular balcony cabins use the letter D.
Mini-Decks
(Click image to go to deck page)
Deck 3


Deck 4


Deck 5


Deck 6


Deck 7


Deck 8



Deck 9


Deck 10


Deck 11



Deck 12


Deck 14



Deck 15



Deck 16



Deck 17


Deck 18

| # | Deck Symbols |
| --- | --- |
| | Connecting staterooms |
| | Door locations |
| | Four pullman beds |
| | Handicapped facilities |
| | Obstructed View |
| | Sleeps up to 3 |
| | Sleeps up to 4 |
| | Sofa and pullman bed |
| | Two pullman beds |