Click
on left to choose a ship
Upload Pics Public Site
tab 1
The Oasis of the Seas started sailing in 2009 . Former names: none. The Oasis of the Seas is registered in Nassau, Bahamas. The Oasis of the Seas has 2742 cabins. 72 percent of the staterooms on board have balconies.
You can expect between 5484 to 6307 passengers on a typical sailing. This means that at the higher number (usually peak and holiday sailings) Oasis of the Seas has a space ratio of 35.7 .
(A space ratio less than 33 means that you may find the ship crowded in areas. A space ratio greater than 39 means that there should be plenty of space for each passenger.)
When this ship isn't sailing at capacity the space ratio can be as good as 41.1.
The Oasis of the Seas has 2150 crew members on board. There are 3 passengers for every crew member on board. There are no self serve laundromats on this cruise ship.
The ship last major refurbishment was in 2014 .
There are 17 decks on this ship. The highest deck number is 18. The number of decks with passenger cabins is 11.
The following ships share the same class as this ship. This means the basic design and layout of the ship is the same. For the most part the cabins will be identical among these ships, but may be decorated differently.
2009 - Oasis of the Seas
2010 - Allure of the Seas
2016 - Harmony of the Seas
2018 - Symphony of the Seas
There are 46 special needs cabins on this ship. These cabins have been modified for accessibility purposes.
Designed under the name "Project Genesis". She was ordered in February 2006. Her keel was laid down on December 11, 2007 at the Aker Yards in Turku, Finland. In May 2008 she was named Oasis of the Seas after a contest was held to name the new ship.
Smoking Policy
Smoking cigarettes, cigars, electronic cigarettes, and pipes is permitted only in designated outdoor areas that have signage (mainly on the starboard side)
Smoking is not permitted inside staterooms or balconies, Central Park or Boardwalk neighborhoods, dining venues, theaters, bars, lounges, hallways, pools, elevators, or jogging tracks
The casino allows smoking and has a designated area for non-smoking on most cruises.

Activities
6 Outdoor Pools
10 Whirlpools (hot tubs)
Rock Climbing Wall
Flowrider
Ice Rink
No Bowling
Zipline
No Waterslide
Water Park
No Ropes Course
Mini Golf
No Golf Simulator
Sports Court
No Boxing Ring
Jogging Track
Features
WIFI Ship Wide
Casino
No Cigar Lounge
Chapel
Video Arcade
Cinema
Show Lounge
Hair Salon
Spa
Fitness Center
Library
No Bridge Viewing Area
Outdoor Movie Screen
Teen Lounge
Passenger Promenade Deck
No Upper Deck Sea Viewing Lounge
Adult Only Outside Lounge Area
hand carved carousel
Use drop down menu on bar above to choose another deck
Deck 15
There are no staterooms on this deck
You can click on any image for larger size.

Sports Court
Where guests can take part in games of basketball, volleyball and soccer either with friends and family or in organised sports tournaments held onboard the ship.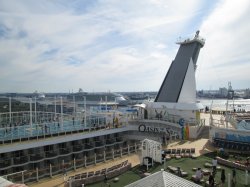 Oasis Dunes
A nine hole golf course with a small four hole children's course adjacent to it.
Wipe Out Cafe
The perfect place to grab a bite to eat while watching people ride, and fall from, the FlowRider®. Keeping in the theme of sports, the Wipe Out Café serves casual foods such as pizza, burgers, French fries, sandwiches, salads, fresh fruit and ice cream.
The Living Room
A lounge dedicated to teenagers featuring TVs, games, computers, and a music studio.
Video Arcade
Has numerous video arcade games along with the likes of Air Hockey tables. Kids need to insert their Seapass card into one of the recharge stations in the arcade to buy arcade credits to play games.
Fuel Teen Disco
Teens can dance, listen to music, or just hang out in the Fuel Teen Disco, open until 2am. Featuring its own non alcoholic bar, dance floor and chill out area, events such as Scratch DJ classes where teens can learn how to spin beats take place here.
The Back Deck
Part of the teenager's area and is an outdoor area with overhead cover with bean bags and chairs for the teens to relax in.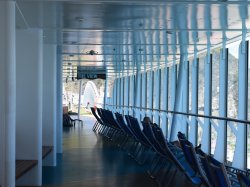 Sports Pool
Has a maximum depth of 4 ft 9 in (1.45m) and is flanked by one whirlpool. With drinks available from the adjacent Pool Bar, the pool is used for water team sports including basketball, badminton and water polo in the afternoon whilst the morning hours are dedicated to lap swimming.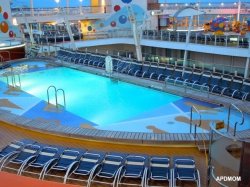 H20 Zone
The H2O zone has a maximum water depth of 3ft 5in (1.05m). The large circular current pool (with glass sides) is the deepest pool at 1.05m deep and kids can enjoy floating round in circles as the current guides them gently along. An oblong swimming pool ranges from 0.85m (2' 9") to 1.05m (3' 5") in depth and the separate baby splash zone (the only pool area aboard the ship which permits the use of swim nappies) is 5cm (2") deep.
Main Pool
With a maximum depth of 1.45m (4'9"), the pool is surrounded by a selection of loungers and chairs and features two shaded side-by-side whirlpools ideal for relaxing in.
Beach Pool
Designed to look like a beach, with a sloped entry where guests are able to wade into the water or relax in colourful deck chairs under parasols as water rolls gently beneath them. Two shaded whirlpools flank either side of the beach for guests who prefer warmer waters.
Solarium Cafe
128 seat bistro providing guests with a health conscious dining option for breakfast and lunch.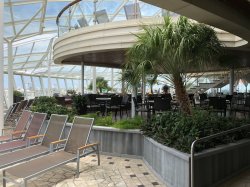 Solarium
With views over the front of the ship and the sea beyond, the open-air Solarium offers a tranquil circular swimming pool, 1.2m (3'11") deep with a central fountain spraying gentle mists of water. Two whirlpools by the pool and four cantilevered whirlpools suspended 136 feet (41.5 metres) above the ocean with large glass windows to enjoy the views from and televisions showing sporting events, offer the perfect place to relax.
Cantilever Hot Tub
Two large hot tubs that extend out over the sides of the ship.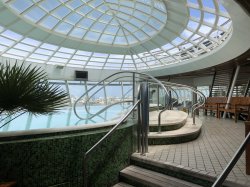 Pool Bars
Sand and Pool bars located near the 4 main pool areas
Click the Cabin Check Tool to check what is on the deck above or below your stateroom:
Here are some tips that you should keep in mind when looking for cabins on this deck. There may be other issues that we haven't noted, and if you are aware of any issues we have not listed, please contact us and let us know so that we can add it to the list.
Jump to Oasis of the Seas Deck 3
Jump to Oasis of the Seas Deck 4
Jump to Oasis of the Seas Deck 5
Jump to Oasis of the Seas Deck 6
Jump to Oasis of the Seas Deck 7
Jump to Oasis of the Seas Deck 8
Jump to Oasis of the Seas Deck 9
Jump to Oasis of the Seas Deck 10
Jump to Oasis of the Seas Deck 11
Jump to Oasis of the Seas Deck 12
Jump to Oasis of the Seas Deck 14
Jump to Oasis of the Seas Deck 15
Jump to Oasis of the Seas Deck 16
Jump to Oasis of the Seas Deck 17
Jump to Oasis of the Seas Deck 18
| | | |
| --- | --- | --- |
| | | = Connecting staterooms |
| | | = Four pullman beds |
| | | = Handicapped facilities |
| | | = Obstructed View |
| | | = One pullman bed |
| | | = Sofa and pullman bed |
| | | = Sofa bed |
| | | = Two pullman beds |