Click
on left for ship menu
Use drop down menu on bar above to choose another deck
You are viewing deck 11 Pool
Owners Suite SB

Mini-Suite MB

Mini-Suite MX

Balcony BC

The cruise line seperates the different categories (Inside, Oceanview, Balcony) into subcategories. The only difference in the subcategories is usually location on the ship. The detail above shows subcategory color, category name, and subcategory name. For detailed information, mouse over a cabin on the deck plans and a pop up window will appear. You will find diagrams, pictures and information about that cabin category including square footage and features.

Norwegian uses a two digit code for its categories. The primary categories are S=Suite, M=Mini Suites, B=Balconies, O=Oceanview, I=Inside, and T=Studio. If the letter is followed by a number it is a specialty cabin. With 1 being the most desired location. For example B1 is a aft-facing balcony. If it is followed by a letter it is a standard cabin with A being the most desired location.

As example a Mini Suite MA is in a more desired location than a Mini Suite MB.
You can click on any image for larger size.

Great Outdoors Cafe
Offers a buffet breakfast (from 7.30am to 11.30am), lunch buffet with selections similar to those on the Garden Cafe but with less choice and late night snacks from 11.00pm to 11.30pm including, on the port side of the buffet, cake and cookies each night. It can seat up to 220 guests.
Sports Bar
Serving comfort food (similar to the Blue Lagoon on other Norwegian Ships) such as fish and chips, hot chicken wings, chicken tenders, nachos with dips, salads and desserts between 5.30pm and 5.30am, also features live broadcasts of sporting events. Accommodating 66 guests, events such as beer tasting are also on offer at $15 to sample five different decent sized glasses of beer.
Video Zone
Has a range of arcade games ranging from racing and shooting to guitar hero, grab a toy and air hockey.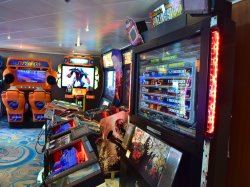 Moderno Churrascaria
Serves succulent skewers of barbecued meats which are carved tableside. Guests control how much they want with their green and red card, green means the carving continues and red is shown to indicate when guests are full. With seating for 84 guests and a cover charge of $20 per person (children aged 4 to 12 can eat free from the kids menu or half price from the kids speciality menu whilst under 3's dine for free), the venue opens for dinner from 5.30pm to 10.30pm, with reservations recommended.
Garden Cafe
The ship's buffet restaurant offering a family-friendly menu from 6.30am to 9.00pm.
Topsiders Bar
A full outdoor poolside bar serving the Oasis pool and Sun Deck area and accommodating 297 guests.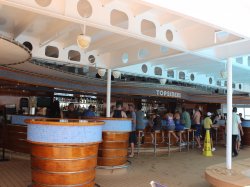 Fitness Center
Features a range of treadmills, exercise bikes, resistance machines and free weights with the treadmills overlooking the ever changing sea views through the floor to ceiling windows. Also on offer are a range of fitness classes ranging from free Abs and Tums to Pilates and Yoga which cost $12 per class.
Spa
Opens from 8am to 10pm and offers a range of treatments from hot stone massages to teeth whitening (fees apply). The Spa also includes complimentary single sex male and female steam rooms and saunas.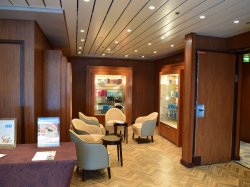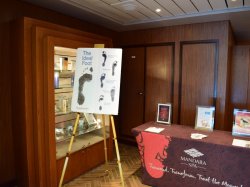 Beauty Salon
Offers a range of services from cuts and colours to manicures and male grooming services.
Pools
Two large swimming pools and 4 hot tubs located near bar and dance floor.
Pool Stage
Outdoor stage and dance floor on the pool sun deck.
The following is a listing of all the cabins we have pictures or videos for on this deck for this ship and also on the sister ships. Click on any highlighted link to view pictures and/or videos (

= video available). Links for cabins pictures are a membership feature and are limited on the public site
Cabin: 1001 Ship: Norwegian Sun

Cabin: 1002 Ship: Norwegian Sun
Cabin: 1003 Ship: Norwegian Sun

Cabin: 1006 Ship: Norwegian Sun
Cabin: 1007 Ship: Norwegian Sun

Cabin: 1009 Ship: Norwegian Sun
Cabin: 1012 Ship: Norwegian Sun

Cabin: 1013 Ship: Norwegian Sun
Cabin: 1201 Ship: Norwegian Sun
Cabin: 1202 Ship: Norwegian Sun
Cabin: 1203 Ship: Norwegian Sun

Cabin: 1204 Ship: Norwegian Sun
Cabin: 1206 Ship: Norwegian Sun

Cabin: 1208 Ship: Norwegian Sun
Cabin: 1209 Ship: Norwegian Sun
Cabin: 1210 Ship: Norwegian Sun

Cabin: 1211 Ship: Norwegian Sun
Cabin: 1212 Ship: Norwegian Sun
Cabin: 1214 Ship: Norwegian Sun

Cabin: 1215 Ship: Norwegian Sun
Click links below to view cabin categories details.
Ship Compass
Jump to Norwegian Sun 4 Biscayne
Jump to Norwegian Sun 5 Atlantic
Jump to Norwegian Sun 6 Promenade (Lower)
Jump to Norwegian Sun 6 Oslo (Upper)
Jump to Norwegian Sun 7 International
Jump to Norwegian Sun 8 Viking
Jump to Norwegian Sun 9 Fjord
Jump to Norwegian Sun 10 Norway
Jump to Norwegian Sun 11 Pool
Jump to Norwegian Sun 12 Sports
Jump to Norwegian Sun 13 Sun
Choose a ship then a cabin to view detail cabin information. (Opens in new window)
| | | |
| --- | --- | --- |
| | | = 2 lower beds no convert |
| | | = Connecting staterooms |
| | | = Double Bed |
| | | = Elevator |
| | | = Handicapped facilities |
| | | = Hearing Impaired |
| | | = Inside Corridors |
| | | = King Bed |
| | | = Queen Bed |
| | | = Restrooms |
| | | = Third and/or fourth person |
| | | = Third person occupancy |
| | | = Up to 5 person occupancy |
| | | = Up to 6 person occupancy |
| | | = Up to 8 person occupancy |