Click
on left for ship menu
Use drop down menu on bar above to choose another deck
You are viewing deck Deck 7
There are no staterooms on this deck
You can click on any image for larger size.

Tradewinds Shop
The ships' tax and duty free shops, selling a range of products from brand name watches (including Gucci and Wenger) jewelery, clothes, souvenirs, toys, snacks and accessories to tobacco and liquors.
Photo Gallery
Displays all of the portraits taken by the ship's official photographers which guests can view and purchase along with digital cameras, accessories, media cards and batteries.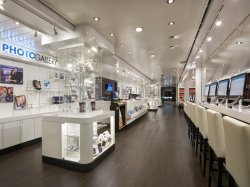 Art Gallery
Features a selection of artwork by a wide range of well known artists for guests to view with a complimentary Champagne art auction being held during the cruise providing them with the opportunity to purchase some examples.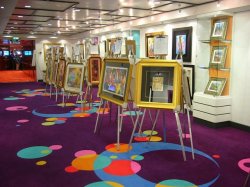 The Atrium
Plays host to musical performances from piano melodies to Dixieland jazz from the Jade Orchestra and demonstrations such as Pastry and Marzipan craft. Guests can grab a coffee from the nearby Atrium Bar during the day or cocktail from the same place at night to relax with whilst enjoying the entertainment on offer. The Atrium also features a two storey high screen which is used for showing movies and Nintendo Wii™ competitions.
Sake Bar
Offers guests premium sake and imported beer in a cozy environment within the Jasmine Garden Asian restaurant. Opening times are 5.30pm to close.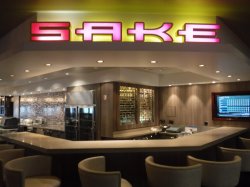 Atrium Bar
Opens from 7am to close and is the ship's coffee bar, accommodating 63 guests.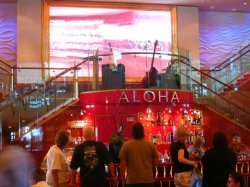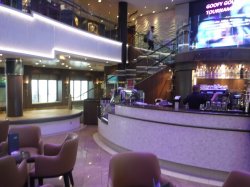 Jasmine Garden
Norwegian Jade's Pan Asian restaurant serving Japanese, Thai and Chinese cuisine. Jasmine Garden can accommodate 102 guests and with a cover charge of $15 per person (children aged 4 to 12 can eat free from the kids menu or half price from the kid's speciality menu), opens for dinner from 5.30pm to close with reservations recommended.
Teppanyaki
Has seatings of 6pm to 7pm and 8pm to 9pm and invites guests to sit around the central cooking area for an Asian dining experience where they watch the chefs show off their skills slicing and dicing whilst preparing meat, poultry, fish and vegetables on an iron "Teppan" griddle.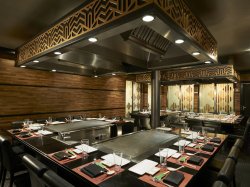 Sushi Bar
Serves Japanese sushi and sashimi expertly prepared as you watch.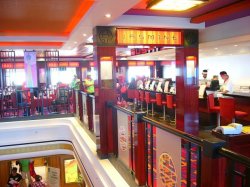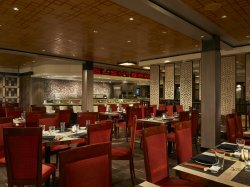 Bliss Ultra Lounge
Accommodating 86 guests, it is a high energy lounge and nightclub featuring three private Karaoke Rooms (accommodating 28) that can be reserved for private parties, bar and central dance floor. Was Medusa Lounge & Nightclub prior to 2017 drydock.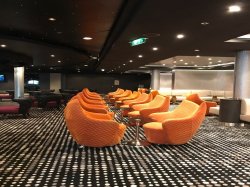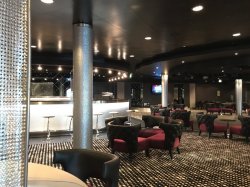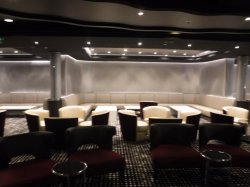 Stardust Theater
The ship's three tier main entertainment venue playing host to the ships' production shows. Seating 1042 guests, performances are held at 7.00pm and 9.00pm and shows range from "Elements" – a cirque du soleil type production to "Shout" the musical.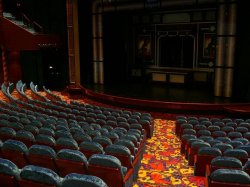 Internet Cafe
Internet cafe open 24 hours.
Promenade
Outside promenade deck that circles around ship.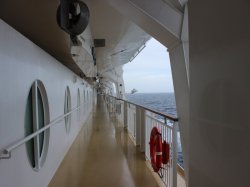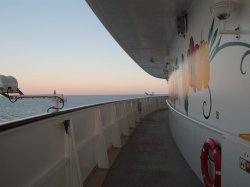 Click the Cabin Check Tool to check what is on the deck above or below your stateroom:
Jump to Norwegian Jade Deck 4
Jump to Norwegian Jade Deck 5
Jump to Norwegian Jade Deck 6
Jump to Norwegian Jade Deck 7
Jump to Norwegian Jade Deck 8
Jump to Norwegian Jade Deck 9
Jump to Norwegian Jade Deck 10
Jump to Norwegian Jade Deck 11
Jump to Norwegian Jade Deck 12
Jump to Norwegian Jade Deck 13
Jump to Norwegian Jade Deck 14
Jump to Norwegian Jade Deck 15
Choose a ship then a cabin to view detail cabin information. (Opens in new window)
| | | |
| --- | --- | --- |
| | | = Connecting staterooms |
| | | = Double Bed |
| | | = Elevator |
| | | = Handicapped facilities |
| | | = Hearing Impaired |
| | | = In Hull Balcony |
| | | = Inside Corridors |
| | | = King Bed |
| | | = Queen Bed |
| | | = Restrooms |
| | | = Third and/or fourth person |
| | | = Third person occupancy |
| | | = Up to 5 person occupancy |
| | | = Up to 6 person occupancy |
| | | = Up to 8 person occupancy |