Click
on left for ship menu
Use drop down menu on bar above to choose another deck
You are viewing deck Deck 15
Please note:
Next drydock Nov 9 to 22, 2020
There are no staterooms on this deck
You can click on any image for larger size.

Garden Cafe
Opens from 6.30am to 10.30am for breakfast, 11.30am to 3.00pm for lunch and 5.30pm to 9.30pm for dinner and is the ship's casual buffet restaurant seating 680 guests.
Waves Pool Bar
Serves the Aqua Park and sundeck area with seating for 24 around the bar.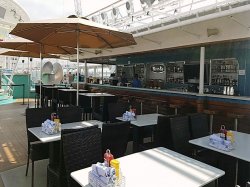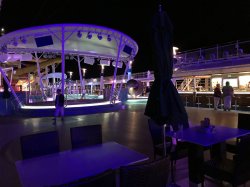 Epic Plunge
A three story 236 feet long tube bowl slide starting on deck 18 and spiraling down to its own shallow exit on deck 15. It has no height or age restrictions but guests can't go down together and children need to be large enough to use the ring tubes provided to go down the slide.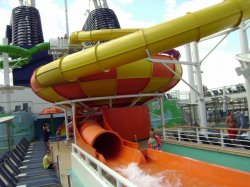 Kids Aqua Park
Opens from 8am to 7pm and is a splash pool with fun features such as a giant starfish; giant toadstool water feature and turtle water fountains. It is also partially covered and has its own shell decorated mini slide.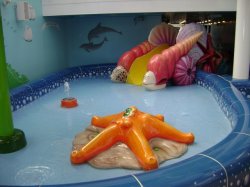 Climbing Wall
37 foot high and 64 foot wide rock climbing and rappelling (abseiling) wall.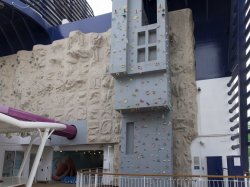 The Marketplace
An outdoor shopping area where each day stalls are brought out with Epic and Nickelodeon™ attire.
Video Arcade
Features a range of entertainment from racing and shooting games to air hockey and grab machines.
Spice H2O Bar & Grill
Opens for a continental breakfast with lunch selections ranging from burgers, hotdogs and chicken wings to Indian dishes, desserts, salad and fresh fruit. From 6pm to midnight the following food is served: Indonesian Chicken Satay with a Spicy Peanut Sau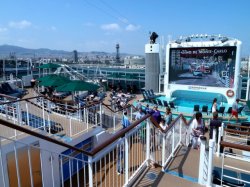 Pool
Pool area with two swimming pools (one for adults only) and multiple hot tubs. Near Kids Aqua Park.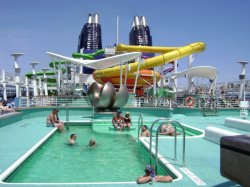 Great Outdoors
Outside tables for Garden Cafe.
Deck 15
Deck 15 has various places to lounge. You will also find deck games and other activities.
Click the Cabin Check Tool to check what is on the deck above or below your stateroom:
Jump to Norwegian Epic Deck 5
Jump to Norwegian Epic Deck 6
Jump to Norwegian Epic Deck 7
Jump to Norwegian Epic Deck 8
Jump to Norwegian Epic Deck 9
Jump to Norwegian Epic Deck 10
Jump to Norwegian Epic Deck 11
Jump to Norwegian Epic Deck 12
Jump to Norwegian Epic Deck 13
Jump to Norwegian Epic Deck 14
Jump to Norwegian Epic Deck 15
Jump to Norwegian Epic Deck 16
Jump to Norwegian Epic Deck 17
Jump to Norwegian Epic Deck 18
Jump to Norwegian Epic Deck 19
Choose a ship then a cabin to view detail cabin information. (Opens in new window)
| | | |
| --- | --- | --- |
| | | = Connecting staterooms |
| | | = Double Bed |
| | | = Elevator |
| | | = Handicapped facilities |
| | | = Hearing Impaired |
| | | = Inside Corridors |
| | | = King Bed |
| | | = Queen Bed |
| | | = Restrooms |
| | | = Third and/or fourth person |
| | | = Third person occupancy |
| | | = Up to 5 person occupancy |
| | | = Up to 6 person occupancy |
| | | = Up to 8 person occupancy |