Click
on left for ship menu
Use drop down menu on bar above to choose another deck
You are viewing deck Deck 6
There are no staterooms on this deck
You can click on any image for larger size.

Breakaway Theater
Offers two Broadway shows: Rock of Ages and Burn the Floor. It has seating for 800 guests and is served by its own bar.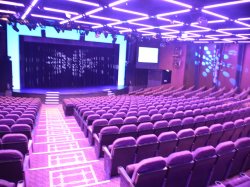 Spiegel Tent
Home to Breakaway's Cirque Dreams and Dinner Jungle Fantasy featuring an international cast of Cirque Dreamers performing amazing acrobatics whilst bringing to life soaring butterflies, hopping frogs, flipping monkeys, fanciful birds and spine bending lizards in an exotic adventure. Whilst enjoying watching the spectacular performance, guests are served dinner to enjoy along with the entertainment.
The Library
Offering guests a quite place to relax with a book from the wide selection available. Daily Sudoku and crosswords are also available in the library.
The Atrium
Central to the ship is the three deck high atrium with its large open seating area at the base of the atrium on deck 6 and a giant screen used for airing live sporting events, movies and open Nintendo Wii gaming. Live musical entertainment can also be enjoyed in the Atrium with acts such as Fire and Ice.
Cafe At The Atrium
Serving a wide variety of speciality coffees from double, vanilla and extra hot latte with extra foam and teas for a charge, fresh baked treats from Carlo's Bakeshop can also be purchased from the Cafe.
Bar At The Atrium
Serves mixed drinks and also features a self-service wine bar. Offering eight different wines to select from guests can choose from a taste, half or full glass.
Mixx Bar
The perfect place for pre or post-dinner drinks with live piano music.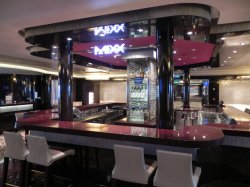 Savor Restaurant
One of three Main Dining Rooms offering a modern twist on traditional dining serving traditional cuisine with a contemporary flair. Decorated with colours designed to mimic the setting sun over a deep blue sea, Savor is on the opposite side to the other Main Dining Room, Taste. This dining option is included in the cruise fare and is open for breakfast, lunch and dinner.
Taste Restaurant
Another of Breakaway's Main Dining Rooms serving a variety of culinary delights to please every palate. With a menu that changes daily, guests can enjoy a different culinary experience with each visit. With floor-to-ceiling ocean views enhancing the contemporary cuisine and décor which features architectural curves, floor-to-ceiling velvet curtains and colourful stained glass, the dining option is included in the cruise fare and is open for dinner only from 5.30pm to 10.00pm. The menu is similar to that served in Savor with one or two different dishes.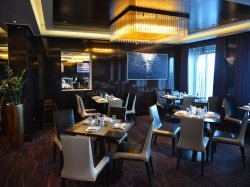 Le Bistro
French theme restaurant that offers premium service. Le Bistro offers chic decor and rich French style cuisine. Typically opened 5:30 to 10:30. There is a cover charge.
Teppanyaki
Offers a hibachi-style dinner and show and has a tranquil ambiance delivered from its traditional Japanese rock garden featuring bamboo plants and bonsai trees. Seating 96 guests around 12 flat top grills the chef's showcase their knife skills whilst cooking exhibition style Japanese cuisine.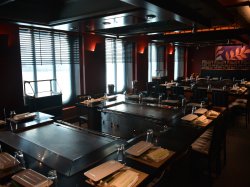 Headliners Comedy Club
Home to The Second City and Howl At The Moon with the room designed to reflect a show lounge format with a small raised stage, concrete floors and brick walls along with a full bar allowing guests to enjoy a drink whilst they catch a show.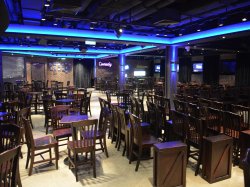 The Collection Art Gallery
Features a selection of artwork by a wide range of well known artists for guests to view with a complimentary Champagne art auction being held during the cruise in Headliners providing them with the opportunity to purchase some examples.
678 Ocean Place
Three story atrium with glass stair cases spanning decks 6, 7 and 8.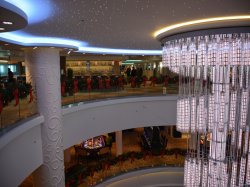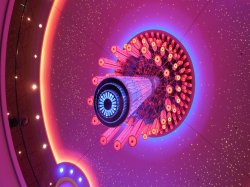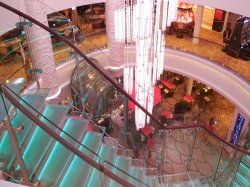 Card Room
Room with tables and chairs for playing cards and board games.
Internet Cafe
Internet cafe open 24 hours.
Meeting Room
Meeting room that can be divided into smaller meeting rooms.
Click the Cabin Check Tool to check what is on the deck above or below your stateroom:
Jump to Norwegian Breakaway Deck 5
Jump to Norwegian Breakaway Deck 6
Jump to Norwegian Breakaway Deck 7
Jump to Norwegian Breakaway Deck 8
Jump to Norwegian Breakaway Deck 9
Jump to Norwegian Breakaway Deck 10
Jump to Norwegian Breakaway Deck 11
Jump to Norwegian Breakaway Deck 12
Jump to Norwegian Breakaway Deck 13
Jump to Norwegian Breakaway Deck 14
Jump to Norwegian Breakaway Deck 15
Jump to Norwegian Breakaway Deck 16
Jump to Norwegian Breakaway Deck 17
Jump to Norwegian Breakaway Deck 18
Choose a ship then a cabin to view detail cabin information. (Opens in new window)
| | | |
| --- | --- | --- |
| | | = Connecting staterooms |
| | | = Double Bed |
| | | = Elevator |
| | | = Handicapped facilities |
| | | = Hearing Impaired |
| | | = Inside Corridors |
| | | = King Bed |
| | | = Queen Bed |
| | | = Restrooms |
| | | = Third and/or fourth person |
| | | = Third person occupancy |
| | | = Up to 5 person occupancy |
| | | = Up to 6 person occupancy |
| | | = Up to 8 person occupancy |