Click
on left to choose a ship
Upload Pics Public Site
tab 1
The Majestic Princess started sailing in 2017 . Former names: none. The Majestic Princess is registered in Bermuda. The Majestic Princess has 1780 cabins. 81 percent of the staterooms on board have balconies.
You can expect between 3560 to 4272 passengers on a typical sailing. This means that at the higher number (usually peak and holiday sailings) Majestic Princess has a space ratio of 33 .
(A space ratio less than 33 means that you may find the ship crowded in areas. A space ratio greater than 39 means that there should be plenty of space for each passenger.)
When this ship isn't sailing at capacity the space ratio can be as good as 39.6.
The Majestic Princess has 1350 crew members on board. There are 3 passengers for every crew member on board. There are no self serve laundromats on this cruise ship.
There are 18 decks on this ship. The highest deck number is 19. The number of decks with passenger cabins is 8.
The following ships share the same class as this ship. This means the basic design and layout of the ship is the same. For the most part the cabins will be identical among these ships, but may be decorated differently.
2013 - Royal Princess III
2014 - Regal Princess
2017 - Majestic Princess
2019 - Sky Princess
There are 38 special needs cabins on this ship. These cabins have been modified for accessibility purposes.
Majestic Princess is a sister ship to Royal Princess and Regal Princess with some major venue changes. The Sanctuary is now known as the Hollywood Conservatory and the Retreat is known as the Hollywood Pool Club. The aft pool that was added to Regal Princess was removed and made into a outdoor exercise circuit. The buffet was named World Fresh Marketplace. Crooners Bar was replaced by the French Bistrot. Vista Lounge became a Gaming Lounge. The night club near the casino was removed and the casino was enlarged with VIP gaming. Sabatinis was removed and replaced with Harmony Chinese Restaurant. Part of the spa area was turned into Karaoke Suites.
A major difference in this category of ship is that the adult pool and retreat area are now covered by glass.
Maiden voyage was Apr 4, 2017
Smoking Policy
Smoking is prohibited in all staterooms and balconies with the exception of electronic cigarettes which may be smoked inside the stateroom
All smoking is permitted only in designated smoking areas. These areas include cigar lounges, a section of the nightclub and casino, and a portion of the open decks.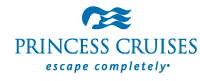 Activities
4 Outdoor Pools
6 Whirlpools (hot tubs)
No Rock Climbing Wall
No Flow Rider
No Ice Rink
No Bowling
No Zipline
No Waterslide
No Water Park
No Ropes Course
Mini Golf
No Golf Simulator
Sports Court
No Boxing Ring
Jogging Track
Features
WIFI Ship Wide
Casino
No Cigar Lounge
Chapel
Video Arcade
Cinema
Show Lounge
Hair Salon
Spa
Fitness Center
Library
No Bridge Viewing Area
Outdoor Movie Screen
Teen Lounge
Passenger Promenade Deck
No Upper Deck Sea Viewing Lounge
Adult Only Outside Lounge Area
Use drop down menu on bar above to choose another deck
Fiesta
There are no staterooms on this deck
You can click on any image for larger size.

Bellinis
Small wine bar located in the Piazza on the Fiesta deck
Princess Theater
Features the ship's production shows, entertainers, enrichment programs (such as the Scholarship@Sea) and movies during the day.
Alfredos
A complimentary pizzeria serving whole individual hand tossed Neapolitan style pizzas with a choice of different toppings.
Photo & Video Gallery
Where guests can view, and purchase, photos and video taken by the ships on board photographer. It also features digital screens allowing guests to easily located their pictures without having to view the whole gallery. Passengers may additionally purchase camera equipment and accessories here.
Concerto Dining Room
Offers anytime dining like the Symphony Dining Room where guests can choose when they want to dine and with whom each night.
Allegro Dining Room
It is the ship's traditional Dining Room where guests choose either an early or late seating time and eat at the same table each night. The Allegro also features the Chef's Table Lumiere where guests sit at a custom glass table surrounded by white curtains providing privacy for the diners.
Grand Casino
Casino and bar with gaming tables and slot machines. Also have a VIP gaming center with a bar and private gaming rooms.
Fine Art Gallery
The ship's Art Gallery displaying a range of artwork for guests to view and purchase during the ship's champagne art auctions
Click the Cabin Check Tool to check what is on the deck above or below your stateroom:
Here are some tips that you should keep in mind when looking for cabins on this deck. There may be other issues that we haven't noted, and if you are aware of any issues we have not listed, please contact us and let us know so that we can add it to the list.
Jump to Majestic Princess 4 - Gala
Jump to Majestic Princess 5 - Plaza
Jump to Majestic Princess 6 - Fiesta
Jump to Majestic Princess 7 - Promenade
Jump to Majestic Princess 8 - Emerald
Jump to Majestic Princess 9 - Dolphin
Jump to Majestic Princess 10 - Caribe
Jump to Majestic Princess 11 - Baja
Jump to Majestic Princess 12 - Aloha
Jump to Majestic Princess 14 - Riviera
Jump to Majestic Princess 15 - Marina
Jump to Majestic Princess 16 - Lido
Jump to Majestic Princess 17 - Sun
Jump to Majestic Princess 18 - Sports
Jump to Majestic Princess 19 - Sky
| | | |
| --- | --- | --- |
| | | = Balcony door blocked by upper |
| | | = Balcony door blocked w upper |
| | | = Connecting staterooms |
| | | = Interconnecting staterooms |
| | | = Third and fourth Pullman beds |
| | | = Third Pullman bed available |
| | | = Two lower beds not convertible |
| | | = Wheelchair accessible |