Click
on left to choose a ship
Upload Pics Public Site
tab 1
The MSC Seaside started sailing in 2017 . Former names: none. The MSC Seaside is registered in Panama City, Panama. The MSC Seaside has 2067 cabins. 74 percent of the staterooms on board have balconies.
You can expect between 4134 to 4961 passengers on a typical sailing. This means that at the higher number (usually peak and holiday sailings) MSC Seaside has a space ratio of 31 .
(A space ratio less than 33 means that you may find the ship crowded in areas. A space ratio greater than 39 means that there should be plenty of space for each passenger.)
When this ship isn't sailing at capacity the space ratio can be as good as 37.3.
The MSC Seaside has 1413 crew members on board. There are 4 passengers for every crew member on board. There are no self serve laundromats on this cruise ship.
There are 19 decks on this ship. The highest deck number is 20. The number of decks with passenger cabins is 10.
The following ships share the same class as this ship. This means the basic design and layout of the ship is the same. For the most part the cabins will be identical among these ships, but may be decorated differently.
2017 - MSC Seaside
2018 - MSC Seaview
There are 53 special needs cabins on this ship. These cabins have been modified for accessibility purposes.
Maiden voyage was Dec 1, 2017
Smoking Policy
Smoking is only allowed in cigar rooms, the casino, one designated lounge, and outdoors on one side of the sun deck
Smoking is Prohibited in cabins, balconies, dining rooms, and theaters.
Activities
1 Retractable Roof Pools
3 Outdoor Pools
8 Whirlpools (hot tubs)
No Rock Climbing Wall
No Flow Rider
No Ice Rink
No Bowling
No Zipline
Waterslide
Water Park
No Ropes Course
No Mini Golf
No Golf Simulator
No Sports Court
No Boxing Ring
No Jogging Track
Features
WIFI Ship Wide
Casino
No Cigar Lounge
No Chapel
Video Arcade
No Cinema
Show Lounge
Hair Salon
Spa
Fitness Center
Library
No Bridge Viewing Area
Outdoor Movie Screen
Teen Lounge
No Passenger Promenade
No Upper Deck Sea Viewing Lounge
Adult Only Outside Lounge Area
Deck 8
There are no staterooms on this deck
You can click on any image for larger size.

Bistrot La Boheme
Bar and Bistro that seats 130 people.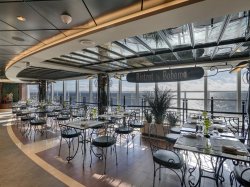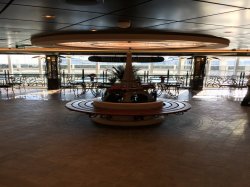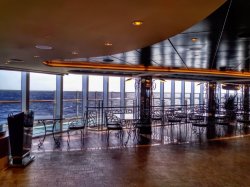 Seaview Lounge
Lounge for cocktails and drinks. Seats 21 people.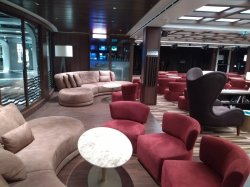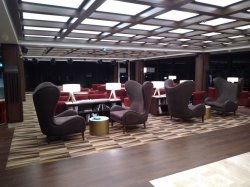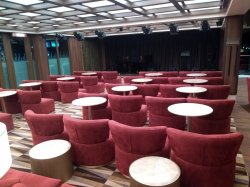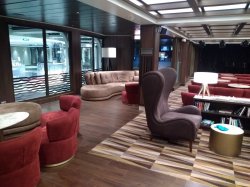 Sports Bar
Bar serving drinks and finger foods. Seats 160 people.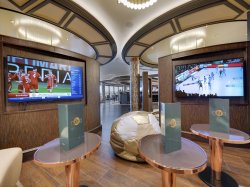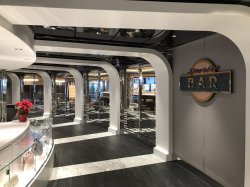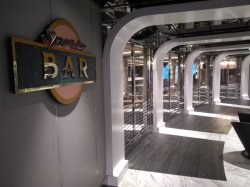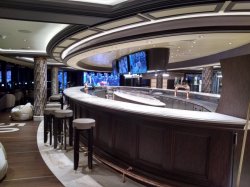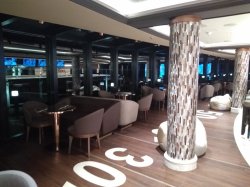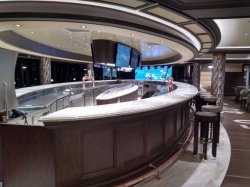 Broadcasting Room
Recording room with seats for 4 people.
Fashion Jewelry
Shop selling jewelry and watches.
Infinity Bridge
Outdoor glass bridge.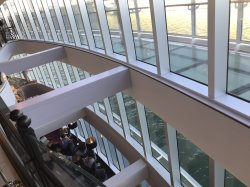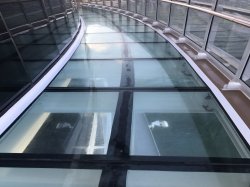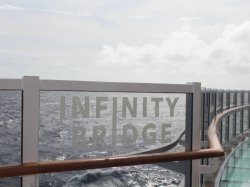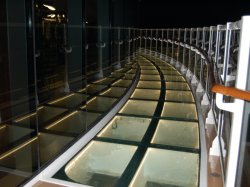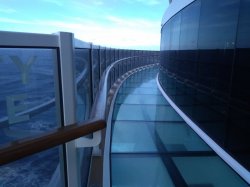 MSC Shop
Logo shop selling MSC branded items.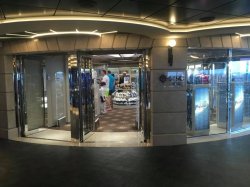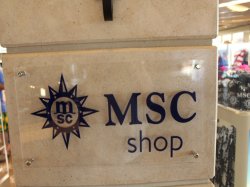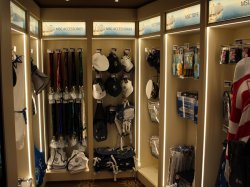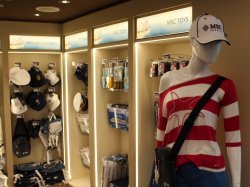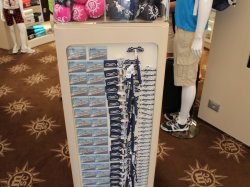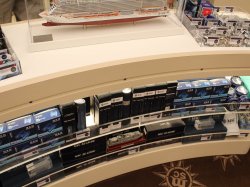 News Cafe
Cafe serving cocktails and drinks. Seats 150 people.
The Gallery
Jewelry Gallery
Piazza
Square with bars and shops.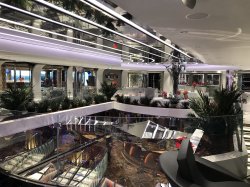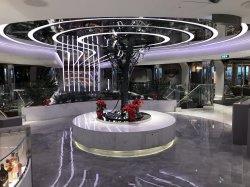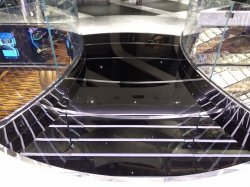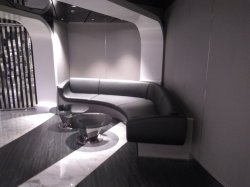 Waterfront Boardwalk
Waterfront Promenade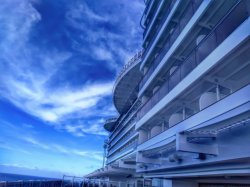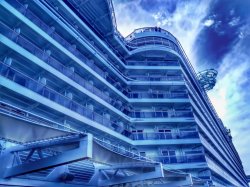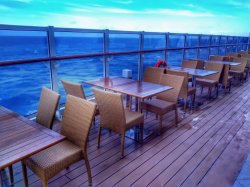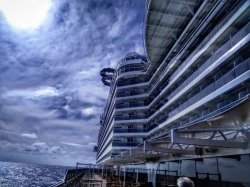 MSC Aurea Spa
Beauty and Hair Salon, Cosmetics and Spa Shop.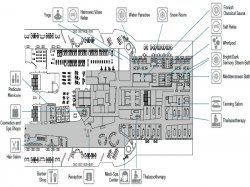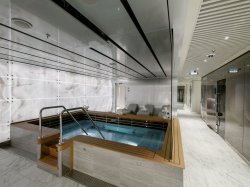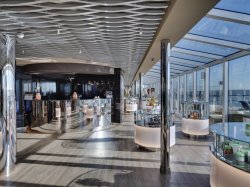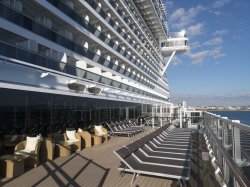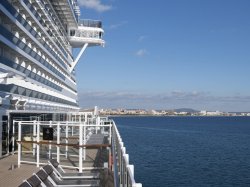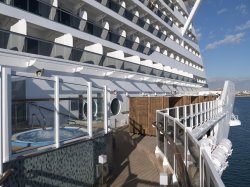 MSC Gym
Fitness center by Technogym.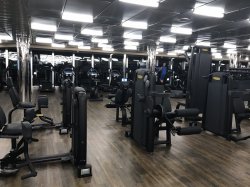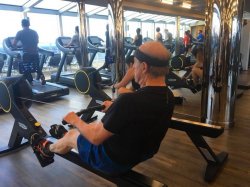 Marketplace Buffet
Buffet area located on aft of deck 8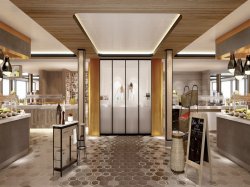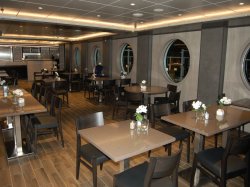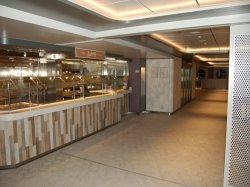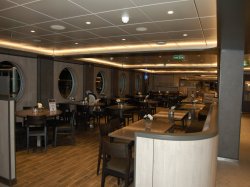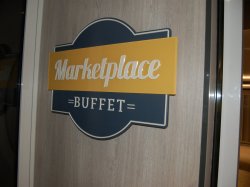 Atrium
Central Atrium spanning decks 5, 6, 7 and 8.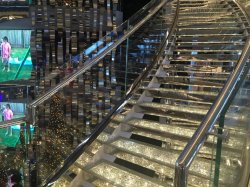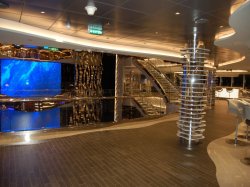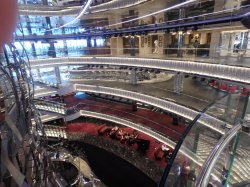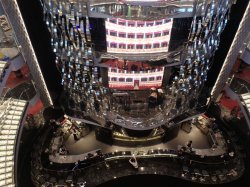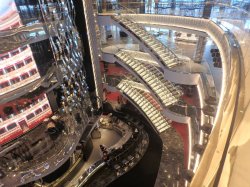 Marketplace Bar
Indoor and outdoor bar area serving the Marketplace Buffet.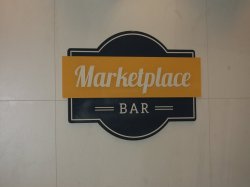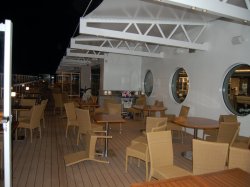 Click the Cabin Check Tool to check what is on the deck above or below your stateroom:
Here are some tips that you should keep in mind when looking for cabins on this deck. There may be other issues that we haven't noted, and if you are aware of any issues we have not listed, please contact us and let us know so that we can add it to the list.
Jump to MSC Seaside Deck 5
Jump to MSC Seaside Deck 6
Jump to MSC Seaside Deck 7
Jump to MSC Seaside Deck 8
Jump to MSC Seaside Deck 9
Jump to MSC Seaside Deck 10
Jump to MSC Seaside Deck 11
Jump to MSC Seaside Deck 12
Jump to MSC Seaside Deck 13
Jump to MSC Seaside Deck 14
Jump to MSC Seaside Deck 15
Jump to MSC Seaside Deck 16
Jump to MSC Seaside Deck 18
Jump to MSC Seaside Deck 19
Jump to MSC Seaside Deck 20
| | | |
| --- | --- | --- |
| | | = Ambulatory Accessible |
| | | = Bunk Sofa |
| | | = Connecting |
| | | = Double Sofa Bed |
| | | = Handicap |
| | | = Pullman Bed |
| | | = Single Sofa Bed |
| | | = Two Pullmans |
| | | = Whirlpool |