Click
on left to choose a ship
Upload Pics Public Site
tab 1
The MSC Preziosa started sailing in 2013 . Former names: none. The MSC Preziosa is registered in Panama City, Panama. The MSC Preziosa has 1751 cabins. 70 percent of the staterooms on board have balconies.
You can expect between 3502 to 4378 passengers on a typical sailing. This means that at the higher number (usually peak and holiday sailings) MSC Preziosa has a space ratio of 31.8 .
(A space ratio less than 33 means that you may find the ship crowded in areas. A space ratio greater than 39 means that there should be plenty of space for each passenger.)
When this ship isn't sailing at capacity the space ratio can be as good as 39.7.
The MSC Preziosa has 1388 crew members on board. There are 3 passengers for every crew member on board. There are no self serve laundromats on this cruise ship.
There are 17 decks on this ship. The highest deck number is 18. The number of decks with passenger cabins is 9.
The following ships share the same class as this ship. This means the basic design and layout of the ship is the same. For the most part the cabins will be identical among these ships, but may be decorated differently.
2008 - MSC Fantasia
2009 - MSC Splendida
2012 - MSC Divina
2013 - MSC Preziosa
There are 44 special needs cabins on this ship. These cabins have been modified for accessibility purposes.
The 4 ships in the Fantasia Class were built in pairs and there are some differences between the two pairs. MSC-Fantasia and MSC-Splendida were built first followed by MSC-Divina and MSC-Preziosa. The differences between the pairs are the size of the central Hump and the size of the cabins on the Hump, the number of "In Hull" balconies, and the size of the Top Sail Lounge. The cabins on MSC-Fantasia and MSC-Splendida are shorter and wider than the same cabins on MSC-Divina and MSC-Preziosa.
Smoking Policy
Smoking is only allowed in cigar rooms, the casino, one designated lounge, and outdoors on one side of the sun deck
Smoking is Prohibited in cabins, balconies, dining rooms, and theaters.
Activities
1 Indoor Pools
4 Outdoor Pools
12 Whirlpools (hot tubs)
No Rock Climbing Wall
No Flow Rider
No Ice Rink
Bowling
No Zipline
Waterslide
No Water Park
No Ropes Course
No Mini Golf
No Golf Simulator
Sports Court
No Boxing Ring
Jogging Track
Features
WIFI Ship Wide
Casino
No Cigar Lounge
No Chapel
Video Arcade
Cinema
Show Lounge
Hair Salon
Spa
Fitness Center
Library
No Bridge Viewing Area
Outdoor Movie Screen
Teen Lounge
Passenger Promenade Deck
Sea Viewing Lounge on upper deck
No Adult Only Outside Lounge Area
Deck 6

There are no staterooms on this deck
You can click on any image for larger size.

Platinum Theater
Seats just over 1600 guests with unobstructed views and futuristic interior features which interact with the stage and lighting to create individual visual effects. The Broadway-style entertainment offers a total of six shows, all of which are new productions.
L Arabesque Restaurant
The ship's 740 seat panoramic aft main dining room. With laminated wood and grey, white and peach marble floors the restaurant offers beautiful décor against a backdrop of the ocean. Serving daily menus with Mediterranean and International dishes, the restaurant also offers a quick 30 minute Express lunch each day.
The Golden Lobster
The ship's second main dining room arranged on two levels with seating for 626 guests on deck 5 and 529 guests on deck 6.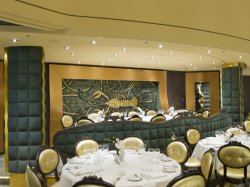 L Angolo Dell Oggetto
The place for guests to buy the latest fashion watches, sunglasses and jewelry with brands including Emporio Armani, Prada, D&G, Ray Ban, Fossil and Swarovski, all at duty free prices.
La Caramella
An authentic pick and mix sweet shop selling an array of colourful sweet temptations for guests to indulge in.
Diamond Bar & Library
The ideal place to settle down for a relaxing read from the extensive range of books, available in multiple languages, from the library and reading area which is incorporated into the bar area itself. Seats 98 people.
Accessory Shop
sells a range of bags, belts and leather goods.
II Gioiello
Guests can choose from a wide range of jewels, watches, pens and accessories all at tax and duty free prices.
La Profumeria
Provides guests with the opportunity to get everything for body and beauty care from fragrances and cosmetics to travel sets, suntan lotions and other items with brands including Chanel, Lancôme, Bulgari and Gucci.
Millennium Star Casino
Served by its own bar, black jack, poker, roulette, dice and more are on offer along with an array of high-tech slot machines. Seats 323 people.
Phoenician Plaza
Centered in the shopping section of deck 6, tables and chairs provide a nice area to enjoys some drinks. Seats 80 people.
Click the Cabin Check Tool to check what is on the deck above or below your stateroom:
Here are some tips that you should keep in mind when looking for cabins on this deck. There may be other issues that we haven't noted, and if you are aware of any issues we have not listed, please contact us and let us know so that we can add it to the list.
Jump to MSC Preziosa 5 Corallo
Jump to MSC Preziosa 6 Diamante
Jump to MSC Preziosa 7 Rubino
Jump to MSC Preziosa 8 Onice
Jump to MSC Preziosa 9 Agata
Jump to MSC Preziosa 10 Tormalina
Jump to MSC Preziosa 11 Giada
Jump to MSC Preziosa 12 Opale
Jump to MSC Preziosa 13 Ametista
Jump to MSC Preziosa 14 Smeraldo
Jump to MSC Preziosa 15 Cristallo
Jump to MSC Preziosa 16 Acquamarina
Jump to MSC Preziosa 18 Topazio
| | | |
| --- | --- | --- |
| | | = Connecting staterooms |
| | | = Double sofa bed |
| | | = Handicap accessible |
| | | = One upper bed |
| | | = Single sofa bed |
| | | = Two upper beds |