Click
on left for ship menu
Use drop down menu on bar above to choose another deck
You are viewing deck 7 Apollo
There are no staterooms on this deck
You can click on any image for larger size.

Black & White Lounge
A large lounge with a central dance floor, bar and entertainment. Seats 295 people. Stage space is 291 square feet. Dance floor space is 592 square feet. Total square footage is 8611.
La Cantina Di Bacco
Wine bar and pizzeria, that has a seating capacity of 105 and opens from around 1pm to 2.00am.
Photo Shop
Stocks digital cameras, film and accessories.
MSC Logo Shop
Sells clothes, souvenirs and toys with the MSC logo on them.
La Profumeria
Sells a range of cosmetics and perfumes including Dior and Marc Jacobs.
Caffe Italia
The ship's coffee shop which also serves a selection of cakes and desserts.
Golden Jazz Bar
Hs seating for 106 visitors and features live jazz music along with a special range of made to measure drinks. Stage is 172 square feet. Dance floor is 140 square feet. Total square footage is 2530.
Sports Bar
A multi-screen themed sports bar with seating for 87 passengers. Featuring a customized drinks menu and snacks, it is also home to the two lane bowling alley.
Galleria d Arte
Art Gallery featuring a selection of artwork from fine prints, lithographs, water colours and oils which can be purchased during the ship's champagne art auctions.
La Luna Piano Bar
Piano bar with seating for 108.
Pantheon Theater
The ships 1603 seat theater that features Broadway style shows, illusionists, dancing on ice shows and circus extravaganzas. Stage is 165 square feet. Total square footage is 22454.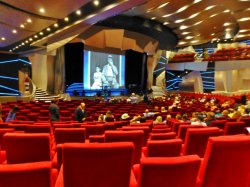 Exterior Promenade
Outside promenade deck
Eataly Steakhouse
A 108 seat specialty reservation restaurant.
Ristorante Italia
Specialty restuarant
Divina Reception
Main atrium with bars and shops and seating areas. Seats 93 people.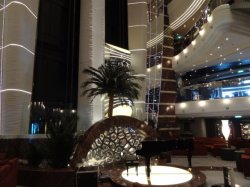 Click the Cabin Check Tool to check what is on the deck above or below your stateroom:
Jump to MSC Divina 5 Saturno
Jump to MSC Divina 6 Zeus
Jump to MSC Divina 7 Apollo
Jump to MSC Divina 8 Artemide
Jump to MSC Divina 9 Minerva
Jump to MSC Divina 10 Giunone
Jump to MSC Divina 11 Iride
Jump to MSC Divina 12 Aurora
Jump to MSC Divina 13 Cupido
Jump to MSC Divina 14 Afrodite
Jump to MSC Divina 15 Mercurio
Jump to MSC Divina 16 Urano
Jump to MSC Divina 18 Elios
| | | |
| --- | --- | --- |
| | | = Connecting staterooms |
| | | = Double sofa bed |
| | | = Handicap accessible |
| | | = One upper bed |
| | | = Single sofa bed |
| | | = Two upper beds |