Click
on left to choose a ship
Upload Pics Public Site
tab 1
The Jewel of the Seas started sailing in 2004 . Former names: none. The Jewel of the Seas is registered in Nassau, Bahamas. The Jewel of the Seas has 1072 cabins. 55 percent of the staterooms on board have balconies.
You can expect between 2144 to 2573 passengers on a typical sailing. This means that at the higher number (usually peak and holiday sailings) Jewel of the Seas has a space ratio of 35 .
(A space ratio less than 33 means that you may find the ship crowded in areas. A space ratio greater than 39 means that there should be plenty of space for each passenger.)
When this ship isn't sailing at capacity the space ratio can be as good as 42.
The Jewel of the Seas has 859 crew members on board. There are 3 passengers for every crew member on board. There are no self serve laundromats on this cruise ship.
The ship last major refurbishment was in Apr 2016 .
There are 13 decks on this ship. The highest deck number is 13. The number of decks with passenger cabins is 8.
The following ships share the same class as this ship. This means the basic design and layout of the ship is the same. For the most part the cabins will be identical among these ships, but may be decorated differently.
2001 - Radiance of the Seas
2002 - Brilliance of the Seas
2003 - Serenade of the Seas
2004 - Jewel of the Seas
There are 19 special needs cabins on this ship. These cabins have been modified for accessibility purposes.
During dry dock in Apr 3 to Apr 24, 2016 added Izumi, Giovannis Table, large outdoor movie screen, new TVs in cabins. A two-bedroom family oceanview to deck 10 and 26 oceanview and inside cabins to various deck locations.
Smoking Policy
Smoking cigarettes, cigars, electronic cigarettes, and pipes is permitted only in designated outdoor areas that have signage (mainly on the starboard side)
Smoking is not permitted inside staterooms or balconies, Central Park or Boardwalk neighborhoods, dining venues, theaters, bars, lounges, hallways, pools, elevators, or jogging tracks
The casino allows smoking and has a designated area for non-smoking on most cruises.

Activities
1 Indoor Pools
1 Outdoor Pools
3 Whirlpools (hot tubs)
Rock Climbing Wall
No Flow Rider
No Ice Rink
No Bowling
No Zipline
Waterslide
No Water Park
No Ropes Course
Mini Golf
Golf Simulator
Sports Court
No Boxing Ring
Jogging Track
Features
WIFI Hot Spots Only
Casino
No Cigar Lounge
No Chapel
Video Arcade
Cinema
Show Lounge
Hair Salon
Spa
Fitness Center
Library
No Bridge Viewing Area
Outdoor Movie Screen
Teen Lounge
Passenger Promenade Deck
Sea Viewing Lounge on upper deck
Adult Only Outside Lounge Area
Helipad
Use drop down menu on bar above to choose another deck
Deck 6

There are no staterooms on this deck
You can click on any image for larger size.

The Congo Bar
Guests can sit at the square-shaped bar serving cocktails such as Mojitos or at a table near the windows and enjoy the great views.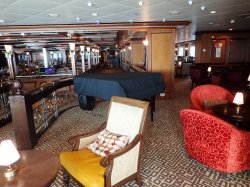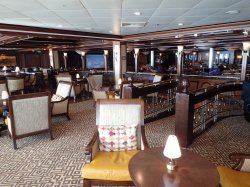 Zanzibar Lounge
Offers polished wood furniture, brass work and tables to sit at that have checkers, chess or backgammon boards built into them for guests to enjoy.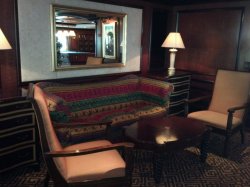 The Safari Club
A customizable entertainment space with four different clubs: The Games Reserve, Serengeti Card Club, The Congo Bar and Zanzibar Lounge. The area includes bars and dance floor and is decorated with dark wood, parquet flooring and large carved wood giraffe heads in the center.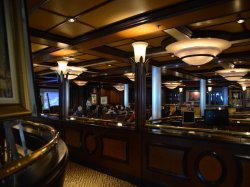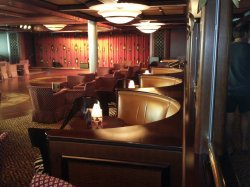 The Game Reserves
Home to the ships self-balancing Gyro pool tables that compensate for the movement of the ship as well as large screen televisions.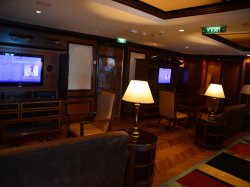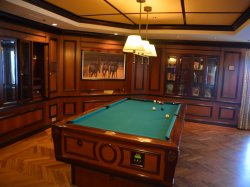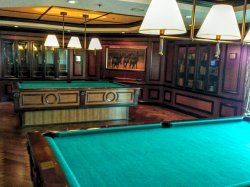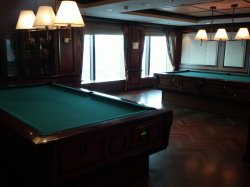 Serengeti Card Club
Has a selection of board games and cards in addition to large tables for playing cards on. Bridge players get togethers are held here.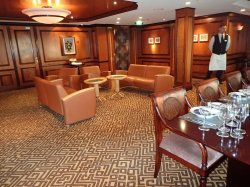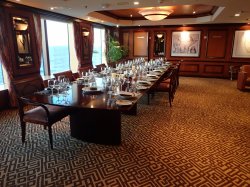 Schooner Bar
Seats 134 guests and is the ships nautically themed piano bar.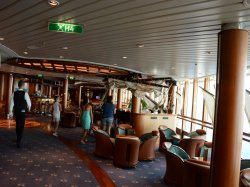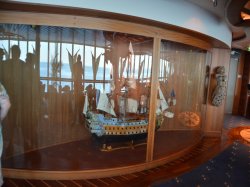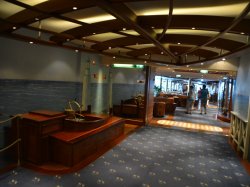 Giovannis Table
Jewel of the Seas select Italian dining room seating 95 guests and open from 6.00pm to 9.30pm.
Chops Grille
Jewel of the Seas select Steakhouse with seating for 86 guests and open from 6.00pm to 9.30pm each evening, with a cover charge of $30.00 per person.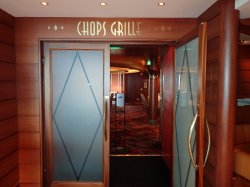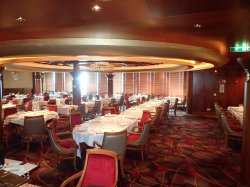 Champagne Bar
With large sloping windows offering great sea views, the quiet and elegant bar serves as the perfect place to enjoy a glass of champagne or sample some of the most exclusive wines from all over the world.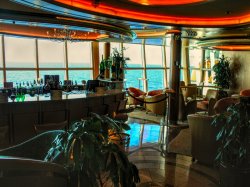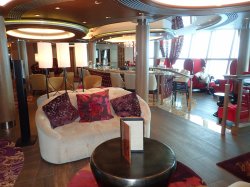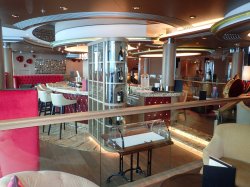 Casino Royale
Equipped with gaming tables, around 200 slot machines from penny slots to $25 slots and electronic gaming, it is served by its own bar.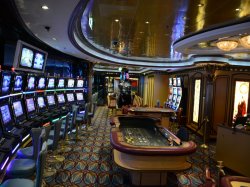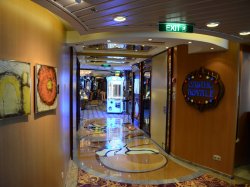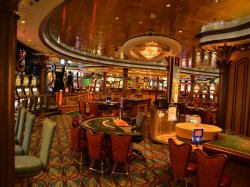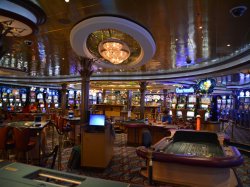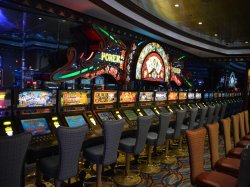 The Pit Stop
It's the ideal place for a beer and to catch up with the latest sporting events aired on the TV's screens above the bar and all around the room which is decorated with racing memorabilia and features seating with checkered designs.
Cinema
An intimate traditional style viewing room where recent movies are shown on a large screen. Films are shown several times a day in different languages to cater for all passengers onboard.
Coral Theater
The ship's main entertainment theater.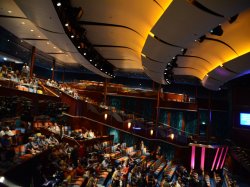 Outside Promenade
Outside promenade deck that circles around the ship. In the forward part of the promenade you can go up a set of stairs to Deck 6 and then all the way forward to bow. You will find bench seating and a Helicopter Pad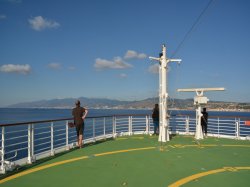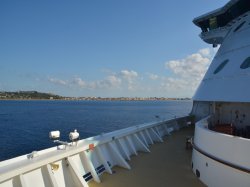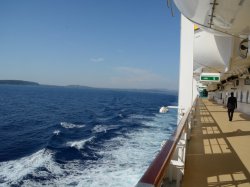 Centrum
Open atrium that extends to the top of the ship
Click the Cabin Check Tool to check what is on the deck above or below your stateroom:
Here are some tips that you should keep in mind when looking for cabins on this deck. There may be other issues that we haven't noted, and if you are aware of any issues we have not listed, please contact us and let us know so that we can add it to the list.
Jump to Jewel of the Seas Deck 2
Jump to Jewel of the Seas Deck 3
Jump to Jewel of the Seas Deck 4
Jump to Jewel of the Seas Deck 5
Jump to Jewel of the Seas Deck 6
Jump to Jewel of the Seas Deck 7
Jump to Jewel of the Seas Deck 8
Jump to Jewel of the Seas Deck 9
Jump to Jewel of the Seas Deck 10
Jump to Jewel of the Seas Deck 11
Jump to Jewel of the Seas Deck 12
Jump to Jewel of the Seas Deck 13
| | | |
| --- | --- | --- |
| | | = Connecting staterooms |
| | | = Four pullman beds |
| | | = Handicapped facilities |
| | | = Obstructed View |
| | | = One pullman bed |
| | | = Sofa and pullman bed |
| | | = Sofa bed |
| | | = Two pullman beds |