Click
on left for ship menu
Use drop down menu on bar above to choose another deck
You are viewing deck Deck 6
There are no staterooms on this deck
You can click on any image for larger size.

The Congo Bar
Guests can sit at the square-shaped bar serving cocktails such as Mojitos or at a table near the windows and enjoy the great views.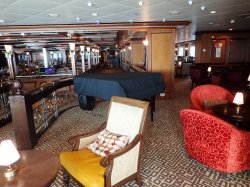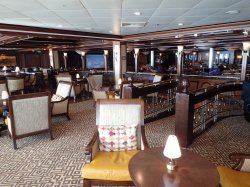 Zanzibar Lounge
Offers polished wood furniture, brass work and tables to sit at that have checkers, chess or backgammon boards built into them for guests to enjoy.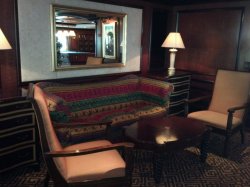 The Safari Club
A customizable entertainment space with four different clubs: The Games Reserve, Serengeti Card Club, The Congo Bar and Zanzibar Lounge. The area includes bars and dance floor and is decorated with dark wood, parquet flooring and large carved wood giraffe heads in the center.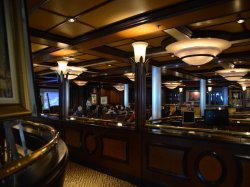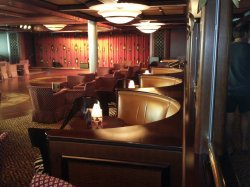 The Game Reserves
Home to the ships self-balancing Gyro pool tables that compensate for the movement of the ship as well as large screen televisions.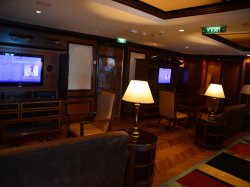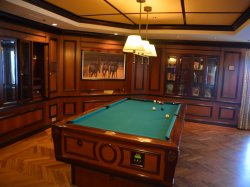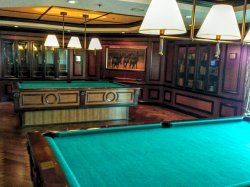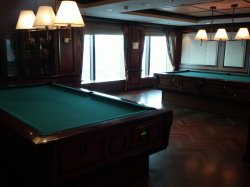 Serengeti Card Club
Has a selection of board games and cards in addition to large tables for playing cards on. Bridge players get togethers are held here.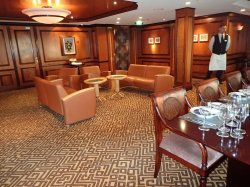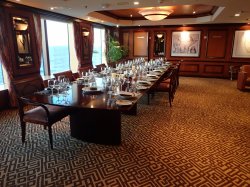 Schooner Bar
Seats 134 guests and is the ships nautically themed piano bar.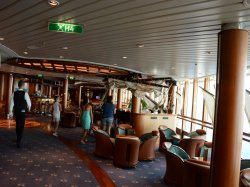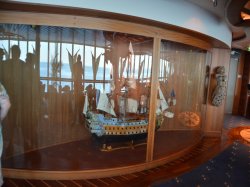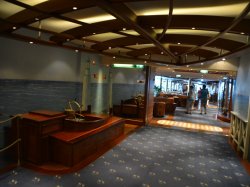 Giovannis Table
Jewel of the Seas select Italian dining room seating 95 guests and open from 6.00pm to 9.30pm.
Chops Grille
Jewel of the Seas select Steakhouse with seating for 86 guests and open from 6.00pm to 9.30pm each evening, with a cover charge of $30.00 per person.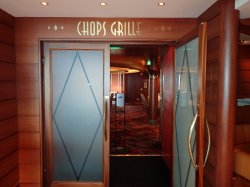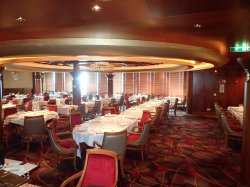 Champagne Bar
With large sloping windows offering great sea views, the quiet and elegant bar serves as the perfect place to enjoy a glass of champagne or sample some of the most exclusive wines from all over the world.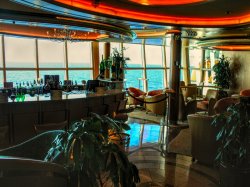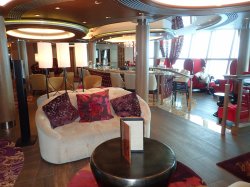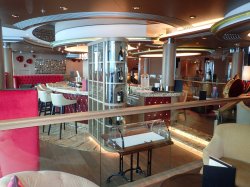 Casino Royale
Equipped with gaming tables, around 200 slot machines from penny slots to $25 slots and electronic gaming, it is served by its own bar.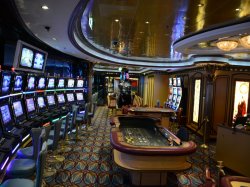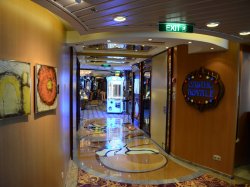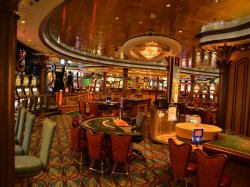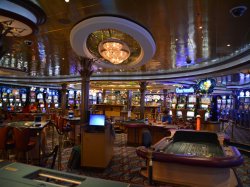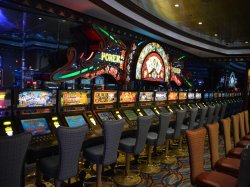 The Pit Stop
It's the ideal place for a beer and to catch up with the latest sporting events aired on the TV's screens above the bar and all around the room which is decorated with racing memorabilia and features seating with checkered designs.
Cinema
An intimate traditional style viewing room where recent movies are shown on a large screen. Films are shown several times a day in different languages to cater for all passengers onboard.
Coral Theater
The ship's main entertainment theater.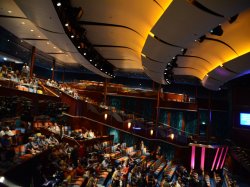 Outside Promenade
Outside promenade deck that circles around the ship. In the forward part of the promenade you can go up a set of stairs to Deck 6 and then all the way forward to bow. You will find bench seating and a Helicopter Pad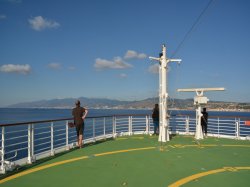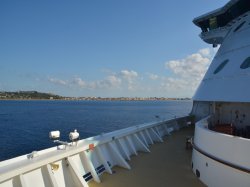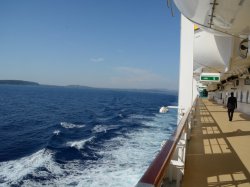 Centrum
Open atrium that extends to the top of the ship
Click the Cabin Check Tool to check what is on the deck above or below your stateroom:
Ship Compass
Jump to Jewel of the Seas Deck 2
Jump to Jewel of the Seas Deck 3
Jump to Jewel of the Seas Deck 4
Jump to Jewel of the Seas Deck 5
Jump to Jewel of the Seas Deck 6
Jump to Jewel of the Seas Deck 7
Jump to Jewel of the Seas Deck 8
Jump to Jewel of the Seas Deck 9
Jump to Jewel of the Seas Deck 10
Jump to Jewel of the Seas Deck 11
Jump to Jewel of the Seas Deck 12
Jump to Jewel of the Seas Deck 13
| | | |
| --- | --- | --- |
| | | = Connecting staterooms |
| | | = Four pullman beds |
| | | = Handicapped facilities |
| | | = Obstructed View |
| | | = One pullman bed |
| | | = Sofa and pullman bed |
| | | = Sofa bed |
| | | = Two pullman beds |