Click
on left for ship menu
Use drop down menu on bar above to choose another deck
You are viewing deck Deck 4
There are no staterooms on this deck
You can click on any image for larger size.

District Lounge
The lounge's casual atmosphere and comfortable seating make it a perfect gathering place for the whole family to take part in games, entertainment or activities designed to engage all family members.
Pink
A chic cocktail bar that takes inspiration from France's finest Champagne, the venue makes guests feel as though they are immersed in a bottle of pink effervescence.
Skyline Lounge
A cocktail bar that celebrates some of the world's most famous cities. Tall "windows" line a wall that offer guests a commanding view of some of the world's most beautiful city skylines as if from a vantage atop a high rise.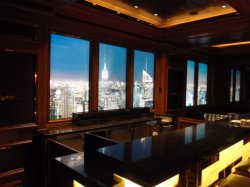 687 Lounge
During the day this lounge provides family games and activities. After 9:00pm however, the venue transforms into a refuge for adults seeking more grown-up activities and games to enjoy over a beer, wine or mixed drinks, such as trivia quizzes.
Evolution
A stylish dance club and the premier venue for adults only at night with a host of activities for guests to enjoy.
Buena Vista Theater
A lavish cinema screening first-run films, some in stunning Disney Digital 3-D, and other popular motion pictures.
Shutters
The ship's photographic shop, offering professional portraits, where guests can find pictures of themselves taken by the ships onboard photographers.
Vista Cafe
Serves beverages and snacks throughout the day, and is ideal for enjoying coffee and a pastry in the morning or a cocktail in the evening night.
Walt Disney Theater
An enormous live performance setting that presents original Disney live shows, from enchanting original Disney musicals to family-friendly variety acts, as well as first-run and digital 3-D movies.
The District
Area of bar and lounges on deck 4 aft
Walking/Jogging Track
Outside promenade used for jogging or walking
Vista Gallery
Art gallery
Click the Cabin Check Tool to check what is on the deck above or below your stateroom:
Jump to Disney Dream Deck 1
Jump to Disney Dream Deck 2
Jump to Disney Dream Deck 3
Jump to Disney Dream Deck 4
Jump to Disney Dream Deck 5
Jump to Disney Dream Deck 6
Jump to Disney Dream Deck 7
Jump to Disney Dream Deck 8
Jump to Disney Dream Deck 9
Jump to Disney Dream Deck 10
Jump to Disney Dream Deck 11
Jump to Disney Dream Deck 12
Jump to Disney Dream Deck 13
Jump to Disney Dream Deck 14