Click
on left to choose a ship
Upload Pics Public Site
tab 1
The Crystal Symphony started sailing in 1995 . Former names: none. The Crystal Symphony is registered in Bahamas. The Crystal Symphony has 452 cabins. 56 percent of the staterooms on board have balconies.
You can expect between 904 to 1040 passengers on a typical sailing. This means that at the higher number (usually peak and holiday sailings) Crystal Symphony has a space ratio of 49.1 .
(A space ratio less than 33 means that you may find the ship crowded in areas. A space ratio greater than 39 means that there should be plenty of space for each passenger.)
When this ship isn't sailing at capacity the space ratio can be as good as 56.5.
The Crystal Symphony has 530 crew members on board. There are 2 passengers for every crew member on board. There are self serve laudromats on this ship.
The ship last major refurbishment was in Oct 2017 .
There are 12 decks on this ship. The highest deck number is 12. The number of decks with passenger cabins is 5.
There are 4 special needs cabins on this ship. These cabins have been modified for accessibility purposes.
CRYSTAL SYMPHONY was the second vessel built for Crystal Cruises. She was built in Finland. In June 2012 the luxury ship's theater, kids' area and several lounges were redone during the 15-day, $15 million dry-dock. Crystal is known for making decor changes during dry-docks. For example, the madeover Avenue Saloon now sports brass-tack couches, embossed-leaf barstools and tufted booths
During drydock September 19 to Oct 10, 2017 66 verandah cabins were elimated from deck 9 and turned into 42 Penthouse Suites. Crystal Dining Room was renamed to 'Waterslide' and additional tables were added. Lido Cafe is now Marketplace during the day and Churrascaria (a Brazilian Steakhouse) at night. Silk Road and the Shushi Bar were combined and renamed 'Umi Uma'. All cabins wre upgraded to new 42 inch TVs with interactive panels.
Smoking Policy
Indoor smoking is permitted only in the Connoisseur Club smoking lounge
Smoking is prohibited in all other indoor areas of the ship including public rooms, lounges, corridors, restaurants, stateroom, suites, and even verandahs
Cigarette and e-cigarette smoking is only permitted in designated outdoor areas:
Decks 10, 9 and 8 Aft on Symphony and Serenity (Cigar & Pipe Smoking permitted as well)
Deck 11 Aft on Serenity (Cigar and pipe smoking permitted as well)
Seahorse pool area - port side only
Promenade deck
Activities
1 Retractable Roof Pools
1 Outdoor Pools
2 Whirlpools (hot tubs)
No Rock Climbing Wall
No Flow Rider
No Ice Rink
No Bowling
No Zipline
No Waterslide
No Water Park
No Ropes Course
No Mini Golf
No Golf Simulator
Sports Court
No Boxing Ring
Jogging Track
Features
WIFI Ship Wide
Casino
No Cigar Lounge
No Chapel
Video Arcade
Cinema
Show Lounge
Hair Salon
Spa
Fitness Center
Library
No Bridge Viewing Area
No Outdoor Movie Screen
Teen Lounge
No Passenger Promenade
Sea Viewing Lounge on upper deck
No Adult Only Outside Lounge Area
Golf driving net
Use drop down menu on bar above to choose another deck
Deck 6 - Tiffany

There are no staterooms on this deck
You can click on any image for larger size.

Galaxy Lounge
Main show lounge with hydraulic stage and full orchestra for music and dance shows. Seats 463 people.
Crystal Casino
Casino for age 21 and older. Covers 4400 square feet with numerious gaming tables and 86 slot machines.
Avenue of the Stars
Shopping area of 3000 square feet. Duty-free boutique shops include Facets, Crystal Collection and Apropos.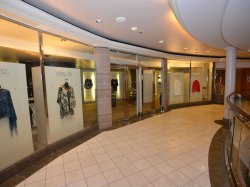 Facets
Shop selling luxury jewelry, watches and gifts.
Crystal Collection
This is a boutique that sells perfumes, cosmetics, sunglasses and accessories.
The Bistro
Pastry and specialty coffee bar on port side of ship. You will find fine cheeses, fresh pastries, deserts, exotic coffee and tea. Champagne and fine wine is also available by the glass. Seats 70 people.
Hollywood Theatre
Cinema with multi-linqual translation. Used for conferences and lectures as well as religious services. Seats 143 people.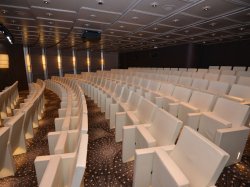 Photo Gallery
Photo gallery and shop displaying photos taken by ship photographers. Also sells photo equipment and accessories.
Luxe
Disco and nightclub.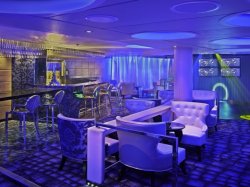 Connoisseur Club
Cigar bar located on the starboard side of the ship.
Avenue Saloon
Piano bar with dark wood walls, stylish furniture and leather chairs.
Starlite Club
Lounge and circular bar with stage and dance floor. Offers Panoramic views and seats 350 people.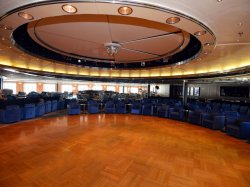 The Studio
Class room for creative learning classes. Can seat up to 15 people.
Computer University
Internet work stations open 24 hours. Computers available for rent. Seats 25 people.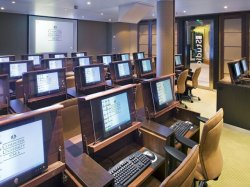 Bridge Lounge
Card playing room located on starboard side of ship. 22 tables available.
Vintage Room
Fine dining room for up to 10 people located on portside of ship. The room also hosts premium wine tastings.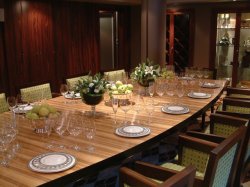 Prego
Italian dining room (requires reservations) featuring signature dishes and fine wine selections.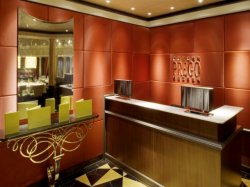 Sushi Bar
Japanese dinner only (reservations required) specialty seafood restaurant located on the port side of ship.
Umi Uma
Asian specialty restaurant open for dinner only. Reservations recommended.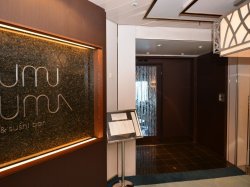 Library
Library with books for reading or checking out.
Click the Cabin Check Tool to check what is on the deck above or below your stateroom:
Here are some tips that you should keep in mind when looking for cabins on this deck. There may be other issues that we haven't noted, and if you are aware of any issues we have not listed, please contact us and let us know so that we can add it to the list.
Jump to Crystal Symphony 5 - Crystal
Jump to Crystal Symphony 6 - Tiffany
Jump to Crystal Symphony 7 - Promenade
Jump to Crystal Symphony 8 - Horizon
Jump to Crystal Symphony 9 - Seabreeze
Jump to Crystal Symphony 10 - Penthouse
Jump to Crystal Symphony 11 - Lido
Jump to Crystal Symphony 12 - Sun