Click
on left to choose a ship
Use drop down menu on bar above to choose another deck
You are viewing deck 11 Luxembourg

Balcony SB

The cruise line seperates the different categories (Inside, Oceanview, Balcony) into subcategories. The only difference in the subcategories is usually location on the ship. The detail above shows subcategory color, category name, and subcategory name. For detailed information, mouse over a cabin on the deck plans and a pop up window will appear. You will find diagrams, pictures and information about that cabin category including square footage and features.

Costa has a simplified way of category codes. Most categories are a letter followed by a C for classic level or P for premium level. Premium is obviously preferred over classic. Inside cabins begin with the letter I. Oceanview cabins begin with the letter E. Balcony cabins begin with the letter B. The Suite categories have a letter defining them. MS is a mini-suite. S are suites. PS is a panorama suite and GS is a grand suite.
You can click on any image for larger size.

Centro Benessere Samsara
Located within Samsara Spa is a gym and fitness area, salon, UVA-ray solarium, relaxation area, treatment rooms and thermal rooms and a Thalassotherapy pool.
Lido Belvedere
Another of the ship's open air pools with hot tub. The waterslide that begins on deck 14 ends on in this area.
Club Favolosa
This extra charge restaurant serves up a variety of unusual food combinations, using state of the art cooking techniques such as liquid nitrogen to make ice cream.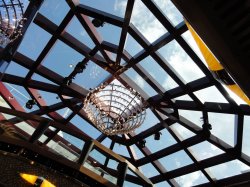 Deck 11
Area above the covered pool area best used for lounging and observation points.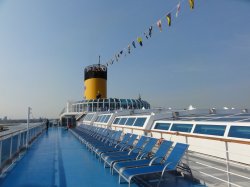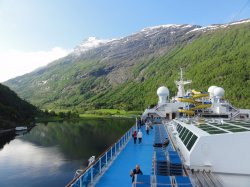 Click links below to view cabin categories details.
Click the Cabin Check Tool to check what is on the deck above or below your stateroom:
Ship Compass
Jump to Costa Favolosa 1 Babilonia
Jump to Costa Favolosa 2 Alhambra
Jump to Costa Favolosa 3 Hermitage
Jump to Costa Favolosa 4 Versailles
Jump to Costa Favolosa 5 Tivoli
Jump to Costa Favolosa 6 La Zarzuela
Jump to Costa Favolosa 7 Bobou
Jump to Costa Favolosa 8 Encelado
Jump to Costa Favolosa 9 Villa Bourghese
Jump to Costa Favolosa 10 Escorial
Jump to Costa Favolosa 11 Luxembourg
Jump to Costa Favolosa 12 El Prado
Jump to Costa Favolosa 14 Las Duenas
| | | |
| --- | --- | --- |
| | | = Connecting staterooms |
| | | = Elevator |
| | | = Handicap accessible |
| | | = One lower |
| | | = One upper & lower |
| | | = One upper bed |
| | | = Partly obstructed view |
| | | = Queen bed |
| | | = Single murphy bed |
| | | = Single sofa bed |
| | | = Two upper beds |