Click
on left to choose a ship
Upload Pics Public Site
tab 1
The Costa Atlantica started sailing in 2000 . Former names: none. The Costa Atlantica is registered in Genoa, Italy. The Costa Atlantica has 1105 cabins. 64 percent of the staterooms on board have balconies.
You can expect between 2210 to 2652 passengers on a typical sailing. This means that at the higher number (usually peak and holiday sailings) Costa Atlantica has a space ratio of 32.3 .
(A space ratio less than 33 means that you may find the ship crowded in areas. A space ratio greater than 39 means that there should be plenty of space for each passenger.)
When this ship isn't sailing at capacity the space ratio can be as good as 38.8.
The Costa Atlantica has 902 crew members on board. There are 3 passengers for every crew member on board. There are no self serve laundromats on this cruise ship.
The ship last major refurbishment was in 2015 .
There are 12 decks on this ship. The highest deck number is 12. The number of decks with passenger cabins is 8.
The following ships share the same class as this ship. This means the basic design and layout of the ship is the same. For the most part the cabins will be identical among these ships, but may be decorated differently.
2000 - Costa Atlantica
2003 - Costa Mediterranea
There are 8 special needs cabins on this ship. These cabins have been modified for accessibility purposes.
COSTA ATLANTICA was the first vessel commissioned by Costa under Carnival ownership, her sister is named COSTA MEDITERRANEA. Similar vessels from the same series operate for Carnival. They are CARNIVAL SPIRIT and CARNIVAL PRIDE
In 2015 Costa Atlantica added 32 Mini Suite cabins and 16 Interior cabins to Decks 9 and 10 forward.
Smoking Policy
Smoking was eliminated on all ships January 1, 2014 except for designated areas on open decks and the cigar lounges, if applicable.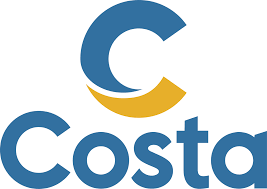 Activities
1 Retractable Roof Pools
3 Outdoor Pools
5 Whirlpools (hot tubs)
No Rock Climbing Wall
No Flow Rider
No Ice Rink
No Bowling
No Zipline
No Waterslide
No Water Park
No Ropes Course
No Mini Golf
No Golf Simulator
Sports Court
No Boxing Ring
Jogging Track
Features
WIFI Ship Wide
Casino
No Cigar Lounge
No Chapel
Video Arcade
No Cinema
Show Lounge
Hair Salon
Spa
Fitness Center
Library
No Bridge Viewing Area
No Outdoor Movie Screen
No Teen Lounge
Passenger Promenade Deck
No Upper Deck Sea Viewing Lounge
No Adult Only Outside Lounge Area
Use drop down menu on bar above to choose another deck
La Strada

There are no staterooms on this deck
You can click on any image for larger size.

Teatro Caruso
The ship's main show lounge hosting its major stage productions and with seating for approximately 950 passengers.
Biblioteca Internet Point
The ship's dual purpose library and internet cafe, that has a small selection of books available in a number of different languages and is a quiet place on board the ship.
Caffe Florian
A large space which is an ideal venue for pre dinner drinks and wine choices, featuring live music entertainment ranging from piano to violin music.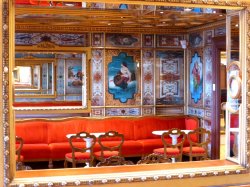 Piazza San Marco
Provides a venue with live entertainment along with a bar and seating area.
Negozi via Della Spiga
The ship's shopping arcade that sells items such as perfumes, sportswear and jewelery to duty free shops selling spirits, cigarettes and cigars and toiletries.
Galleria Foto
The ship's photo shop selling digital cameras, memory cards and portable printers amongst other photographic items.
Ristorante Tiziano
The ship's main dining room.
Exterior Promenade
Outside promenade deck used for loading lifeboats
Interior Promenade
Interior promenade that wraps around the theater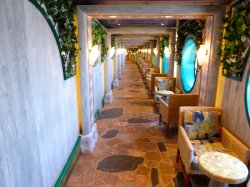 Sala Paparazzi
Specialty resturant with its own lounge and bar
Click the Cabin Check Tool to check what is on the deck above or below your stateroom:
Here are some tips that you should keep in mind when looking for cabins on this deck. There may be other issues that we haven't noted, and if you are aware of any issues we have not listed, please contact us and let us know so that we can add it to the list.
Jump to Costa Atlantica 1 Luci Del Varieta
Jump to Costa Atlantica 2 La Dolce Vita
Jump to Costa Atlantica 3 La Strada
Jump to Costa Atlantica 4 Roma
Jump to Costa Atlantica 5 I Clowns
Jump to Costa Atlantica 6 Amarcord
Jump to Costa Atlantica 7 Intervista
Jump to Costa Atlantica 8 Eight and one half
Jump to Costa Atlantica 9 Ginger Fred
Jump to Costa Atlantica 10 E La Nave Va
Jump to Costa Atlantica 11 La Voce Della
Jump to Costa Atlantica 12 LeNotti
| | | |
| --- | --- | --- |
| | | = Connecting staterooms |
| | | = Elevator |
| | | = Handicap accessible |
| | | = One lower |
| | | = One upper & lower |
| | | = One upper bed |
| | | = Partly obstructed view |
| | | = Queen bed |
| | | = Single murphy bed |
| | | = Single sofa bed |
| | | = Two upper beds |