Click
on left to choose a ship
Upload Pics Public Site
tab 1
The Carnival Elation started sailing in 1998 . Former names: none. The Carnival Elation is registered in Panama City, Panama. The Carnival Elation has 1064 cabins. 17 percent of the staterooms on board have balconies.
You can expect between 2128 to 2554 passengers on a typical sailing. This means that at the higher number (usually peak and holiday sailings) Carnival Elation has a space ratio of 27.6 .
(A space ratio less than 33 means that you may find the ship crowded in areas. A space ratio greater than 39 means that there should be plenty of space for each passenger.)
When this ship isn't sailing at capacity the space ratio can be as good as 33.1.
The Carnival Elation has 980 crew members on board. There are 3 passengers for every crew member on board. There are self serve laudromats on this ship.
The ship last major refurbishment was in Oct 2017 .
There are 14 decks on this ship. The highest deck number is 15. The number of decks with passenger cabins is 6.
The following ships share the same class as this ship. This means the basic design and layout of the ship is the same. For the most part the cabins will be identical among these ships, but may be decorated differently.
1990 - Carnival Fantasy
1991 - Carnival Ecstasy
1993 - Carnival Sensation
1994 - Carnival Fascination
1995 - Carnival Imagination
1996 - Carnival Inspiration
1998 - Carnival Elation
1998 - Carnival Paradise
There are 32 special needs cabins on this ship. These cabins have been modified for accessibility purposes.
ELATION is a member of the Fantasy class series of buildings delivered throughout the 1990's to Carnival Cruises lines.
During drydock is Aug 31 to Oct 4, 2017 Cole Porter lounge moved and the area turned into staterooms. Guys, Blue Iguana Cantina, Red Frog Bar, Cherry on Top were added. Water Works added sometime after drydock is complete. There were some major cabin modifications. On deck 5 - 32 oceanview cabins were converted to balconies. One deck 6 - 26 oceanview cabins were converted to balconies and 8 grand suites received extended balconies. On deck 7 - 40 oceanview cabins were converted to balconies and an interior cabin was added in place of the forward laundry room. On deck 11 - 1 interior cabin was added. Deck 14 received 22 junior suites, 10 inside cabins, 2 grand scenic suites and 2 scenic oceanview staterooms. Several cabins were also converted into connecting cabins during this drydock.
Smoking Policy
All staterooms and suite accommodations are entirely smoke-free, including balconies
Cigarette and electronic cigarette smoking will only be allowed in designated exterior open deck areas, in the nightclub and in certain areas within the casino and casino bar
Cigar and pipe smoking will only be allowed in designated exterior open deck areas.
Carnvial Vista will allow smoking in the casino and casino bar and also on deck 11 port side aft.
Activities
2 Outdoor Pools
6 Whirlpools (hot tubs)
No Rock Climbing Wall
No Flow Rider
No Ice Rink
No Bowling
No Zipline
No Waterslide
No Water Park
No Ropes Course
Mini Golf
No Golf Simulator
No Sports Court
No Boxing Ring
Jogging Track
Features
WIFI Ship Wide
Casino
Cigar Lounge
No Chapel
Video Arcade
No Cinema
Show Lounge
Hair Salon
Spa
Fitness Center
Library
No Bridge Viewing Area
No Outdoor Movie Screen
Teen Lounge
Passenger Promenade Deck
No Upper Deck Sea Viewing Lounge
Adult Only Outside Lounge Area
Use drop down menu on bar above to choose another deck
Promenade
There are no staterooms on this deck
You can click on any image for larger size.

Mikado Main Lounge
The ships main two tiered show lounge, with a capacity of 1300.
Sushi Bar
Serves a selection of complimentary sushi dishes prior to dinner each evening.
Club O2
Provides a supervised area for 15-17 year olds to watch movies, play video games or try karaoke.
Drama Bar
Bar serving Elation's Way Promenade and featuring live music.
Formalities
Items for special occasions such as cakes and champagne can be purchased here along with formal outfits to hire.
Romeo & Juliet Lounge
Features live music, trivia quizzes and karaoke and has its own bar and dance floor. Seats 109 people.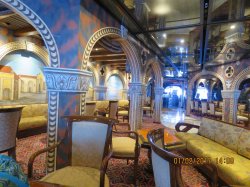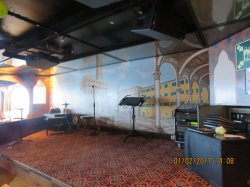 Musical Cafe
Offers speciality coffees and sweets. Seats 72 people.
Jekyll & Hyde Dance Club
The nightclub has a large dance floor, plenty of seating areas and a bar, it also hosts karaoke sessions. Capacity is 230 people.
Gatsbys Great Cigar Bar
The ships smoking lounge, a place to sit and have a drink and listen to some music.
Cole Porter Club Aft Lounge
Features its own bar, several overhead tv screens, and a range of entertainment including Punchliner Comedy Club, Art Auctions, and Karaoke. Seats 540 people.
Serenity
An adult only area complete with padded loungers, two hot tubs, and a shaded area. For passengers age 21 and over.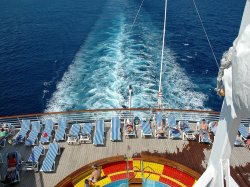 Casablanca Casino
Casino with gaming tables and slot machines. Seats 450 people.
Photo Gallery
Photo gallery and shop. Displays photos taken by ships photographers
Elations Way Promenade
Inner promenade walk way.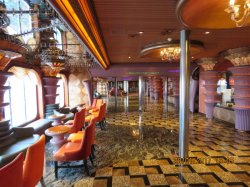 Click the Cabin Check Tool to check what is on the deck above or below your stateroom:
Here are some tips that you should keep in mind when looking for cabins on this deck. There may be other issues that we haven't noted, and if you are aware of any issues we have not listed, please contact us and let us know so that we can add it to the list.
Jump to Carnival Elation 4 Riviera
Jump to Carnival Elation 5 Main
Jump to Carnival Elation 6 Upper
Jump to Carnival Elation 7 Empress
Jump to Carnival Elation 8 Atlantic
Jump to Carnival Elation 9 Promenade
Jump to Carnival Elation 10 Lido
Jump to Carnival Elation 11 Verandah
Jump to Carnival Elation 12 Sports
Jump to Carnival Elation 14 Grand
Jump to Carnival Elation 15 Sun
| | | |
| --- | --- | --- |
| | | = 1 Upper Bed |
| | | = 2 upper beds |
| | | = Balcony with obstructed views |
| | | = Connecting Staterooms |
| | | = Extended balcony (50% larger) |
| | | = Stateroom with 2 portholes |
| | | = Twin beds do not convert |
| | | = Twin/king w double sofa |
| | | = Twin/King w single sofa |
| | | = Twin/king, single sofa & upper |