Click
on left for ship menu
Use drop down menu on bar above to choose another deck
You are viewing deck Deck 5
Please note:
Next drydock in April 2020. Adding Ultimate Abyss slide, Perfect Storm waterslides, redesign kids spaces, Giovannis Kitchen and Wine Bar, Portside BBQ, Playmakers, Music Hall (replace Dazzles), update to pool deck including new whirlpools on upper deck. THIS DRYDOCK WILL OCCUR BUT ALL IMPROVEMENTS HAVE BEEN CANCELLED.
There are no staterooms on this deck
You can click on any image for larger size.

Royal Promenade
A street-like area running down the centerth of the ship offering shops, dining venues, and entertainment.
Aquatheater
735-seat outdoor theater that offers shows that include high diving, synchronized swimming, stage acting, and aerial acrobatics.
Rising Tide Bar
Bar that slowly travels up and down from deck 5 and deck 8.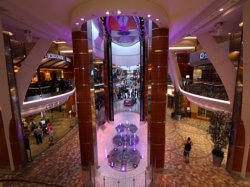 Bow and Stern
English-style pub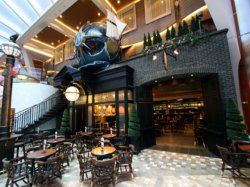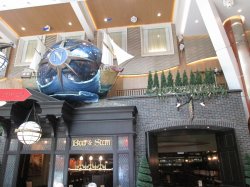 On Air Club
Features karaoke and music-video making.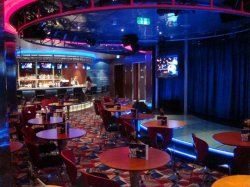 Boleros
Latin-themed nightclub and bar.
Cafe Promenade
Open 24 hours a day and serves casual snacks, a selection of freshly brewed roasted coffee and pastries. Sandwiches can also be ordered at lunchtime.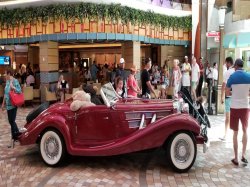 Sorrentos
Features made-to-order pizzas.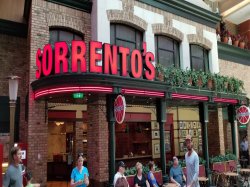 Cupcake Cupboard
Offers freshly baked gourmet cupcakes.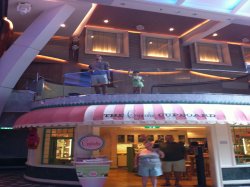 Silk
Pan Asian Smart Casual Restaurant. Weave your way through a vibrant tapestry of Chinese, Japanese, Thai, Vietnamese and Indian cooking. No charge.
Champagne Bar
Bar and lounge area close to the rising tide bar on deck 5.
Jogging Track
Jogging Track that circles deck 5.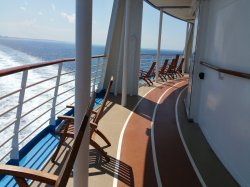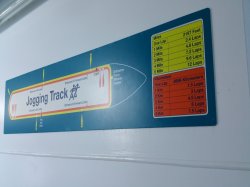 Starbucks
Whether it's a morning cup of coffee, a decadent Caramel Macchiato, a refreshing Frappuccino Blended Beverage, or a tempting pastry, guests can enjoy all their favorite Starbucks treats right onboard.
Amber Theater
A 2589-seat state-of-the-art theater that is home to the ship's production shows.
Click the Cabin Check Tool to check what is on the deck above or below your stateroom:
Jump to Allure of the Seas Deck 3
Jump to Allure of the Seas Deck 4
Jump to Allure of the Seas Deck 5
Jump to Allure of the Seas Deck 6
Jump to Allure of the Seas Deck 7
Jump to Allure of the Seas Deck 8
Jump to Allure of the Seas Deck 9
Jump to Allure of the Seas Deck 10
Jump to Allure of the Seas Deck 11
Jump to Allure of the Seas Deck 12
Jump to Allure of the Seas Deck 14
Jump to Allure of the Seas Deck 15
Jump to Allure of the Seas Deck 16
Jump to Allure of the Seas Deck 17
Jump to Allure of the Seas Deck 18
| | | |
| --- | --- | --- |
| | | = Connecting staterooms |
| | | = Four pullman beds |
| | | = Handicapped facilities |
| | | = Obstructed View |
| | | = One pullman bed |
| | | = Sofa and pullman bed |
| | | = Sofa bed |
| | | = Two pullman beds |